Feature
Derby a fine host for much-loved Bass
Added: Sunday, February 16th 2020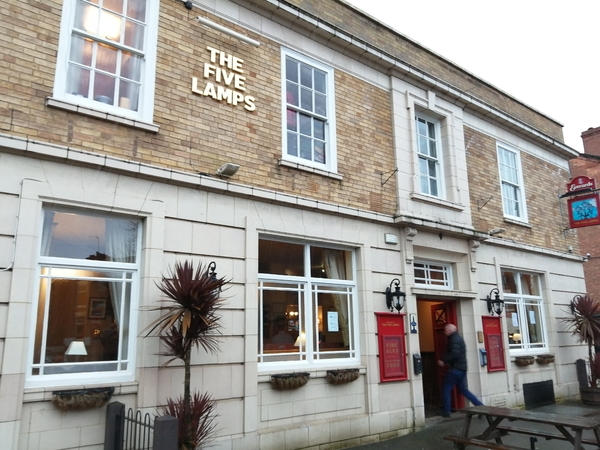 Bass is pouring well in Derby. The city, close to Bass's home in Burton-on-Trent, has long been happy hunting ground for drinkers of a much-loved beer that used to be the biggest-selling premium draught ale in the country.
Draught Bass, a potent link with the early pale ales and IPAs of the 19th century, may be hard to find these days but a few hours in Derby shows it in all its malty/hoppy glory.
I was in the sure hands of local CAMRA stalwarts John Arguile, Les Baynton and Dave Evans. We started our tour in the Five Lamps on Duffield Street, run by Graham Browett and owned by Everards of Leicester. The Five Lamps is part of the brewery's Project William scheme that allows a wide range of guest ales to be served alongside its own Tiger bitter.
The pub, built in 1848, was first known as the St Helen's after the local church but the new name reflects the five traffic lights on a large nearby roundabout.
The Five Lamps has been knocked through at some time from smaller rooms. It's now spacious and gracious, dominated by a vast and imposing bar groaning under the weight of 10 hand pumps. Oakham Citra is the best-selling cask beer but Graham cheered me by saying Draught Bass weighed in at Number Three. As well as such favourites as Thornbridge Jaipur and Taylor Landlord, the pub is a rare outlet for beers from the Peak Brewery at Chatsworth.
The Five Lamps has a wealth of brewery jugs hanging from the ceiling and the pub is decked out with settles and wood-panelled walls and floors. I'm told the food is good but we had to move on after assuring ourselves the Bass was in fine fettle.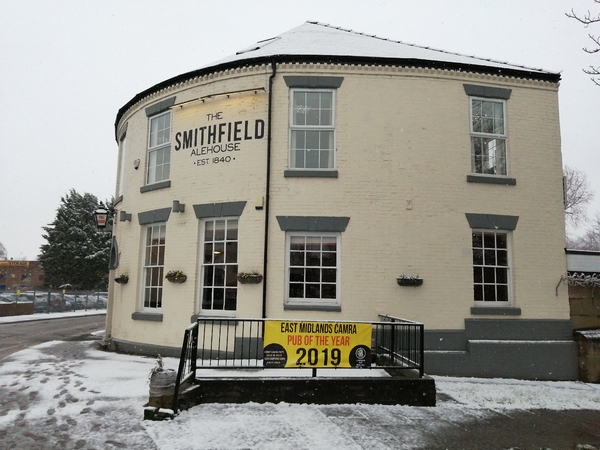 The Smithfield is a Derby institution, a large pub alongside the River Derwent and close to the main railway station. It dates from 1878 and was owned by the local brewery Offilers that had the misfortune to be taken over by the large London brewer Charrington, which in turn was swallowed by Bass. The pub is on Meadow Road and takes its name from a cattle market that once operated close by: the pub was once called the Cattle Market Hotel.
The upside of Bass's ownership is that the pub sold and still sells Draught Bass. It's another pub adorned with 10 hand pumps and you will find the ubiquitous Oakham Citra alongside Derby Smithy and Whim Arbour Light.
The bow-fronted pub has a large main bar, a small back lounge and a terrace alongside the river. There's much brewery memorabilia, including an impressive mirror advertising Bass Stout and a collection of brewery trays from such long-lost producers as Cobbold, Truman and Watneys.
The good news from landlord Ben Miller is that Draught Bass is popular with drinkers of all ages. This scotches the snide remarks that the campaign to restore the beer to its former glory is supported only by old geezers with pension books.
Ben generously provided cheese and onion cobs alongside halves of the divine Bass. This is a wonderful pub to linger in but devotion to the cause sent us on our way.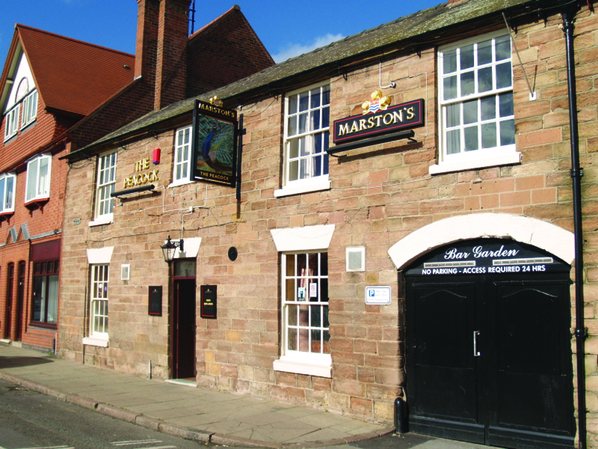 The Peacock, built in 1818, on Old Nottingham Road, provides answers to two questions: that Draught Bass can taste fine served straight from the cask -- and baseball was once played at the old Derby County Baseball Ground. There's a photo on the wall showing a baseball team from the 1880s, with many other photos of the soccer team in its glory days.
The stone-built pub was once a coaching inn on the Nottingham road but it's now on a side street. It's the last of a number of pubs that were owned by the Liversage Estate, a medieval charity. The Peacock is another former Offiler's house that became a Marston's outlet and is now leased from the Burton brewery. Pedigree and Bass are both on offer with a good range of other local ales, including Leatherbritches, Hartington and Whim.
The front bar is long and narrow with a much-needed fireplace and stove. There's a small back bar and a large covered courtyard for summer drinking. The Bass was impeccable and to those on Twitter who claim the beer must be served by hand pump I suggest they stay away from the Coopers Tavern in Burton on National Bass Day (11 April).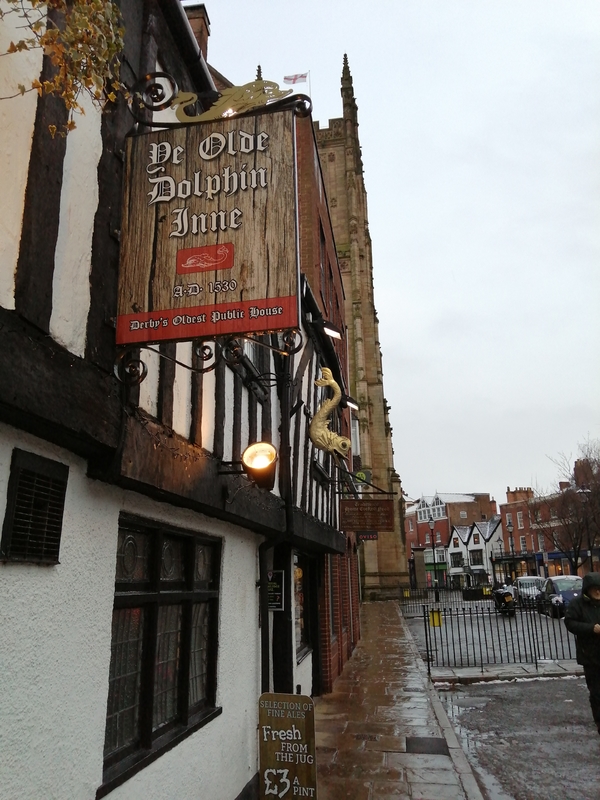 Ye Olde Dolphin Inne, just a few feet from the cathedral on Queen Street, is breath-taking. It's Derby's oldest pub, dating from 1530. It's Grade II-listed and on CAMRA's national inventory of pubs with historic interiors. It's haunted by the Blue Lady, who walks through the lathe and plaster walls and it also has a grisly tale to tell.
What is now an extension to the original building was once a doctor's house where he dissected the bodies of criminals who'd been hanged in the local prison. The doctor wasn't too fussy and it's rumoured some of the criminals still had life left in them. The dissections took place in what is now the pub cellar: no jokes, please, about the beer having plenty of body.
This is another pub that serves both Bass and Pedigree along with Greene King Abbot and Taylor Landlord. Publican Jim Harris has a deserved reputation for the quality of his beers and the Bass was succulent. Beer is served from a central bar to both a long and spacious main lounge and to a cheery snug at the back, both with open fires. It's another pub to linger in – but perhaps not too late at night.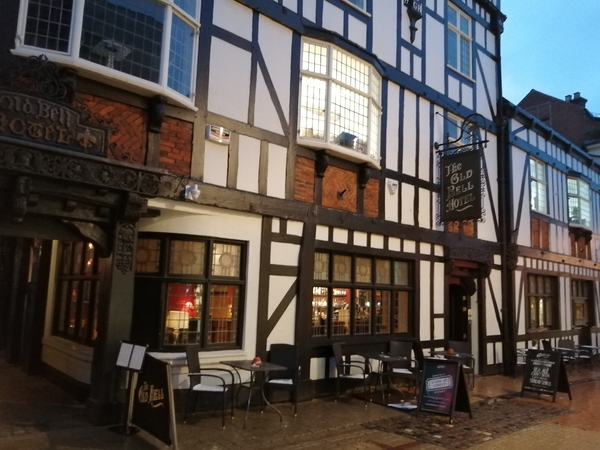 Our final pub is another one steeped in history. The Old Bell, dating from 1698, stands in Georgian mock-Tudor splendour on Sadler Gate, now a narrow side street but once a major coaching route from London to Nottingham. Over the years the enormous building had parts closed off from the public but new owner Paul Hurst has a mission to restore the inn to its full glory.
There's a multitude of beams and pillars and even the gantry in the main bar is beamed.
The Old Tudor Room was once men-only but now welcomes one and all, and there's a ballroom that can accommodate 450 people: an annual literary festival is held there. I spoke at the festival a few years ago with Rachel Matthews who runs the local Dancing Duck Brewery. Her beers are on sale with a big range of guest beers and, naturally, Draught Bass.
In all the pubs the Bass was immaculate, a harmony of malt, hops and that intriguing hint of salt and sulphur from the Burton spring waters – the renowned "Burton Snatch".
Hats off to Marston's for making such a fine fist of brewing Bass. It's the beer that its owners AB InBev can't be bothered with but which continues to delight a legion of beer lovers who are keeping the flame burning.
•Thanks to John and Jane Arguile, Les Baynton and Dave Evans for their help, hospitality and good humour.