Feature
Old Bass beers are real corkers
Added: Thursday, December 19th 2019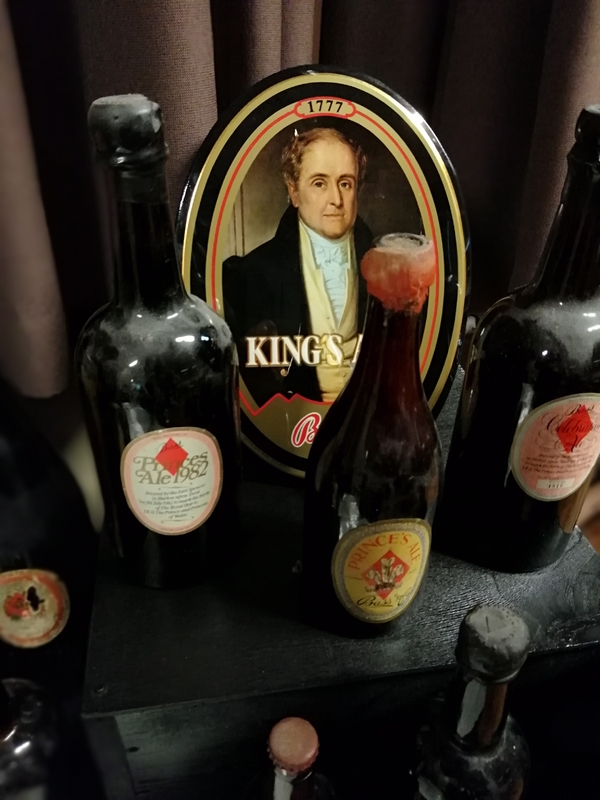 Something remarkable took place in Burton-on-Trent on a dank, dark evening in mid-December. Some 100 people of all ages and both sexes packed in to Marston's social club for talks and tastings of old Bass beers including one that was 150 years old.
The evening was arranged by Ian Webster who blogs as The Burtonian. He calls himself a beer historian and if you're based in the brewing capital there's not much else to write about apart from beer.
Ian, with the help of retired Bass brewers and archivists, assembled six beers that ranged in age from 1978 to 1869. Ian was supported on the night by Dr Harry White, a former director of quality for Bass, who explained the way in which beers aged and improved in bottle over many years. Gary Summerfield mastermind the opening of precious bottles backstage, which involved withdrawing ancient corks that could easily disintegrate.
Bass was founded in 1777 by William Bass from Hinckley. His modest brewery achieved success, as did other brewers in the town, due to the success at first of Burton Ale, a strong sweet brown ale widely exported to Europe and the Baltic, and then in the 19th century with the rise of pale ale and India Pale Ale. By the end of the century Bass was for a time the biggest brewer in the world, producing one million barrels a year.
As well as regular commercial beers, Bass produced beers for special occasions, including coronations and royal jubilees. It was six of these beers that were on show at Ian Webster's event. The beers had to be carefully de-corked and decanted, with small samples given to the members of the audience.
A panel that sipped the beers and gave their opinions was made up of Harry White, Harry Duckworth, a former Bass production director, Martin Thomas, a former brewer with Bass and Molson Coors, Ian Webster, Pete Brown, chairman of the British Guild of Beer Writers, and the writer.
Harry White explained that the beers, known as "corkers", were designed to be laid down for ageing. They were brewed with only pale malt and no brewing sugars, and were deep copper or chestnut coloured as a result of long boils in the copper with hops that caused some of the malt sugar to caramelise. Bass's famous No 1 barley wine was boiled for an astonishing 12 hours.
Bottle-conditioned beers contain live yeast but the yeast lives for only a short time. It eats the remaining malt sugars in the beer and then dies but while alive and active it produces proteins and amino acids that help age the beer and keep it in good condition.
The first beer in the tasting was a 1982 Prince's Ale, also known as a Celebration Ale. The tasters agreed there was a strong aroma of Marmite with toffee and spicy hops. The palate was dominated by rich malt and vinous fruit with light hops developing. There were more powerful Marmite notes on the finish with tart fruit and peppery hops. Marmite, for readers in other countries, is a yeast extract used as a breakfast spread on bread or toast and also used as flavouring in stews and other cooked dishes. The Marmite factory is based in Burton and receives large amounts of spent yeast from local brewers following fermentation.
The second beer was a 1978 Princess Ale. It had a bright chestnut colour, some condition or foam, and with more hop notes on the aroma than the previous beer, along with rich sherry notes. It was bittersweet in the mouth and the finish was dry with biscuit malt, rich vinous and nutty fruit and some spicy hop notes.
A 1977 Jubilee Strong Ale had a pronounced herbal note on the aroma, reminiscent of coriander, with an earthy note contributed almost certainly by English hops. It was immensely complex, dry and fruity in the mouth with the fruit similar to old blood oranges. There were also some peppery hop notes. The finish had tart fruit and rich malt and ended bitter, with bitterness coming from the grain as well as hops.
A 1929 Prince's Ale had such a pronounced oak note that the tasters wondered if it had been aged in wood prior to bottling. There was rich fruit on the aroma similar to raisins and sultanas followed by tart fruit, ripe malt and gentle hop bitterness on the palate. The finish had more tart fruit, oak notes and light hops.
A 1902 King's Ale, brewed for the coronation of Edward VII, had vinous fruit, toasted malt and touch of acidity on the aroma, with rich Dundee Cake-like fruit on the palate balanced by ripe malt. The long finish was bittersweet, vinous and malty.
Then came the pièce de la resistance – an1869 Ratcliff Ale. The name recalls the period when Michael Bass (seen in the image above), William Bass's son, formed a partnership with Ratcliff and Gretton. Harry White pointed out, as the samples went round the room, that the beer was produced before Louis Pasteur had finalised his work on yeast and fermentation. Brewing then had more to do with experience, handed down from generation to generation, than to science. The beer was astonishing: it poured a bright chestnut colour and had a massive fruit aroma of raisins, sultanas and plums. The palate was bitter and acidic with ripe burnt fruit followed by a bitter finish dominated by dark fruit and rich malt.
It was history in a glass and all the beers on show proved that beer can age with grace and distinction just as much as fine wine.