Feature
Seaside brewery is pushing the boat out
Added: Tuesday, July 9th 2019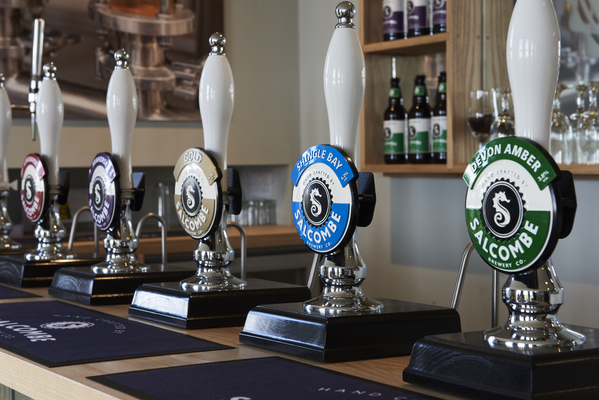 Salcombe is an idyll. The small Devon town on the Kingsbridge Estuary offers a wide stretch of sparkling water popular with peak capped yachting types, sandy beaches, steep wooded hills and some fine pubs with excellent beer.
But before you rush, be warned: it's now the most expensive place in the country and has overtaken Sandbanks in Dorset for outrageous property prices. Seriously rich folk live here and a small two-up, two-down cottage will set you back £1 million.
When I mentioned on Twitter that I'd been to Salcombe Brewery, some wiseacre responded: "So why isn't the brewery in Salcombe?" The answer is that a suitable site would cost a fortune and explains why the brewery is a few miles out of town.
The brewery outlook doesn't disappoint, as the address of Estuary View, Ledstone Cross, suggests. It has been based there since 2017 when it moved from the old Quercus Brewery site. Quercus was bought by John Tiner in 2007: John, his wife Gerry and their family had taken holidays in the area for many years and John took a liking to one of the Quercus beers, Shingle Bay.
In common with the man who liked the Remington shaver so much he bought the business, John snapped up Quercus and set about re-naming it, re-branding the beers and installing brand new brewing kit at Ledstone Cross. He works in finance and was able to find national and international backers who shared his vision of an eco-friendly brewery that puts something back into the community and the environment.
The brewery is built on a decommissioned water reservoir that maintains a perfect ambient temperature for storing beer. There's also an on-site bore hole that supplies pure spring water for brewing.
The 20-barrel brewing kit was built in Bulgaria and it must have been an unusual task for the construction company,  as it's not standard lager brewing equipment but traditional British ale kit based on a mash tun and copper regime, with a 10-hour brew length. The brewhouse feeds six fermenting vessels, with two more planned as the brewery is on course to hit full capacity in 2020.
The key players at Ledstone Cross are general manager Mark Higgs, who has wide experience of the brewing industry, and two mustard-keen young brewers: Sam Beaman, who has a Masters in brewing from Nottingham University Brewing School, and Chris Lang (Sam and Chris are pictured below, Chris on the right.).
Sam and Chris took me on a tour of the brewhouse and outlined their brewing regime. The mash tun is fed by a Steel's Masher, a large funnel with an Archimedes Screw that blends grain and water before they hit the tun. At the end of the mash, during which enzymes transform starch into fermentable sugar, the bed of grain is "sparged", which means rotating arms inside the mash tun spray the grain with hot water to rinse out any last remaining sugars.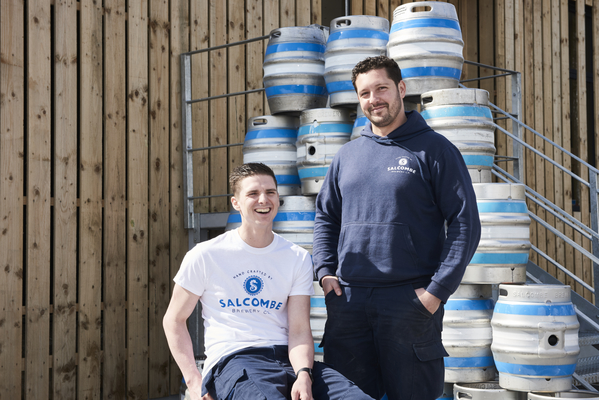 Whole flower hops are used in the copper boil. The first batch is added at the start of the boil, with a final addition just 30 seconds before the boil ends. Pellet hops are used for dry hopping in cask. Fermentation takes three to four days using the Nottingham Ale yeast culture.
Eighty per cent of production is in cask form and following fermentation the beers are racked into cask and kept in a cool storage area next to the reservoir. Pale Ale (4.6%) is a keg beer and Seahorse (4.4%) is also available in keg form as well as cask. Sam Beaman says keg sales are growing rapidly and account for 20 per cent of trade.
Pale Ale, hopped with Summit and Simcoe varieties, is dry hopped, which means a final addition of hops, and left in tank for 10 days and chilled to 10 degrees C. The beer is then filtered and carbonated in the tank before being pumped into kegs.
The main grains used are pale ale malt, with lager malt used in Gold (4.2%). The hop store holds an impressive range, including Amarillo, Bramling Cross, Cascade, Chinook, Citra, Columbus, Endeavour, Equinox, Fuggles, Goldings, Pilgrim, Simcoe and Summit.
Island Street Porter (5.9%), which has just win a Gold award from SIBA in a regional competition, uses the new English hop Endeavour – named in honour of Chief Inspector Endeavour Morse – and has an astonishingly complex grain bill of eight malts: pale, cara, crystal, wheat, torrefied wheat, oats, roasted barley and chocolate. It's a deep and luscious beer with roasted grain, dark berry fruits, chocolate and spicy hops on aroma and palate.
Two beers have been developed to support important local organisations. Seahorse (4.4%) backs the Seahorse Trust, which cleans up the coast line to aid the sea horse population: there are two rare breeds – spiny and short snout – in the Salcombe area.  The brewery is a partner with the trust and 5p from every bottle of the beer is donated to seahorse conservation.
This year, the brewery joined forces with the Royal National Lifeboat Institute that is celebrating 150 years of the local station. 5p from every pint of Lifesaver (4.8%) goes to the RNLI.
The beer range is completed by Shingle Bay (4.2%) and Devon Amber (3.8). The two beers have brisk sales in bottle and are sold to local restaurants and cafes.
Salcombe beers are on sale in Exeter, Plymouth, and Cornwall. Enterprise Inns takes Shingle Bay as a guest beer and Small Beer and Everards also offer the beers, making them available as far away as the Midlands.
Mark Higgs says, "We need to push out of our comfort zone" and he is planning a small batch range of new beers. Five beers are in the pipeline and he is also looking at the possibility of developing a low alcohol beer.
Lager could be brewed on the current kit but Sam Beaman says, "I would want to brew it properly. We don't have the tank capacity at the moment and I would want six weeks storage for a true lager taste."
In the evening, Sam and Mark took me round a few Salcombe hostelries where we sampled their beers in a proper pub environment. Pale Ale is occasionally on sale in cask form and I was invited to taste both keg and cask versions. The keg version of Pale Ale is a fine beer but cask won hands down, with far greater aroma and flavour.
Cask got my vote, but perhaps like the seahorse I'm an endangered species.
*Salcombe Brewery, Ledstone Cross, Devon. 01548 854888 www.salcombebrewery.com