Feature
Beer and bars bloom in Belgian Beer City
Added: Friday, May 17th 2019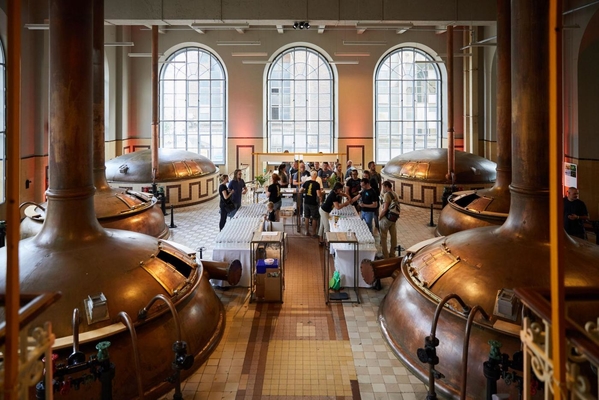 Nowhere is the beer culture of Belgium better expressed than in the city of Leuven, just half an hour from Brussels by train. As soon as you arrive, you are embraced by bars and restaurants offering a fine range of beers, backed by numerous events that include Zythos, the country's major beer festival.
Leuven calls itself City of Beer and it lives up to the name with regular tours of bars and breweries. As well as Zythos, held at the end of April, there are visits to breweries in the city and surrounding area along with Beer Weekends, an Innovation Beer Festival where brewers from all around the world showcase their brews, and a beer and food matching extravaganza. There's even a City Beer Golf tour where players get a beer after every hole.
All of this takes place against a backdrop of stunning Gothic buildings, including the university and town hall that both date from the 15th century. One reason for the popularity of beer in Leuven is rooted in the history of the university: when it was founded only well-off students were able to take up residence as there were no grants available. They spent much of their time either brewing their own beer or drinking in local bars.
Today the university has a faculty for beer research while Professor Freddy Delvaux, who taught at the faculty, now runs De Kroon Brewery in nearby Neerijse where he not only brews beer but also helps other breweries with research into the science of beer making: De Kroon is one of the breweries on the tourist trail. As well as a tour of the brewery and the laboratory, a large tap room offers a taste of the beers, including Pale Ale and Blond, along with excellent food. Professor Delvaux (below, conducting a tour) holds regular tasting courses for people keen to learn about the science of brewing and gain a greater appreciation of beer.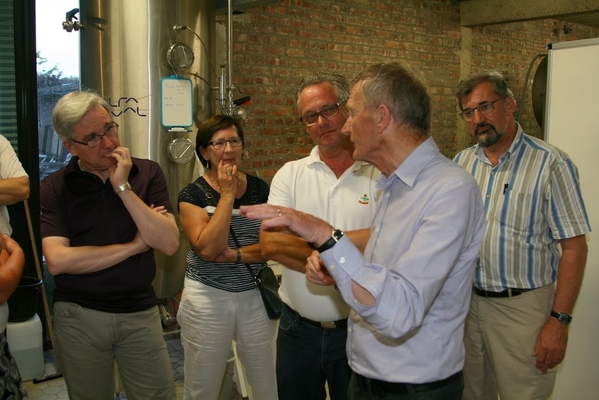 A fascinating tour takes in the fish market area alongside the River Dijle. In the 18th century there were no fewer than 42 breweries operating there, producing a type of wheat beer called Peterman, after St Peter, the patron saint of Leuven. A second type of beer, amber wheat, was called Leuvensch. The beers were said to be creamy, sweet and opaque but they went into rapid decline once lager brewing took off. It's a daunting thought that the brewers took water from the river where fishmongers and slaughter houses were also operating -- but at least the water was boiled during the brewing process.
In the 18th century there were 52 breweries in Leuven but over time they have all been bought and closed by Stella Artois. As well as commercial breweries, monasteries, religious refuges and convents all brewed their own beer but they closed following the French Revolution.
Close to the Oud Markt you can see a tall building that was once the Big Wheelbarrow, one of the biggest breweries in the city: its taproom, the Small Wheelbarrow, was next door.
Today there are just two breweries left in Leuven. Domus is a brewpub and restaurant in the city centre (8 Tiensestraat) producing some succulent beers and good meals. It dates from 1985 and was the first brewpub in Belgium. Tours range from beer with snacks to three-course meals. The two main beers are Con Domus, an unfiltered lager, and an amber ale, Nostra Domus, with regular seasonal brews.
The main brewery in the city is the giant factory run by Stella Artois, part of the global colossus AB InBev. It can be toured but will be of scant interest to connoisseurs.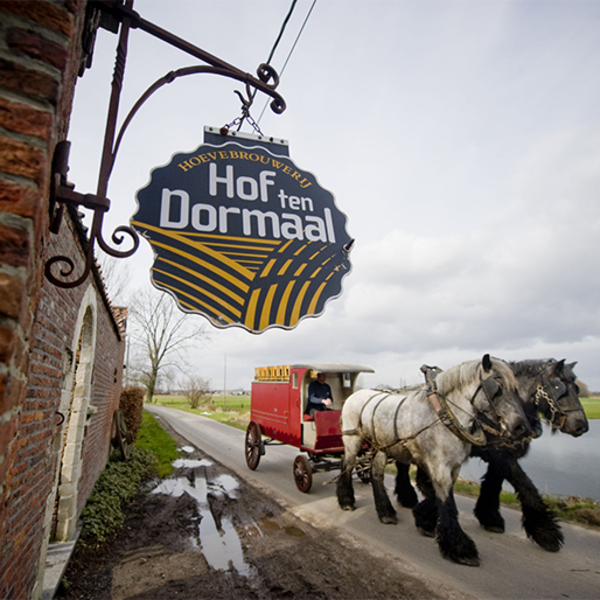 But the original Stella brewery, De Hoorn (79 Sluisstraat) shouldn't be missed. It was re-built in Art Deco style in the 1920s and the main brewing hall is a symphony of burnished vessels. I was shown a control panel that indicates that Stella was using rice alongside barley malt as early as the 1920s. Old habits die hard!
The brewery dates from 1366. In 1708 Sébastien Artois became head brewer and he bought the plant in 1717 and renamed it Brouwerij Artois.
In 1926 the brewery launched a Christmas beer called Stella or star. It became a regular beer and eventually a world-wide brand. The company has been involved in a rolling programme of mergers that have created first Interbrew in 1988, InBev in 2004 and finally AB InBev in 2008 that include Anheuser Busch of the United States and Ambev from Brazil.
Stella has been involved in a number of controversies, including lowering the strength of the British version of the beer and moving the Hoegaarden wheat beer brewery from Hoegaarden to the Jupiler lager factory. In bi-lingual Belgium, it's not advisable to move a popular beer from a Flemish-speaking area to a French one and Stella quickly retreated back to Hoegaarden.
Professor Freddy Delvaux says when he worked in the Stella laboratory the beer had 33 IBUs or units of bitterness. That was reduced to 20 in 2014, no doubt under pressure from other partners in AB InBev. American Budweiser has between 10 and 12 IBUs and the brewers would consider 20 units a trifle adventurous.
As well as De Kroon, other breweries in the vicinity on the tourist trail include De Vlier, which specialises in fruit beers, and Hof Ten Dormaal based on a farm where the Janssens family grow their own barley and hops. Their beers include Wheat, Blond, Amber, Saison and Donker, along with beers aged in Armagnac barrels.
In Leuven, the choice of bars is, in every way, staggering. You need go no further than the Oude Markt (Old Market), founded in the 12th century, which is described as Europe's longest bar. Just about every building in the square is a bar, with a total of 36. They include Beer Capital that serves more than 500 Belgian beers, Gambrinus, with old wooden fittings and ancient taps, and In Den Engel, which dates from the 15th century. It has been destroyed twice, including during the First World War, and lovingly restored on both occasions.
I especially enjoyed De Fiere Margriet (11 Margarethaplein, below), which means Proud Margaret. It's named after a local saint and the small bar is attractively decorated with old beer posters. The beer range is spectacular and includes fruit beers from De Vlier.
For further information go to:
www.visitleuven.be/beercapital