Feature
Czech mates are a fine team in Tottenham
Added: Tuesday, April 30th 2019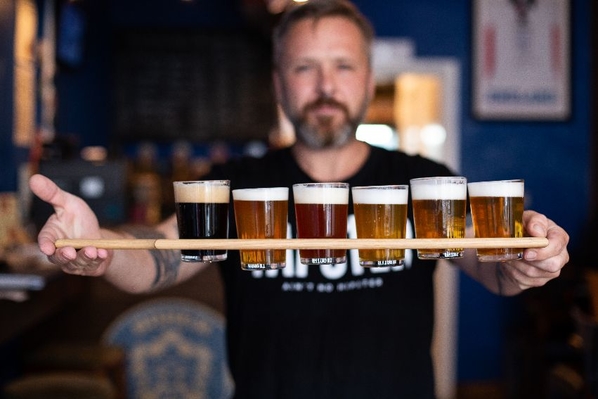 If you're a Czech, you take beer seriously. And if you're a Czech living in London you're so horrified by what passes for mainstream lager that you brew your own beer, then go a step further and open a brewery and back it with a manifesto in support of true lager.
Bohem Brewery, based in Tottenham, North London, is making waves in the beer world. It was launched in 2017 but moved to bigger premises last year to cope with demand. It has added a taproom where devotees can sample the beers poured in the approved Czech fashion.
Head brewer Petr Skocek (second  picture below) learnt the joys of good beer in his home city of Prague. He came to London 13 years ago and found mass market lager overpriced and poor quality. He started to brew at home and when he took a sample to a party in Finsbury Park he met Zdenek Kudr (below), who was so impressed with his Pilsner that they decided to go into business together.
Zdenek was a truck driver who came to England in pursuit of a woman he was in love with. That romance didn't last but he stayed and is sufficiently in love with London to call it "the Big Smoke". He and Petr needed investment to open a brewery with kit from the Czech Republic but they found that both British and Czech beer lovers so enjoyed Petr's next brew, Sparta, that the money rolled in.
"Petr supports Sparta Prague," Zdenek explains, "and they play in amber shirts so the beer is an amber lager."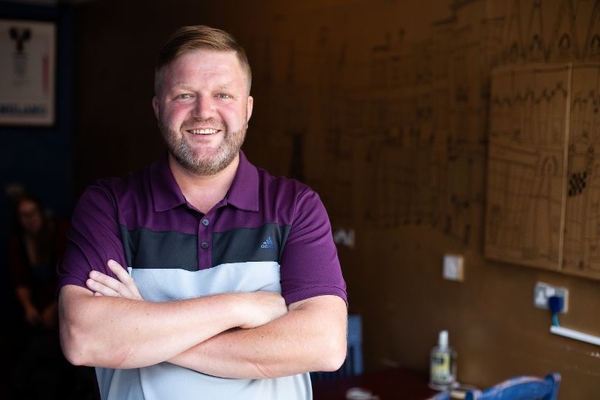 The founding duo needed help to run the new brewing plant. They recruited Matěj Křížek (bottom picture), who studied for a brewing diploma in the Czech Republic and then worked at the Brevnov Monastery's brewery, one of two monastic breweries in the country.
With investment in place, the brewing team has built a brewhouse and fermentation plant modelled on Czech practice. The aim is to produce beers rich in aroma and flavour that leave fine memories on the taste buds. The Bohem manifesto spells out their mission statement:
"Lager has a bad reputation in the UK, it's associated with cheap and fizzy liquids produced by major brewers. In the Czech Republic lager is celebrated for quality and Bohem brings the same quality to the UK.
"Our beers have no additives, including sugar, no forced carbonation. We use bespoke lager equipment. The beers are unfiltered and unpasteurised. We use specialist lager malts and the beers are fermented with bottom-fermenting lager yeast and lagered in temperature-controlled vessels for a minimum five weeks."
In the brew hall there are nine tanks for primary fermentation. Decoction and – depending on the beer being brewed -- double decoction mashing is used. This involves removing a portion of the mash from one vessel, heating it to a higher temperature and then returning it to the first vessel, where it raises the temperature of the whole mash. With double decoction, the additional heating is repeated a second time.
The system is needed as lager malt is prepared in a different way to ale malt. It's said to be less "modified", which means the conversion of starch to fermentable sugar has not progressed as far during the malting stage as malt destined to make ale. Decoction mashing effectively completes the malting process. It also leaves some fullness and sweetness in the finished beer, a hallmark of Czech lager.
As far as possible, all ingredients are imported from the Czech Republic or from Germany. Specialist lager malts come from Weyermann in Bamberg, Saaz hops are from Žatec, their ancestral home in the Czech Republic, and lager yeast is also from the republic. Some English Goldings are also used, along with American and German hops in India Pale Lager, a concession to the current craze for IPA. Hops are used in pellet form.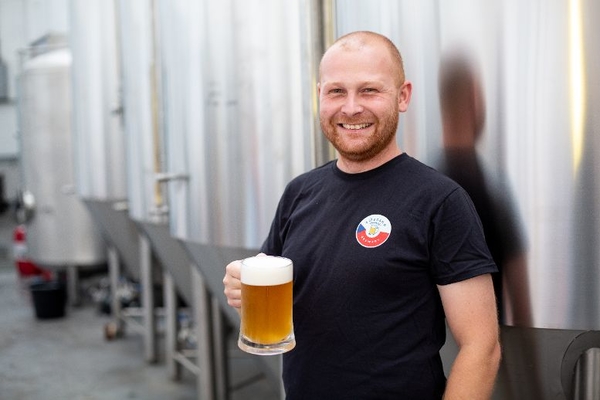 Czech lager is brewed with soft water and, surprisingly, Petr Skocek says London water, notoriously hard, is fine for brewing but it's thoroughly purified before it's allowed to enter the mash mixer. He's producing 31,000 litres of beer a month, of which 95 per cent in draught form is sold in the London area, while cans are available nationwide.
One of the beers, Danubius, 4.9 per cent, is brewed exclusively for the Danubius Hotel in London NW8, three minutes from Lord's. This is, to date, the only known connection between the Czech Republic and cricket but perhaps they'll soon be wielding the willow in Prague.
Petr says all the beers have a minimum lagering of five weeks while a collaboration beer, Otakar, 6.4 per cent, brewed with St Austell head brewer Roger Ryman, enjoyed six weeks in the lager cellar.  The yeast for this beer came from St Austell where it's used to brew their lager, Korev.
Bohem opened its Taproom in 2017 where Marek Průša (top) shows the importance of serving lager in the correct fashion. Poured with a typically thin British head, the beers are fizzy as too much CO2 is left in the beer. A thick, creamy head traps the gas in the foam, leaving a crystal clear beer with no unpleasant gas bite.
Marek knows his stuff as he had 20 years bar experience in the Czech Republic and is an accredited Pilsner Urquell tapster.
Bohem's biggest-selling beer is Amos, 4.9 per cent. It's brewed with pale malt and a member of the Saaz hop family called Kazbek. It has an earthy hop note with honeyed malt and forest fruits on the aroma, floral hops, rich malt and ripe fruit in the mouth, and a bittersweet finish with honeyed malt to the fore.
The brewery has just launched a low alcohol beer for the summer season. Slavia is 2.7 per cent and is brewed with just Saaz hops that impart a spicy note to the beer, which has a delicious and refreshing lemon fruit note on the palate.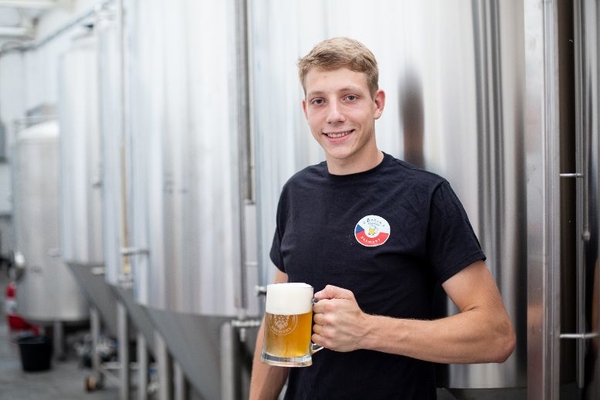 Sparta, 5.4 per cent, is an amber beer with Munich malt added to pale and hopped with Saaz.  It has 40 units of bitterness and will come as a profound shock to drinkers used to what Michael Jackson brilliantly dubbed "Ersatzenbräu".  It has rich malt on the nose, with notes of toffee and orange fruit. Malt on the palate is balanced by spicy hops and tart fruit, followed by a bittersweet finish with continuing notes of toffee, floral hops and tangy fruit.
Otakar, 6.4 per cent, takes its name from the kings of Bohemia. It's the collaboration brew with St Austell and is fit for a king, full-bodied and dangerously drinkable. You could lose a day supping this one. It's the result of double decoction and the pale lager malt is joined by a veritable pot-pourri of fine hops: Hersbrucker and Magnum from Bavaria and Saaz, with Nelson Sauvin from New Zealand as a "dry hop" following lagering. There's a Sauvignon white wine note on the aroma and palate balanced by floral hops and lemon fruit. Rich honeyed malt and floral hops dominate the palate, with notes of citrus, followed by a long bittersweet finish that ends dry but with notes of honeyed malt, tart citrus and floral hops. It has 25 units of bitterness.
Vasco is a Double IPL – India Pale Lager – weighing in at 7.4 per cent. It has 12 grams of dry hops that join Cascade, Jarryll, Mosaic and Simcoe to create a punchy 55 bitterness units. There's a massive hit of honey and fruity hops on the nose with a sudden burst of bitter hops in the mouth balanced by rich malt and fruit. The finish starts sweet but hops kick in with a late note of lemon fruit and a sudden bitter finale.
Raven, 4.2 per cent, is the hybrid to end all hybrids – a "lagered porter". The twist in the recipe is 7 per cent of oatmeal that gives a grainy and raisin fruit note. It's rich and complex with notes of caramel, dark malt, peppery hops and burnt fruit on the palate and finish. A stronger version, Druid, 5.7 per cent, has a more profound character of dark fruit, peppery hops and rich caramel.
The beers, and other occasional and seasonal brews, can be sampled at the Taproom, all served to perfection. They will renew your faith in lager as a great beer style. Go and Czech them out.
•Bohem Brewery, Unit 5, Littleline House, 43 West Road, London N17. Taproom, 120a, Myddleton Road, London N22. Opens 4.30pm Wednesday to Sunday. Close to Bowes Park train station and five minutes' walk from Bounds Green Underground.