Feature
David & Goliath battle over historic inn
Added: Monday, March 11th 2019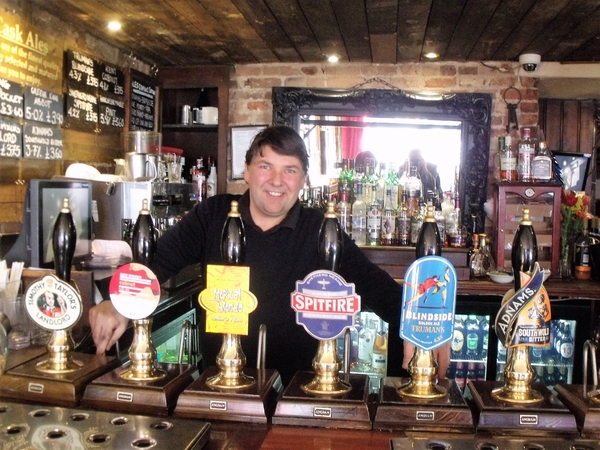 Gary Murphy (above) is locked in a national dispute over rent and beer prices that he fears will take as long to settle as the age of the historic coaching inn he runs in Barnet, north London. Ye Olde Mitre Inne dates from 1553, is Grade II-listed and has a regular entry in the Good Beer Guide.
But as a result of the experience of a long drawn-out battle with his pub owner and the Pub Adjudicator, Gary fears that many pubs could become unviable. He has to pay a huge premium for beer as a result of the terms of the tied lease with the Olde Mitre's owner, Greene King.
Gary wanted to change from his current lease and enjoy the freedom of an MRO – Market Rent Option – that would allow him to buy his beers free of the Greene King tie. The government legislated in 2016 to enable this to happen.
But pub companies are fiercely opposed to MRO as they make substantially more money as a result of the tie than they would for just a fair market rent.
In the case of the Olde Mitre, Gary has found that negotiating an MRO is almost as difficult, frustrating and costly as Britain leaving the European Union.
He is from Glasgow and was a career civil servant who gave up his pensionable post for his first love – the pub. He took one look at the Olde Mitre and knew he didn't need to search further: this was the pub for him. Bursting with pride, he shows visitors around the timber-framed building where the old stable block, with beams and standing timbers, has been opened up. He points to the scratches in the timbers made by horses back in the 18th and 19th centuries.
The back bar has a portrait of Charles Dickens who featured the pub in Oliver Twist when the Artful Dodger took Oliver to a pub. Dr Samuel Johnson was another regular visitor.
Gary has run the pub for 10 years and he has built the trade substantially. It was selling 230 barrels of beer a year when he took over and he has grown that to 700 barrels a year. While the Olde Mitre serves excellent food, it is first and foremost an ale house, with 97 per cent of the trade "wet", which means beer, cider, wine and spirits.
He is a popular host, greeting his regulars by name, helping elderly people to tables and personally serving their drinks. First-time visitors are taken on a quick tour of the inn with its rich history outlined.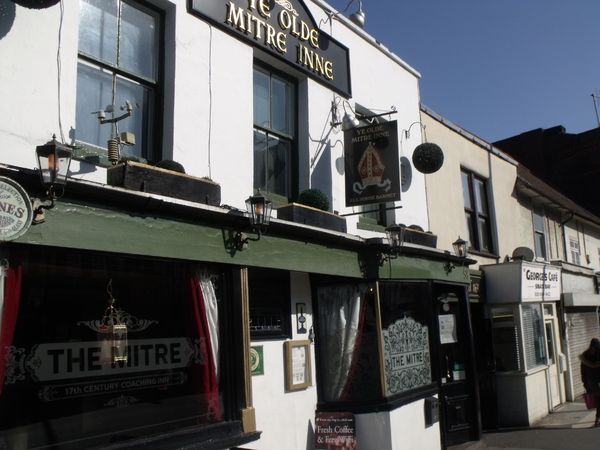 Gary's problems are rooted in the regulations brought in 2016 by the government when it set up the Pubs Code Adjudicator and the Pubs Code to govern the relationship between tenants and pub companies. The scheme was immediately mired in controversy when the government appointed Paul Newby as the adjudicator. He had been a director of Fleurets, estate agents who specialise in dealing with the licensed trade.
Critics pointed out that in his new role Newby would be negotiating with the same pub companies he had acted for while at Fleurets. As a result, the critics said, he couldn't be seen as impartial when handling disputes between those companies and their tenants. Some tenants' organisations even threatened to boycott the Pub Adjudicator's office.
At the Olde Mitre, Gary Murphy had paid £150,000 a year for rent and the additional cost of tied beer before his last rent review. Staffing costs are around £200,000, with business rates, utility costs and maintenance on top. 
"The pub is not viable for a landlord doing a normal level of trade," he says. "I only make a decent living because I over-trade and at my Rent Review in February 2017 Greene King wanted even more rent." Over-trading means selling more food and drink than is expected for a pub of this size.
In 2016 Gary told Greene King he wanted an MRO in order that he could be completely free of tie – a request that triggered a lengthy and costly legal process.
"Instead of agreeing to adjust my current lease for MRO," he says, "Greene King offered a new lease. I didn't need a new lease and the one they offered was even more onerous and would have been very costly to implement." To dispute this, he would have had to go to a PCA Arbitration, which would have taken up to two years to complete.  He would have had to pay the old rent during this time. 
In the end, he abandoned MRO and agreed revised terms to his current lease. These new terms allow him free of tie for ales. His range includes Taylor's Landlord, which accounts for 100 barrels a year, along with Tring Side Pocket and Adnams' Southwold Bitter.
But he is tied for keg beers, some craft lines and cider. He has to sell Guinness as his stout and he has recently had problems with Addlestones cider because Greene King stopped stocking it. 
After abandoning MRO, he made a complaint to the Pubs Adjudicator in April 2017 about Greene King's approach to MRO.  It took the adjudicator until September 2018 to reach a decision. Paul Newby found in favour of Greene King and closed the case, with costs awarded against Gary, who owes Greene King £2,000 as a result, on top of his own legal costs.
But Paul Newby's analysis was in conflict with legal advice that Gary had received. He commissioned another legal opinion that cost him £6,000. The lawyer found that the adjudicator had misinterpreted Pubs Code Regulation 28 that covers back-dated rent.
Paul Newby refused to engage and Gary sought the involvement of his Member of Parliament, Theresa Villiers, who wrote to the Pubs Minister. As a result of this intervention, the adjudicator conceded one significant mistake on Regulation 28.  But Paul Newby did not fully address the implications of the mistake, which, Gary says, affects thousands of tenants. As a result, Gary invited Newby to take the matter to the High Court on a "friendly" basis.
In order to fund the costs of a High Court hearing, Gary took the unusual step of launching a crowd funding campaign to raise money for the court case. He points out that pub companies have unlimited funds and can afford to hire expensive lawyers to defend themselves while tenants have only limited funds available.
Gary hoped to raise £10,000 from crowd funding but found he has such support from the pub-loving community that he has to date raised close to £12,000.
In his appeal for funds, he said: "15,000 pubs in the UK are contractually tied to buying their beer from their pub companies at sometimes double the price they could pay on the open market. This makes good pubs unviable, individual landlords and landladies bankrupt, and restricts product choice for pub goers.
"I have spent around £15,000 of my own money on legal advice that demonstrates that part of the process has been incorrectly implemented. If we get it working properly, the impact upon tenants seeking to go free of tie and make their pubs work for them and their communities would be massive."
Explaining why he needs to go to the High Court, he added: "I am not one ordinarily to ask for money and it feels uncomfortable. But I know that there is serious injustice at every level on this issue and someone needs to challenge these companies in court.
"This is a real life David and Goliath, of publicans trodden on for decades to make corporate businesses massive profits, a restricted beer market and communities ruined by losing their pubs."
He fears for the future of many traditional pubs. "Pub companies are taking back tenanted pubs at the end of their leases and turn them into managed houses. They serve tenants with a hostile Section 25 notice to quit a lease that would otherwise be renewed.
"The upshot is that pubs lose the individuality of tenants and become part of a corporate chain. We need the government to strengthen the Pubs Code and its whole pub protection strategy"
•A spokesman for Greene King said : "We respect the right of any of our partners to request an MRO lease and are fully transparent on their option to move to a free-of-tie agreement. We will always promote the benefits of a tied agreement with Greene King, such as shared risk, business consultancy support and regular investment in pubs and we believe the tied model plays a key role in promoting a varied and thriving pub industry."