Feature
Stroud: going green in the Cotswolds
Added: Monday, February 25th 2019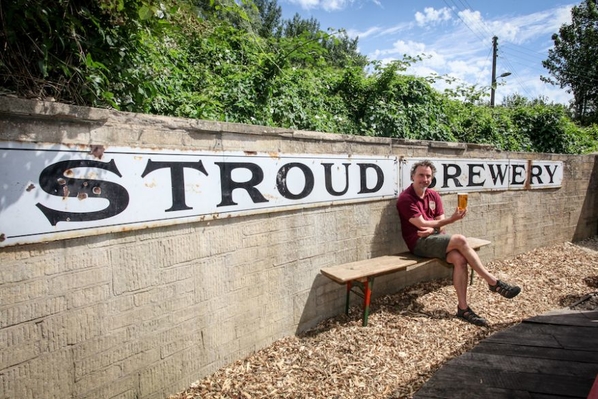 Stroud Brewery is growing...organically.  It started life in 2006 in the village of Thrupp on the outskirts of Stroud -- a Gloucestershire town of mellow Cotswold stone buildings -- and has moved from a five-barrel kit to 20 barrels along the way.
The brewery was the dream of Greg Pilley (above) and for a while it was a one-man operation. Now he has a workforce of 14 (below) to help him turn that dream into commercial reality.
It's a reality based on his determination to support the environment and use only organically-grown malts and hops in his beers. There are 22 breweries in Britain certified as organic but only five of them are 100 per cent free from agri-chemicals: a brewery can use conventional hops as they make up only a small proportion of the ingredients but still declare its beers organic.
Greg trained as a marine biologist and did home brewing in his spare time. He was involved in conservation work for 10 years. He did research sponsored by Guinness and then went to work for the Soil Association in Bristol, the champions of all things organic.
He got off to a flying start as a brewer. His first beer – and still his flagship brew – was Budding, a 4.5 per cent pale ale, named in honour of the Stroud engineer Edwin Budding, who invented the rotary lawn mower. The second brew won the title of Champion Beer of Gloucestershire.
Greg says he based the beer on Timothy Taylor's renowned Landlord. He matched the units of bitterness of Landlord but used a different hop regime of Fuggles, Goldings, American Amarillo and Bobek from Slovenia.  Amarillo had just become available and Stroud may have been the first British brewery to use it.
At first Greg had problems selling organic beer to pubs as landlords weren't prepared to pay the premium. His packaged beers in bottles and beer boxes were organic but he was forced for a while to use non-organic malts and hops for draught.
But he persisted and since 2017 he has been all-organic in the new plant. He raised £300,000 from crowd funding to meet some of the costs and was also aided by a grant from the European Union as part of its Rural Development Programme. The EU was impressed by Greg's support for local agriculture, with his grain bought from Warminster Maltings in Wiltshire.
"Organic malts and hops take £10-£12,000 out of our profits," Greg says, "but we're strengthening the message."
The additional costs are eye-watering. Greg, production manager Chloe Brooke and brewer Richard Taylor say they spend £300 a tonne more for organic grain and 50 per cent more for hops. In total, their annual bills amount to £50,000 a year more for malt than if they used non-organic grain and £35,000 a year more for hops. Organic hops are especially difficult to obtain. Fuggles and Goldings are the only English organic hops available and the brewery sources other varieties from New Zealand and the United States.
The costs are less horrific when you learn that an organic pint is between 5 to 10 pence more than a conventional one. The impact, Greg says, is more on his profits than on the drinker's pocket.
The new brewery, just yards from the original site, was a car park six months ago. There's still work in progress, with carpenters hard at work, but it's open for business. It's very American in concept with a tap room and bar at its heart and which are rapidly becoming hubs of the community. As well as serving beer, a pizza oven from Naples supplies food for the drinking crowds.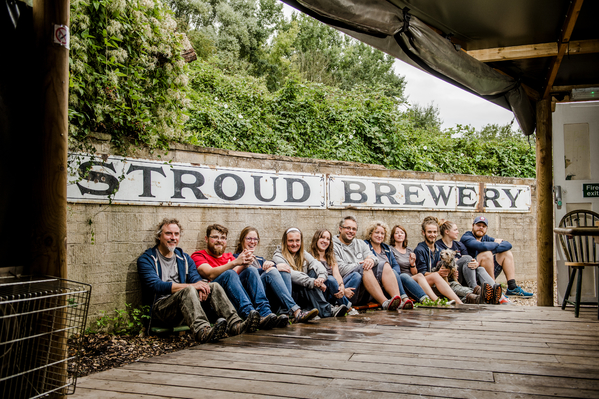 Greg aims to make the tap room a resource for the town. It will feature pop-up meals cooked by local chefs, workshops for local crafts, vegan food nights and community events. The brewery is handily sited alongside a canal that attracts walkers and – when the waterway is dredged – will also bring boats and thirsty navigators.
Greg won't deal with supermarkets and chooses wholesalers such as Abel & Cole and Planet Organic, who share his vision.  The brewery is part of the B Corps movement that supports environmentally-friendly businesses and which is supported by such retailers as Waitrose. While local pubs stock the brewery's beers and Greg and his team supply national outlets with bottles, beer boxes and kegs, they have doubled sales through the tap room and may open more bars in the future.  At present, 10 per cent of annual production goes through the tap room, with sales accounting for 25 per cent of turnover and 40 per cent of profits. With 45 breweries in Gloucestershire and intense competition to get beer into local pubs, the tap room is vital to Stroud's success.
The spacious brew house has room to expand to 40 barrels. The kit was built by a small engineering firm in Burton-on-Trent and four new conical fermenters complement the original vessels, allowing keg beer and lager to be produced.  Greg says a lot of keg beer is drunk in the tap room mainly by a young audience that shares his concern for provenance and lowering carbon footprints.
He has installed a new chilling system that recovers heat to warm the building, including the tap room and bar. He also collects rain water for cleaning and toilet flushing and will install solar panels on the roof to cut energy costs if he can persuade the local authority not to increase his rates as a result. Gas and electricity come from green suppliers.
The production split is cask 50 per cent, keg 20 per cent, bottle and can 30 per cent, with can sales up and bottles down.
Greg says cask is struggling but he's putting a lot of effort into it. He needs national wholesalers to help boost both cask and keg.
"There are fewer guest slots in local pubs as there are now so many breweries," Greg says. "We have to stress that our beers have inherent value. Not just hops – everyone talks about hops!
Our beers have other values, such as hand-crafted malt."
The malts used at Stroud include Plumage Archer, a barley variety first sewn in 1905 and recently revived and grown on the Prince of Wales' Duchy Farms.
Greg Pilley sums up the aims of Stroud Brewery in one pithy phrase: "We're brewing beer with a sense of community."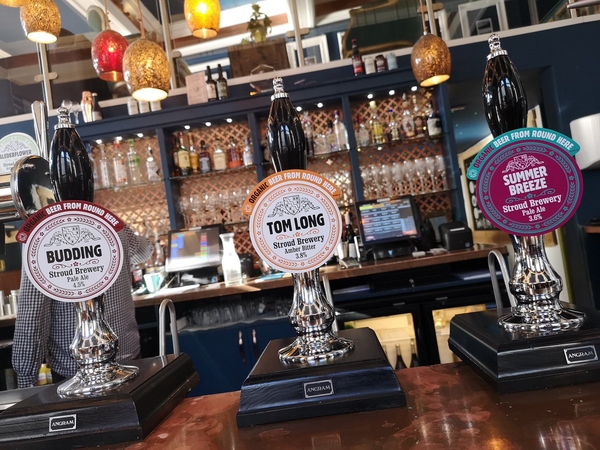 The beers
Organic Lager (4.9%).  Here's proof that well-made lager beer can be made in Britain. It has a five-week fermentation and maturation regime and is brewed with Lager and Munich malts and hopped with Pilgrim, Saaz, Wakatu  and Taiheke varieties. There's delicious lemon fruit on the nose with a clean, quenching palate with good hop bitterness, followed by a dry, bittersweet finish.
Budding (4.5%) is brewed with pale ale and wheat malts and hopped with Fuggles, WGV, Amarillo and Hallertau Blanc.  There's honeyed malt and biscuits on the nose with gently fruity hops. Bitterness grows on the palate but is balanced by biscuit malt. Creamy malt and gentle hops dominate the finish but ends with a dry and hoppy finale.
Tom Long (3.8%) is named after a local highwayman.  It's brewed with crystal malt and wheat alongside pale malt and with the addition of orange peel and ground coriander seeds. A single hop, Goldings, is used.  It has a spicy nose with marmalade fruit and peppery hops. The palate is well balanced with rich malt, spices, fruit and hops, followed by a dry, fruity and hoppy finish, with continuing notes of spice.
Dubbel Bond (6.2%) is a collaboration brew with Good Chemistry in Bristol, a micro that produces unfined and unfiltered beers suitable for vegans.  Pale malt is joined by chocolate and dark crystal malts and is hopped with Goldings and Saaz. There's a big chocolate hit on the nose with biscuit malt and burnt fruit. The palate is dominated by dark fruit, chocolate, cappuccino coffee and light hops, with chocolate, coffee, dark fruit and peppery hops combining in the long, complex finish.
Schwarzwälder (5%) is a Black Forest cherry stout conditioned over sour cherries and molasses. The grain bill is complex, made up of pale ale, cara, crystal, chocolate and carafa malts and hopped with First Gold and Sovereign. 30 kilos of cherries are used and they are boiled and then added like a dry hop at the end of the copper boil. The beer has a sweet fruit, roasted grain, peppery hops, coffee and chocolate aroma with a palate dominated by bitter hops, chocolate, coffee and dark fruit. The finish is big and complex with peppery hops, cherries, chocolate and dark malt.
Snø Neipa (5%) is a New England-style IPA brewed with pale and Munich malts and hopped with Cascade and Citra. It has a big grapefruit/citrus nose with spicy hops and honey malt on the palate balanced by bittersweet fruit and hops, with a long, rich finish in which citrus hops interweave with honey malt and spicy hops.
•Stroud Brewery,  Phoenix Works, London Road, Thrupp, Stroud, Glos GL5 2BU. 01453 887122. www.stroudbrewery.co.uk
The name of the brewery revives that of the Stroud Brewery dating from 1760, which became part of Whitbread's West Country Breweries. The national company closed Stroud and the brewery was demolished in the 1960s.