Feature
Alex Brodie retiring, but not his tastebuds
Added: Monday, February 18th 2019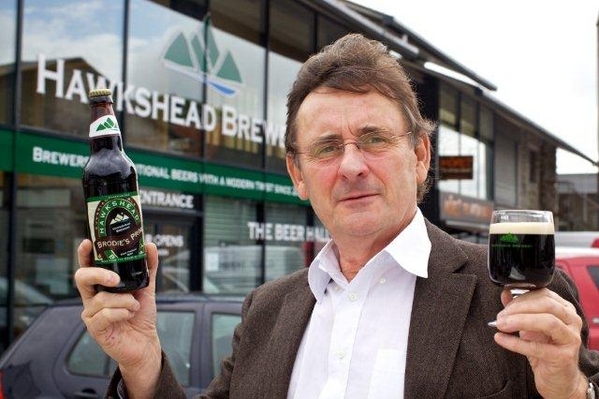 Alex Brodie has a new job title at Hawkshead Brewery: "Chief Beer Taster". It's a voluntary position that allows him to sit in the spacious Beer Hall in Staveley in Cumbria and sample the wide range of beers that pour from the brewery alongside. He can taste them with pride for he built an expanding brewing business that has been instrumental in kick-starting the beer revival in the county.
Alex has officially retired but he keeps a close eye on his beer baby. Back in 2002, when he launched Hawkshead in a dilapidated barn deep in Beatrix Potter country, he had no idea his brewery would grow at a great pace. Back then, Cumbrian beer meant Jennings but now there are some 40 breweries in the county that have followed in Alex's footsteps.
As befits a former journalist, Alex likes beer. He was born in Rochdale in 1950 and after working as a reporter for newspapers in various parts of the country he joined the BBC and became a leading broadcaster. He was the Middle East correspondent and a presenter on the Radio 4 flagship Today programme.
But he grew tired of travelling, missed his wife and, as an early member of CAMRA, decided to turn his love for beer into a new profession.
"I always loved pubs," he says, nuzzling a glass of Hawkshead Bitter, the first beer he brewed and still his favourite. He picked up the mantle from his school teacher father who would go to countryside pubs at the weekend with Alex in tow.
"I would sit outside with a lemonade and a packet of crisps," he recalls. "I managed to get inside at the age of 16 and I was in a pub in Bridlington when John Smith's people arrived and took out the handpumps. I was in the same pub 10 years later when they returned and put the pumps back in!"
Even today, in the age of "craft beer" and modern keg, Alex remains a staunch cask ale drinker. He grows misty-eyed as he recalls his epiphany in the world of real ale.
"With the aid of the Good Beer Guide, I became a beer hunter," he says. "At the age of 16 or 17 I drank Theakston's in the White Bear in Masham and years later I saw Black Sheep sweep across Yorkshire. I remember tasting Taylor's Landlord in the Fountain Inn in Wharfedale and thinking it was the best beer I'd ever drunk. When I launched Hawkshead I wanted to brew a beer like Landlord, which is why I used Slovenian hops."
When he was based in London he was fond of drinking Courage Directors Bitter, which he says was a hoppy beer, and he was impressed with the American hops in Oakham's JHB when it won the Champion Beer of Britain trophy in 2001.
But the game changer was drinking Thornbridge Jaipur IPA in the Devonshire Cat in Sheffield in 2007.
"I thought 'What is this?' I'd always enjoyed hop flavours but Jaipur changed the way beer was brewed."
Matt Clarke from New Zealand joined Alex at Hawkshead. Matt went on a course designed by the Institute of Brewing and Distilling, passed the final exams, and brought to Hawkshead not only the ability to make new wave beers but also  a love of hops from his native country and the United States. The result was Windermere Pale, the brewery's first new style beer brewed with American Citra, followed by Cumbrian Five Hop and NZPA "loaded with New Zealand hops," Alex says.
Hawkshead was based in the barn for four years, with a seven barrel kit and three fermenting vessels designed by the legendary builder of small breweries, David Smith. Production went from 20 to 40 barrels a week but demand forced the move to Staveley in 2006. Alex fashioned the Beer Hall there for visitors, diners and drinkers alongside a new brewery with a capacity that has grown to 100 barrels a week.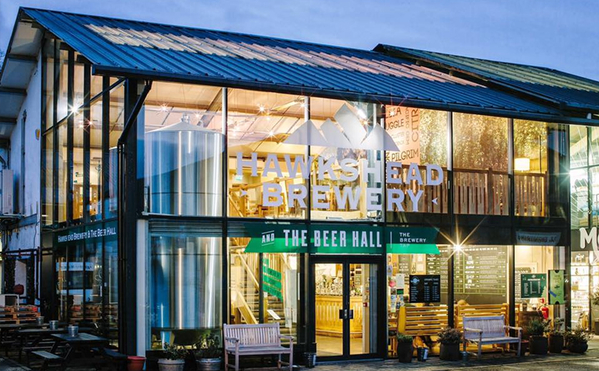 "We hit just the right time," Alex says, "before the big beer revolution. There were enormous gaps in the market. The Southern Lakes had a more than average number of free houses and customers came to us.
"We also had the good luck at the start when Gordon Brown [chancellor in the Blair Labour government] introduced Progressive Beer Duty. We wouldn't have survived if we'd had to pay full excise duty.
"We started with an investment of £40,000 and since then we've grown the business by ploughing the profits back in."
He denies that, unlike most members of the journalists' fraternity, he has a good head for business.
"I'm a reporter turned brewer. I'm used to poking my nose into things and I don't get fobbed off. As a beer enthusiast, I understood the market. I could walk down any street and tell you who owned the pubs. I knew the tie and how it worked.
"I told our first commercial manager which pubs to avoid as they only sold keg. Then early in the 21st century those pubs came to us for cask beer.
Hawkshead Bitter was followed by the fruity Red, Lakeland Gold – "with uncompromising bitterness," Alex says – and Brodie's Prme. "That was named in honour of my father. I think it was the first black IPA but we call it a Porter, brewed with American Cascade."
Alex says the small independent brewers "unlocked the public's taste buds. We kicked the regional brewers back into life. They'd been sitting on large pub estates and hadn't paid much attention to beer."
Alex and Matt Clarke proved just how much hop flavour can be packed into a beer of modest strength with the 3.5 per cent Iti – Maori for "little" -- packed with New Zealand hops that deliver powerful gooseberry, grapefruit and tropical fruit flavours.
Alex was an early and keen supporter of SIBA, the Society of Independent Brewers. He says the society's direct delivery scheme, which delivers beers to pubs without the use of middlemen, gave small brewers entree into pubs owned by the giant national pub companies such as Enterprise and Punch, as well as smaller regional "pubcos".
"Drinkers got better beer," he says. "We grew the appreciation of good beer."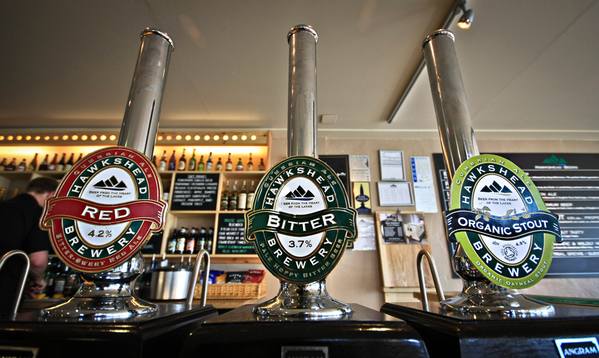 As the brewery grew, Alex had to decide whether to expand or stand still.
"There's such a buzz when things go right," he says. "The question was: Should I cap the business or let it grow?"
The answer was to grow but in an unexpected way. In March 2017, Alex stunned the beer world by selling Hawkshead to Halewood International, a massive retailer of wine and spirits around the globe. It owns several whisky distilleries but is best known for Crabbies Alcoholic Ginger Beer.
Why did Alex sell? "I was knackered," he admits. Launching, running, brewing and finding outlets for his beer had taken its toll. But he was determined that new owners would share his commitment to great beer, whether cask or keg.
"Since the arrival of BrewDog and Thornbridge, the global brewers have moved into craft beer. But the globals haven't coming knocking on my door" -- suggesting they would get short shrift if they did.
With Alex keeping a close, beady eye on developments, Halewood is sticking close to his vision. In October 2018, the company opened a second Hawkshead brewery in Flookburgh where Matt Clarke is in charge. He matches the Staveley beers while using a modern, German-built plant capable of producing 360 barrels a week.
In time the two breweries will treble their capacity and Halewood plans to not only make Hawkshead beers more widely available in the UK but will also use its experience and muscle to export to the US, Europe east and west, Scandinavia and even Asia.
The two breweries produce some keg beer and even a lager but they will stay true to Alex's passion for cask ale.
Alex has no time for the doomsters keen to write cask beer's obituary. "It was cask that launched the craft beer movement" he insists and proudly points to the fact that 70 per cent of Hawkshead's production is real ale and "it's going in the right direction".
"All I've ever cared about is drinking and making good beer," he says. "CAMRA still has a job to do in supporting cask producers.
"The reason some small breweries are producing keg is because it's easier. Cask is hard graft and will always need protecting.
"But you can't beat a good pint." He pauses and adds, like a good northerner, "When it's pulled through a tight sparkler!"
Alex Brodie has played a crucial role in boosting the fortunes of cask beer in a part of the country where choice was limited and the pub trade fluctuated during the tourist season and the quieter periods. But real ale is now booming in the Lakes and Alex can take much of the credit for that.
And while he has officially retired, his taste buds are still in good working order. Having put the world to rights, Hawkshead's Chief Beer Taster ambles back to the bar to check on another fine brew. It's demanding work.
•First published in BEER, Spring 2019