Feature
There's dark at the end of the beer tunnel
Added: Monday, December 31st 2018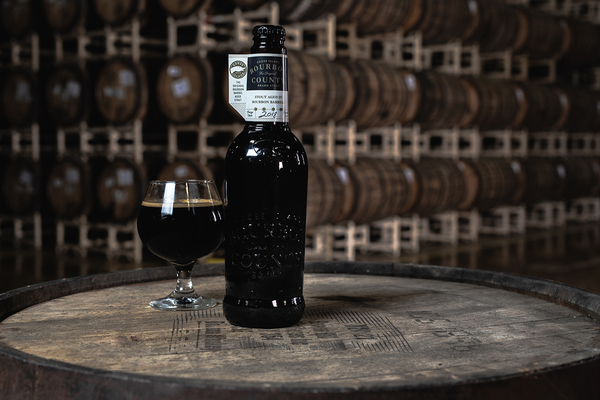 Are you bored of going into pubs and finding only three or more pale beers on the bar? Help is at hand. 2019, a report says, will be the year when stout makes a comeback.
Stout and its near neighbour porter have never gone away but they have been sidelined in recent years as a result of the frenzy surrounding India Pale Ale. It's good to see IPA, with its historic associations with Burton-on-Trent in the 19th century, restored to glory -- but porter and stout also deserve a key place in the pantheon of great beer styles.
It was the insatiable demand for porter from the new industrial working class in London in the early 18th century that created the first big commercial brewers. Publican brewers couldn't keep pace with the clamour for porter and new entrepreneurs quickly came to dominate the market.
Samuel Whitbread's brewery in the Barbican was declared one of the wonders of the age. The reigning monarch came to see James Watt's steam engine that provided power for the brewing process while enormous cisterns stored and aged nothing but porter and stout.
You can visit the Whitbread site, used today for conferences, but no beer has been brewed there for a long time. But there's no shortage of modern interpretations of the style.
Every autumn the Goose Island brewery in the U.S. launches a new vintage of its Bourbon County Stout. When the beer is made available here, the small batch sells out within 24 hours though there is still stock available at www.beerhawk.co.uk.
If you're too late to get a bottle, make a note to grab the 2019 vintage when it appears -- launched with neat timing on Black Friday -- and marvel at the complexity of the 15.2 per cent beer, rich in dark fruits, caramel, vanilla and coconut notes that come from the whiskey barrels in which it's aged.
At St Austell's annual Celtic Beer Festival in late November, there was a fine array of ales from all over Cornwall. The standout beer for me was St Austell's own Black Square Imperial Stout (10.4 per cent), which head brewer Roger Ryman ages in oak for several months every year before it's released for public consumption. It has a big hit of warming alcohol with coffee, chocolate and vanilla notes balancing woody and spicy hops.
Imperial or Russian Stouts are an important part of the breed. In the 18th and 19th centuries London brewers exported strong versions of stout to Russia and the Baltic States. The beers were so keenly appreciated there that the Russian court gave them a warrant, which explains the "royal" in their title.
One fascinating example of the style is brewed by Harvey's in Lewes in Sussex. Miles Jenner, the director of brewing, was able to get permission to recreate an Imperial Extra Double Stout (9 per cent) from the descendants of a Belgian exporter named Albert Le Coq. He sold so much of the beer to Russia in the 19th century that his company opened a brewery in Tartu, now in modern Estonia, in the early 20th century to cut out the long sea journey from London.
This worked well until the Russian Revolution in 1917 when the brewery was nationalised and switched to producing lager. But now the original beer has been restored and you can revel in the dark fruits, roasted malts and pungent hops on offer.
Thornbridge Brewery in Derbyshire brews an excellent Saint Petersburg Imperial Russian Stout (7.4 per cent). I was present at the brewery a few years ago when batches of the beer were tasted that had been aged in whisky, wine and Cognac barrels, with stunning new layers of aroma and flavour provided by the oak and its previous contents.
At the Chiltern Brewery in Buckinghamshire, head brewer Tom Jenkinson makes a rich and complex Imperial Export Stout (9 per cent), with such variants as Tudor Spice and Oak Aged. It's worth visiting the brewery shop to pick up some samples www.chilternbrewery.co.uk
A Happy Dark New Year!
•First published in What's Brewing, January 2019.