Feature
Top landlord offers a Rye look at beer
Added: Friday, December 7th 2018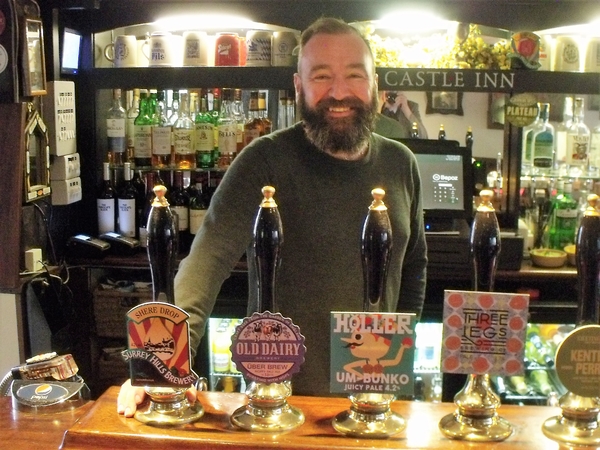 Jeffrey John Bell has been around the block several times running successful metropolitan pubs but now he's happily ensconced in an ancient ale house in one of the remotest parts of England – though one that attracts a vast horde of visitors.
The Ypres Castle is in Rye, one of the historic Cinque Ports in the Romney Marsh area that straddles Kent and Sussex. The flatlands are criss-crossed by rivers and dykes, with small forts known as Martello Towers dotted along the coast, built in the 19th century to watch for invasions from revolutionary France.
The region has its own unique form of transport, the Romney, Hythe & Dymchurch Railway, the smallest public railway in the world, with miniature trains that chug from Hythe to Dungeness, offering the finest views of the marsh.
And standing high above the marsh is the handsome old town of Rye, with rambling cobbled streets, half-timbered buildings and a number of fine inns and pubs, including the Ypres Castle. The weather-boarded inn -- known locally as the Wipers -- is reached by steep stairs, close to the tower that gives it its name. The tower was built in 1249 and became known as the Ypres Castle when it was owned by John de Ypres, who came from the town of that name in what is now Belgium.
Jeffrey John Bell arrived in Rye by a circuitous route. He is a lawyer who developed a love of beer culture when he lived and worked in Prague. When he came back to Britain he turned that love in to a career as a publican.
He became one of the best-known pub landlords in the country as a result of a blog (stonch.blogspot.com) in which he gives vent to all aspects of running a pub, the customers he attracts, the beers he favours, along with visits to other pubs and breweries, with trips to Italy and the Czech Republic thrown in for good measure.
His first pub in London was the Gunmakers in Clerkenwell. He says his mentor was the legendary Binnie Walsh, who ran the multi-award-winning Harp in Covent Garden. Binnie took Jeff under her wing and advised him on how to run a successful London pub.
The Gunmakers is a Punch lease but Jeff had a free-of-tie agreement with the pubco in order to serve the beers he favoured. From the Gunmakers he moved to the Victorian Finborough Arms in West Brompton where he built a solid reputation for food, drink and entertainment. He admits his only major mistake in his career as a publican was to sell the pub when he thought Chelsea football club planned to move from the area to a new ground. The Finborough attracts scores of fans on match days – and will continue to do so as the club will stay at Stamford Bridge. Own goal, Jeff!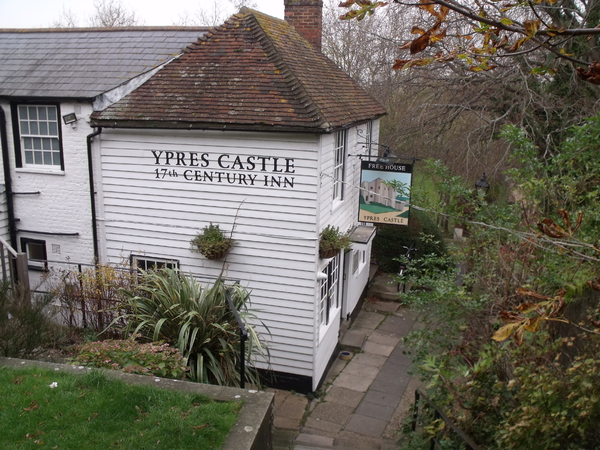 He enjoys walking, especially in East Sussex. He went on a 35-miles ramble in the region in 2013 and he stopped for much-needed refreshment in the Ypres Castle in Rye. Five years later he heard the inn was for sale and thought, with its accommodation and beer garden, along with local ales and good food, backed by a fast train link to London with HS1, it could be a successful business.
And so it has proved. The inn is listed in the Good Beer Guide and Jeff has added live music at weekends while food, including seafood, is locally sourced, with bread from a local bakery. He plans to upgrade and extend the beer garden, which has stunning views over the roof tops to the encroaching marsh.
It's a recipe that can hardly fail. Even on a cold winter's day, Rye was bustling with visitors and the town attracts top artists to perform there. Aled Jones was due to appear and Jeff says Rye has even hosted Dionne Warwick: quite a culture shock for a mega star from New Jersey.
The Ypres Castle Inn dates from the 17th century and was possibly built in the 1640s. In the 20th century it was owned first by Fremlins and then by Whitbread. It has everything you would expect from an ancient and venerable inn: roaring fires, beams and standing timbers. The long bar concentrates on beers from Kent and Sussex breweries: Old Dairy – now run by former Fuller's director John Roberts – Holler and Three Legs, with Surrey Hills from a neighbouring county. Cider and perry are also locally sourced.
Jeff also has a good wine cellar. His father bought a house in Tuscany that was badly damaged in the earthquake that ravaged the area in 2013. Jeff took a year out, rebuilt the house, learnt Italian and developed a taste for local wine. He knows there's far more to Italian wine than Chianti and can wax lyrical about the joys of Barolo.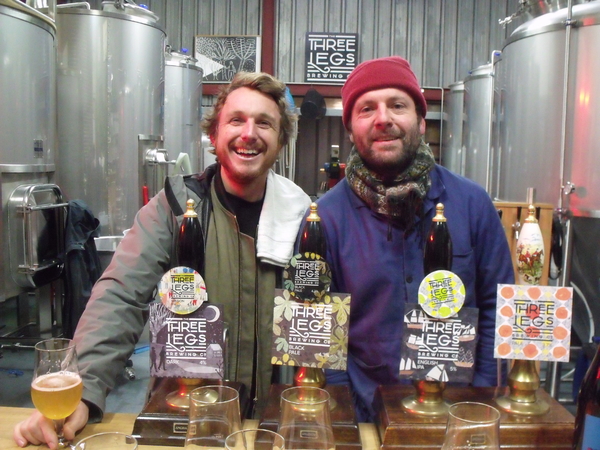 We had a quick tasting of Three Legs beer and then made the short journey to the brewery in Broad Oak.  There's no longer a pub in the village and the brewery tap room is a popular meeting and drinking place for locals. As many as 200 people pack the place on summer evenings.
The brewery was founded in 2015 by Sam Chamier and Ben Murray (above) who met while studying viticulture at university. They moved seamlessly from the grape to the grain by starting a nano six litre plant in a shipping container on Burnt House Farm and then moved in to a converted barn with a 12-barrel kit, including three fermenting vessels.
They have a substantial range of beers, including a 2.8% Table Pale, Pale (3.7%), Session IPA (4.5%), English IPA (5%), Black Pale (4.3%) and Dark (4%). The base malt is Warminster Maris Otter barley. The hop varieties include Target from local fields that used to grow hops for Guinness.
The English IPA, as befits the name, uses just Target and has an earthy, grassy and spicy aroma and palate, balanced by honeyed malt. Session IPA is a horse of different colour, with American Cascade, Columbus, Citra and Summit and it bursts with citrus fruit. The low gravity Table is hopped with Citra and Mosaic and has a rich gooseberry and lemon character.
Sam and Ben also make cider, using local apple varieties, including Bramleys and Russets. The cider is aged in wine barrels and they plan also to age beer in wood, using Champagne containers.
Jeff took me back to Rye and we had time for one last visit before I caught the train home. Waterworks is a new micro pub (below) handy for the station and with an excellent range of local beers, including Old Dairy, Romney and Three Legs, with some beers drawn straight from casks behind the bar. The building dates from 1718 and was first Rye's water works, before becoming a public toilet, a soup kitchen and finally a more congenial pub that opened in 2018.
As micro pubs go, this one is quite spacious, with plenty of comfortable seating and, for the Romney Marsh, the obligatory blazing fire.
Jeffrey John Bell is a fine host and genial publican with a fund of good stories and, most importantly, a love of good beer. Don't miss a trip to the Ypres Castle Inn and Rye and explore this remote but entrancing area.
•Ypres Castle Inn, Gun Garden, Rye, East Sussex, closed winter Mondays. www.yprescastleinn.co.uk. Waterworks, Tower Street, Rye. Three Legs Brewery, Unit 1, Burnt House Farm, Udimore Road, Broad Oak, East Sussex. www.thethreelegs.co.uk