Feature
Meet Sofoklis, Greek beer's philosopher
Added: Friday, October 19th 2018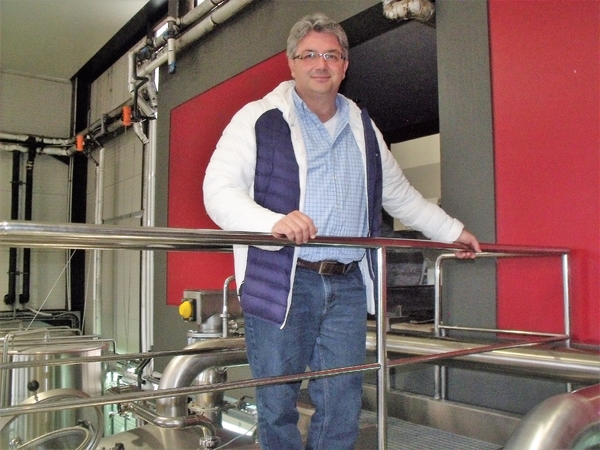 You know you're in Greece when you meet a brewer called Sophocles. The full name of the brewer in question is Sofoklis -- the modern spelling -- Panagiotou and he can reasonably be called the Philosopher of Beer.
He's passionate about his calling and -- as president of the Hellenic Association of Brewers -- he has challenging ideas on how to support the young craft brewing movement in the country.
He planned his Septem brewery near Kimi on the island of Evia in 2005 and he opened four years later at the height of Greece's financial crisis. He says there were only five micro breweries in operation at the time and most of them closed when the economy went into free fall.
Septem survived and is now the biggest craft brewery in the country. Sofoklis says at first he could grow only slowly as the cash-strapped banks couldn't lend him money. He was also badly affected by a 100 per cent increase in excise duty imposed by the government.
In spite of the financial crisis and the savage austerity that followed, craft beer is growing in Greece. There are now between 45 and 50 small breweries and many of them participated in Zythognosia – Athens Craft Beer Expo – on 13 and 14 October.
Sofoklis wouldn't use the term "boom" to describe the craft sector. Greeks have a low consumption of beer – between 36 and 37 litres per head a year, he says. Women drink little beer and consider it something men consume while they watch football.
But attitudes are changing. The crowds attending Beer Expo – around 5,000 over two days – were predominantly made up of young people and included many women.
Nevertheless, beer has a long way to go to catch up with the popularity of wine. Sofoklis points out that Greece has the fourth highest rate of excise duty for beer in the European Union, making it expensive for hard-up Greeks.
The craft sector is faced by the market domination of Heineken and Carlsberg, who control around 85 per cent of beer sales, with other big brewers taking a further slice. Craft accounts for only around 1 per cent of sales and the sector is hampered by the fact that the government's ceiling for lower rates of duty stands at 200,000 hectos a year – and bigger brewers deliberately stay below that ceiling. Sofoklis and the brewers' association campaign to have the duty rates changed to boost craft producers but they are not hopeful of success with the present government.
But it's not all doom and gloom. The craft brewers are producing a diverse range of high-quality beers and several of them are busily exporting as the domestic market is restricted, with many bars tied to the big brewers through loans.
In common with several of the new wave of craft brewers, Sofoklis Panagiotou began as a wine maker and worked in that industry between 1999 and 2012. He was born near the site of his brewery and he says he returned to his roots determined to make beers with tastes and flavours similar to those of wine.
He designed his brewing kit, which was built in Greece with a mash mixer, lauter tun and hop whirlpool system. Pellet hops are used in the whirlpool but Sophocles prefers whole flowers and adds those after the boil in a hop back or "hop gun" attached to the whirlpool.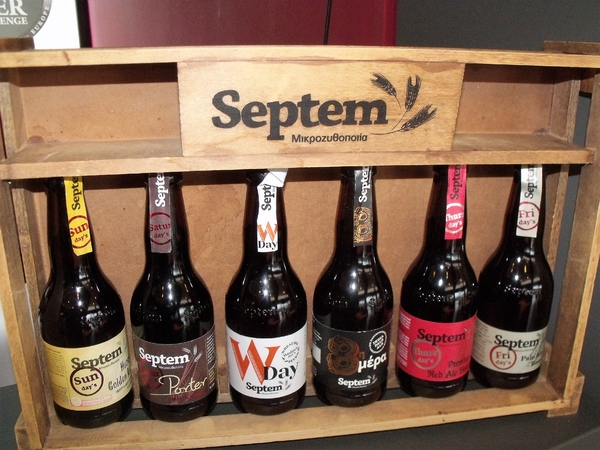 He uses a wide range of hops and, with his wine background, is especially fond of Nelson Sauvin from New Zealand, which is renowned for having aromas and flavours similar to those of the Sauvignon grape variety. Sofoklis has also planted his own hops in a field behind the brewery. He planted Cascade in 2011 and followed with several other varieties but most of them failed. He added Chinook in 2014, which has flourished alongside its American cousin.
Septem is the Latin for seven and Sofoklis and his team at first produced seven beers but have since added an eighth. "We've invented the eight-day week," he laughs.
When he described hops as "the grapes of brewing", my ears pricked up as I first heard the expression from Sean Franklin, the revered Yorkshire brewer who founded Roosters Brewery near Knaresborough. The connection became clear when Sofoklis said his first beer, Friday Pale Ale (4.7%), was brewed with help and advice from Sean. It's made with imported Maris Otter malt from Crisp in Norfolk: "Maris Otter is the best malt when you're making ales," Sophocles stresses. The hops are Nelson Sauvin and Bobek from Slovenia.
Pale Ale is Septem's best-selling beer along with Sunday Honey Golden Ale (6.5%), brewed with Amarillo, Styrians and German Hallertau hop varieties. Honey, orange fruit and biscuit malt combine in this wonderfully quenching beer.
Other beers in the range include Monday Pilsner (5%), Wednesday Wheat IPA (6%), Thursday Premium Red Ale (4.5%), Saturday Porter (5.5%) and 8th Day (7%). A Wet Hop Beer (6.5%) was brewed with Cascades fresh from the harvest in early autumn.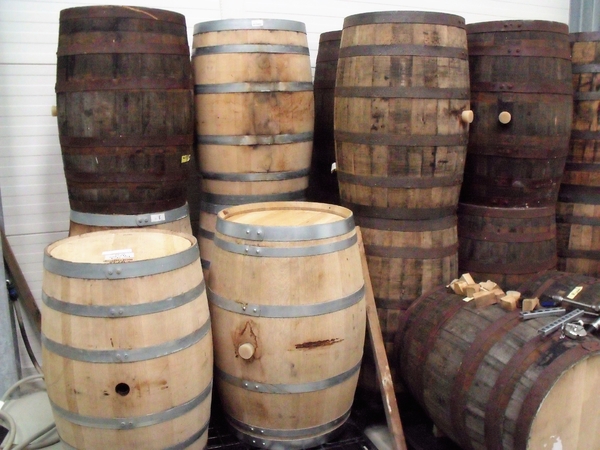 Sofoklis is also developing a range of oak-aged beers, with casks and barriques obtained from wine, whisky and rum makers. The beers include a remarkable 10% Dilemma aged for eight months in light toast French wine barriques. The beer's name reflects the fact that in a blind tasting drinkers would be hard pressed to decide whether they're sampling beer or wine, as wine residues in the oak blend with oak, smoke, vanilla and dark fruit.
A 10.8% stout with a mighty 85 units of bitterness is a blend of beers aged in whisky, rum, American and French oak casks, some second use and some fresh wood. The beer will stay in wood for nine months.
Septem has introduced a 7% IPA, aimed principally at tourists from abroad who are more beguiled by the style than the average Greek. In common with all the brewery's beers, it's unfiltered and unpasteurised and is hopped with Citra, Mosaic and Simcoe varieties. It has a big orange and lemon fruit aroma balanced by juicy malt, followed by a hoppy and fruity palate and a long, complex fruity, hoppy and malty finish. 15 per cent of Septem's production is in draught form and half of that is now accounted for by IPA.
Sofoklis has won some 30 awards for his beers, including Brewer of the Year in the 2009 and 2015 International Beer Challenge. He is gaining a strong reputation outside Greece, exporting 25 per cent of his annual production to 13 countries, including the US, UK, Cyprus, Netherlands, Germany, Italy, Spain, Denmark and Australia.
These are beers to watch out for, flag-bearers for Greece's new wave of craft brewers.
*A further report on Greek beer will follow