Feature
Turkish delight at first ever beer fest
Added: Saturday, May 12th 2018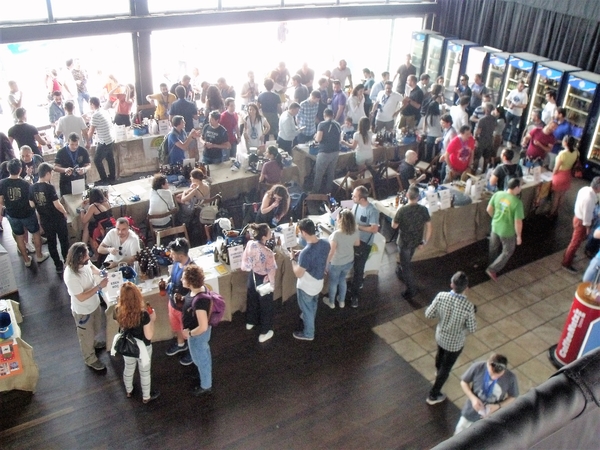 The first ever beer festival held in Turkey in May is further evidence of the dramatic sweep and reach of the world-wide craft revolution. The festival was held in Izmir – historic Smyrna – in a large complex overlooking the Aegean, with Greece almost in touching distance.
The festival included beers from some of Turkey's seven commercial craft breweries along with a large number of mustard-keen home brewers who are creating beers with a wide range of styles. The festival – known as Brewstival – included a home-brewing competition (judges seen below). The home-brewing club in Izmir is IZEVBIR, founded in July 2017. The members hold tasting evenings and pool malt and hops. http://www.instragram.com/izevbir
At the time of the Ottoman Empire, the production of beer, wine and spirits was permitted in countries and regions incorporated into the empire that had previously made alcohol. Production was limited and heavily taxed.
But following the Atatürk revolution and a secular society in the 1920s, commercial brewing developed on a larger scale -- though during the 1930s all breweries were nationalised and rolled up into one large corporation.
Today Turkish beer is dominated by Efes, founded in 1966. It is ubiquitous, with breweries in Adana, Ankara and Izmir. But it faces competition from Carlsberg, which has opened a Tuborg plant in Izmir on the same street as the Efes brewery.
In order to stress its Turkish roots, Efes helped fund Brewstival, which included inviting beer experts from Spain to help judge the home-brewing competition. But Efes kept a low profile and allowed the small breweries to take centre stage.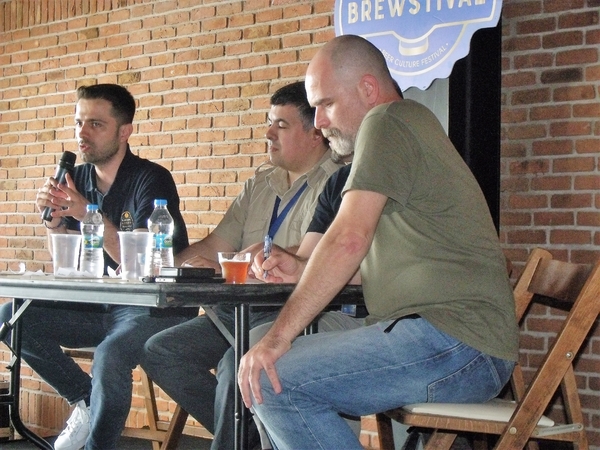 The first commercial beers I sampled, from Graf, turned out to be from a gypsy brewery, with the beers produced by Brouwerij Anders in Belgium, though Graf plans to open its own plant in the future. The two beers on show were Belgian Blonde, 7.5%, and Porter, 5%, both well made and distinctive, as you would expect from a respected Belgian operation. The blonde has a big citrus aroma and flavour while the Porter, brewed with English Maris Otter pale malt, has an addition of three roasted malts and American Chinook and Willamette hops. It has a big roasted grain, chocolate and coffee character.
I was surprised to find a number of brewers importing malt, which is expensive, as Turkey is a major producer of top quality grain and Smyrna barley was once widely used in Britain in the 19th and 20th centuries.
I followed these beers with samples from two local Izmir breweries. Feliz Kulpa produces a 5% Smyrna Ale with a good malt, hop and fruit aroma and palate, while Merih Girgin brews Liberté, also 5%, using pale and amber malts that produce rich a nutty and burnt fruit character, with citrus notes from Citra and Ella varieties. The brewery also makes Smugglers, 5.2%, with Citra hops that give a big citrus/grapefruit note. The Merih Girgin beers were so good I assumed they were commercial ones but it turns out they are home brewed.
The Bosphorus Brewing Company is based in Istanbul and its main brand is IPA, which, tongue-in-cheek, stands for Istanbul Pale Ale. But there's a genuine English IPA connection, as the brewery and restaurant are run by two expats from Doncaster, Philip and Jill Hall, who even "Burtonise" the brewing water with sulphates to get the correct sulphur aroma on the beer.
Other beers include a lager called Brew 81, a Belgian Blonde, a German-style Doppel Bock, a Scottish ale called Brewheart, Karbon stout, and a second IPA dubbed Route 333. I was told that 81 means something rude in Turkish. A middle-east version of soixante-neuf, perhaps?
The restaurant has an excellent reputation for its cuisine, with the brew plant in a central position. I didn't have time to visit Istanbul on this trip but hope to check it out in the future. The address is Gayrettepe Mahallesi, Yildiz Posta Cd 1/1A, 34349 Besiktas.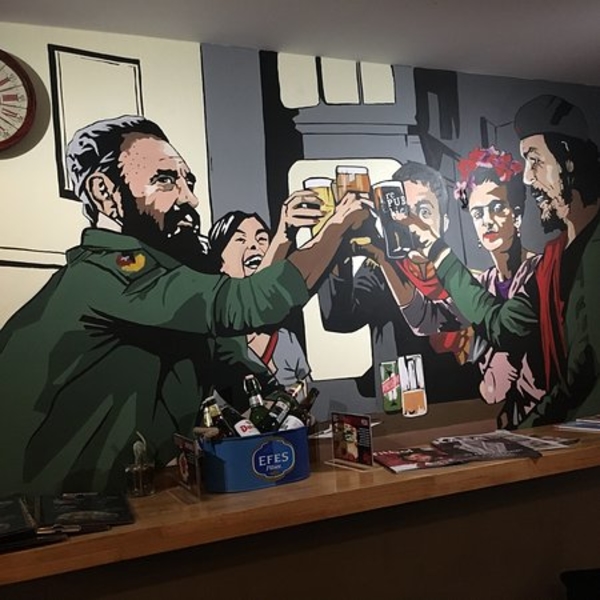 I continued my sampling of Turkish craft beer in Izmir's old town. Izmir, with a population of four million, is both ancient and modern. For the large tourist trade there are hotels and restraurants aplenty, along with the offices of multi-national companies.
But the old town is a delight of narrow cobbled streets, a Jewish Quarter, houses with balconies and flowering baskets, and restaurants and bars serving local cuisine. A bar called rePUBlic should be added to the list of the great bars of the world. It's run by a woman, Banu Çelikutku, and is a delight. It's small but comfortable with plenty of seating and quiet jazz in the background. One wall is dominated by a mural of revolutionary heroes, including Fidel, Che and Frida Kahlo, all enjoying glasses of beer, though I suspect rum and tequila were more likely their chosen tipples.
The pub serves a range of beers from the five-year-old Gara Guzu brewery in Muḡla. The pub is serious about tasting sessions and serves samples in special small glasses.
We began with Summer IPA, 4.5%, as pale as a Pilsner, with Centennial, Citra, Magnum and Yellow Sub hops. The last-named is a German variety and I wonder whether Paul and Ringo receive royalties. The beer has a honey malt and citrus hops aroma with fruity hops and juicy malt on the palate, followed by dry, bitter and juicy malt finish with hops finally dominating.
Porter, 6.4%, uses Fuggles, Goldings and Perle hops, has a dark brown appearance and a roasted grain nose with spicy hops and espresso coffee notes. Bitter and spicy hops and roasted grain dominate the palate with burnt fruit. The finish is bittersweet with spicy hops, burnt fruit and coffee notes.
Amber Ale, 4%, is unfiltered with a slight hazy appearance. It's brewed with 100% English malts, including chocolate, and is hopped with Cascade, Goldings and Perle. It has a peppery hops aroma with roasted grain and hints of caramel. Bitter hops dominate the palate with peppery hops and lightly toasted grain, orange fruit and caramel. The finish is dry and bitter, with continuing peppery hops, orange fruity and toasted malt.
Blonde, 5%, has a hazy gold colour and uses Cascade, Celeia and Perle hops. It has tangy bergamot on the nose with honey malt and floral hops. Tart bergamot, floral hops and juicy malt combine in the mouth while the finish is bitter and fruity with honey malt.
Mayhos, 5.5%, is a fine interpretation of a Belgian saison with pale and wheat malts flavoured with juniper seeds, hibiscus and rosemary. It has a pale gold colour with a big hit of juniper on the aroma balanced by rich malt and spicy hops. The palate is spicy from hops – Crystal and Goldings -- and herbs and sappy malt. The long finish offers herbs, spices and rich biscuit malt.
A 4.7% Weiss has the typical aroma of bubblegum and cloves you would expect from a Bavarian wheat beer. The only hop is Perle. The beer is extremely pale with continuing bubblegum and cloves on the palate, creamy malt and a light hint of hops. The finish is dry with a big hit of creamy malt, dry fruit and light hops.
The final beer from Gara Guzu was 4C IPA, 6%, pale gold in appearance and a massive hop attack from Cascade, Centennial, Chinook and Columbus – the four Cs. Peppery hops, citrus fruit and a powerful waft of coriander greet you on the palate, all balanced by honey malt. The finish is bitter and spicy with pleasing honey malt and tart fruit.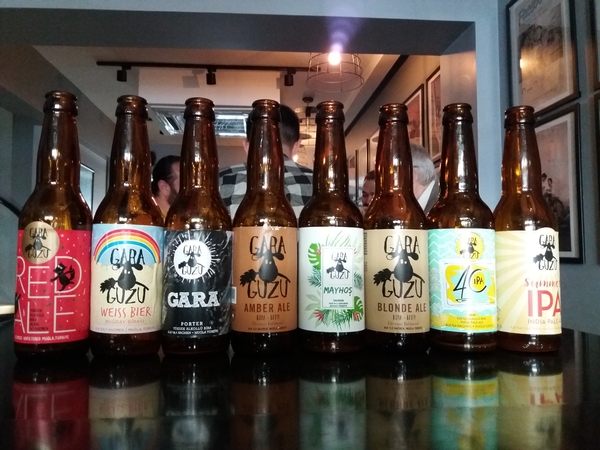 We moved on to the Pablo brewery from Bodrum: the brewery is named after the owner's dog. Pils, 4.5%, must be the palest Pils known to drinking kind. It uses just Crystal hops and has a floral hop aroma followed by bitter hops in the mouth balanced by juicy malt and lemon fruit. The finish is bitter and hoppy and ends dry but the beer could improve with a greater malt backbone.
Limited Amber Beer, 5.8%, uses chestnut extract and there's a pronounced chestnut aroma with dry roasted malt and Mosaic hops. The palate is sweet with chestnut, roasted grain and light bitterness followed by a bittersweet finish with nuts, roasted malt and floral hops.
Finally and inevitably, an IPA from Pablo. It's 6% and hopped with Mosaic and Simcoe and has an earthy and spicy hop nose with lemon jelly fruit and honey malt. Bitter hops dominate the palate with honey malt and tart fruit, followed by a dry, bitter and fruity finish that's balanced by honey malt.
It was an exhilarating tasting at the pub and I was grateful for the tiny tasting glasses.
*rePUBlic, Alsancak Mah. Irfan Boyeur Sokak No 4/A.
The final port of call was a large pub and restaurant in the old town, La Puerta. The dining area is vast but there's a smaller and pleasant bar area at the front where you can sample some Turkish craft beers along with a big range of Belgian brews and a large offering from Fuller's of London.
I sampled three beers from Zikkimm of Istanbul, whose labels bear different versions of a threatening skull. Weiss, 4.9%, despite the name, had more of a Belgian than a Bavarian influence. It was pale gold in colour and brewed with lemon peel and coriander. It was spicy on the nose with creamy malt, followed by a malty and spicy palate with tart fruit and hops. The finish is long and complex, dominated by herbs and spices, sweet grain and gentle hops.
Here comes another IPA! The Zikkimm interpretation is 5% and its copper colour is a tad too dark for the style. It has a nutty and butterscotch aroma with gentle earthy hops and dark malt, toffee notes and spicy hops. The finish is bittersweet – nutty and malty. A pleasant beer but not an IPA.
The brewery's Deep Beer, 8.5%, is a horse of a different colour. It's brewed with cardamom seeds and there's a big hit of alcohol and burnt grain on the nose with dark fruits. Warming alcohol dominates the palate with rich dark fruits, peppery hops and roasted grain. The bittersweet finish finally becomes dry with dark fruit and roasted grain. It was a fine way to end the long  tasting.
*La Puerta, 1469 Sokak No 69-71, Alsancak.
The craft beer revolution in Turkey is in its infancy but the enthusiasm of everyone I met indicates that it will grow at a fast pace and the quality of the beers is impressive.
*Sincere thanks to Emin Cem Surer and Aytug Yildirim for their support.