Feature
Will old ales stand up to the taste test?
Added: Saturday, April 21st 2018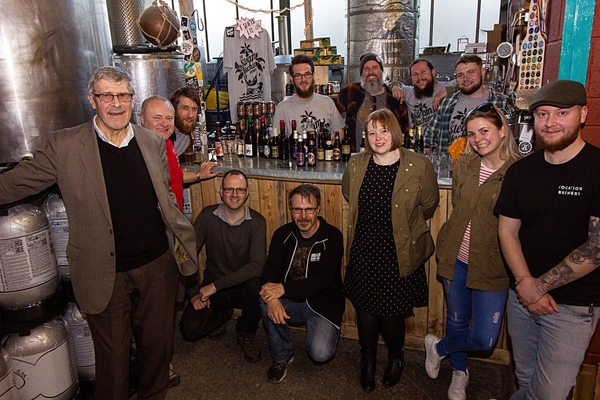 How well will beers age? An attempt to answer the question was made with a tasting hosted by Nick Smith at the Steam Machine Brewery in Newton Aycliffe, Co Durham, with beers supplied by Brad Wight and Roger Protz. They include beers as old as 1958 and some with no dates that could be considerably older: the design and typography of the label on a Vaux Strong Ale suggest the beer could be pre-World War Two.
The event was organised by Brad Wight #bradsbygonebeers who has a great passion for finding, buying and tasting old beers. He's a former member of the Royal Air Force who now works for global brewer Molson Coors as a dispense technician and in his spare time searches EBay and other sources for old beers. He is also fortunate, thanks to this Molson Coors connection, in being able to buy a regular supply of Worthington's White Shield, which is now difficult to get in most retail outlets.
Fittingly, we began the tasting with a White Shield brewed in 1997. The bottle-conditioned beer, still brewed in Burton-on-Trent, was first produced in the town by William Worthington and is a potent link to the Victorian IPAs that made Burton famous world-wide.
The 5.6 per cent beer was considerably darker than a new White Shield. It was extremely fruity – the tasters said it was like bitter sherry. I found a smoky note, which was intriguing. The palate was equally fruity – raisins and sultanas – and the finish was dry, with good malt and fruit notes but only a light hint of hops.
Marston's Silver Crown IPA was brewed in 1977 for the Queen's Silver Jubilee. The strength was not shown on the label. It had toffee, butterscotch and marzipan on the aroma, a sweet palate and finish, with little hop.
I had high hopes of the next beer, Own Ale Royal Wedding beer, brewed in 1981. It came from the Miners Arms in Westbury, Somerset, a brew pub run by Barry Haslam. I knew his beers were bottle conditioned and I imagined the bottle would have aged well. No such luck. It had a rubbery and unpleasant nose and palate, with – as the tasters suggested – strong hints of chlorine and TCP.
We had better luck with an Ind Coope Strong Ale from 1977, brewed for the Silver Jubilee. While little hop character had survived, it had a pleasing sherry nose and a fruity palate with marzipan notes followed by a creamy finish with a slight hop note but a dominant treacle and molasses flavour.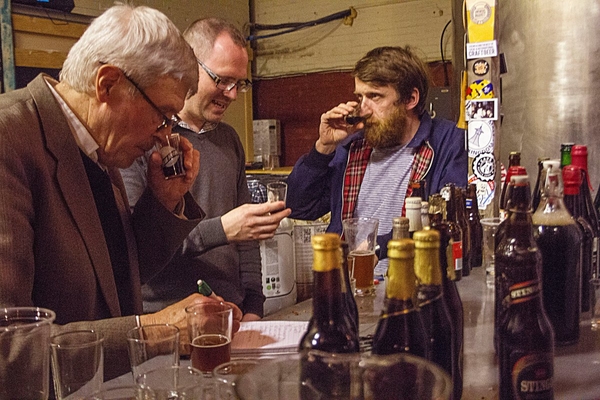 We had two bottles of the legendary Thomas Hardy's Ale, the 12 per cent strong ale first brewed by Eldridge Pope in Dorchester. We had one sample brewed in 1988 and a second from 2008.  As the beer was said to age and improve for 25 years, we expected great things from the samples. The 1988 version had a powerful Marmite aroma with bitter chocolate and raisin fruit. Burnt fruit dominated the palate with continuing chocolate notes and roasted grain. The finish was dry, bitter and fruity and some tasters detected soy sauce.
The younger version was paler but still had a powerful Marmite aroma with, again, soy sauce and roasted grain. There was liquorice and spicy hops on the palate but again Marmite dominated with some burnt fruit. The finish was dry, with liquorice, roasted grain and soy. We were disappointed and underwhelmed by both samples. (Pictured above: Roger Protz, Brad Wight and Dan McColl of McColls Brewery in Bishop Auckland tasting the beers.)
The mystery beer of the evening was Vaux Strong Ale. As well as not declaring its strength, there was no indication of its age. Brad Wight had suggested the 1950s but when we looked at the typography of the label the general opinion was that it was older, perhaps 1930s or 40s. In the event, the age didn't matter much as the beer was undrinkable: musty, sour, yeasty, with a crude bitterness and a palate that some said was reminiscent of furniture polish.
A Whitbread Silver Jubilee Ale from 1977 had a good collar of foam followed by a bready and yeasty aroma and sweet malt on the palate. The finish became dry with a light hint of hop but it was dominated by biscuit malt.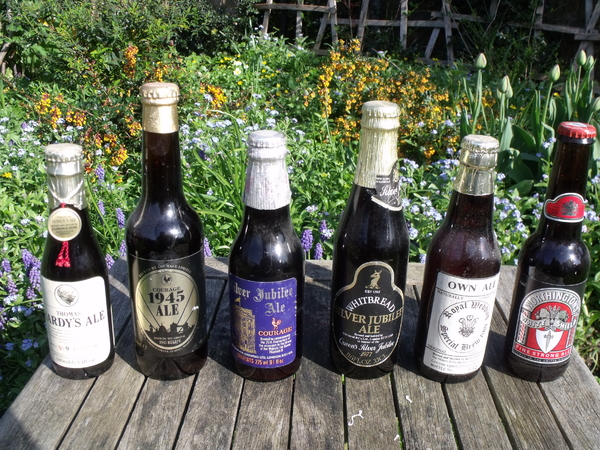 Brad had found a beer brewed in 1958 – John Smith's Founders Ale, produced to mark the 200th anniversary of the Tadcaster brewery. It had a dark copper colour and a butterscotch and marzipan nose. Dry grain in the mouth was balanced by burnt sultana fruit. The finish was dry with continuing sultanas and butterscotch and a light hint of hop.
The dread name of Watney appeared next. The London brewer did so much damage to both good beer and brewing with its aggressive takeovers in the 1960s and 1970s along with its infamous Red Barrel keg beer that you have to suspend belief when you find a drinkable beer that bears its name. This was its once-famous Stingo strong ale and I can recall drinkers in Watney's pubs mixing it with a half of bitter to give it an alcoholic kick. There was no indication of strength on the label but we assumed it would be around 10 per cent as it was designated as barley wine. It was a deep ruddy colour with rich raisin fruit, treacle/golden syrup on the nose with a sweet treacle palate balanced by burnt fruit and rich grain. There was some slight hop bitterness in the finish that was dominated by raisin fruit and treacle.
A bottled version of Fuller's celebrated Extra Special Bitter or ESB had neither a date or strength on the label but was thought to be from the mid-1970s and 5.5 per cent ABV if it had the same strength as the draught version. It was copper coloured with lemon fruit on the aroma, balancing biscuit malt and peppery English hops. Bitter hops built in the mouth with rich malt and continuing lemon fruit. The finish was long and dry with peppery hops, tart fruit and biscuit malt. This was a very drinkable beer spoilt by being over carbonated.
A Barclays Russian Imperial Stout was 50 years old and was thought to have a strength of 10 per cent. Thick yeast inside the cap promised good ageing. It had a yeasty and meaty nose followed by a sharp, sour palate with harsh notes from grain and hops. The finish was equally harsh. This was a big disappointment: Brad Wight and I had both sampled this beer before and found it to be creamy, fruity and delicious.
The final beer of the evening was another Whitbread brew, this time an 11.5 per cent Celebration Ale from 1992, marking the company's 250th anniversary. It was brewed at Whitbread's Exchange Brewery in Sheffield and was bottle conditioned. It had a dark chestnut colour followed by a rich chocolate and marzipan nose with smoky, roasted grain and port wine notes. Bitter hops made an appearance on the palate with ripe grain, dark fruit and marzipan. The finish was bittersweet with continuing port wine and marzipan notes.
When the beer was launched in 1992 it was meant to be laid down but I was invited to taste it on breakfast television with Eamonn Holmes. The beer was too young and Holmes spat it out in disgust. I believe he is now teetotal: Whitbread has a lot to answer for.
The tasting showed that old beers can be hit and miss and bottle conditioning is not necessarily a guarantee of success. Brad Wight thought the Ind Coope jubilee beer was the best of the evening while Nick Smith and I chose the White Shield. Thomas Hardy's Ale is now owned by an Italian export company Interbrau. It's brewed in London by Meantime but, frustratingly, is not yet available in the UK as Interbrau concentrates on sales to the United States.
Brad Wight comments: "Ind Coope 1977 and John Smith's 1958 were my beers of the night. Surprisingly, two very sweet aged pales made my top five!"
My advice would be to seek out Worthington's White Shield and lay some down for a few years. It's available from Beers of Europe, Amazon Groceries, Tesco online and Bargain Booze. Why doesn't Molson Coors make this beer more widely available instead of over promoting Doom Bar? They're sitting on a classic English IPA.
Main photos by Ian Young
Below: Vaux Strong Ale -- year unknown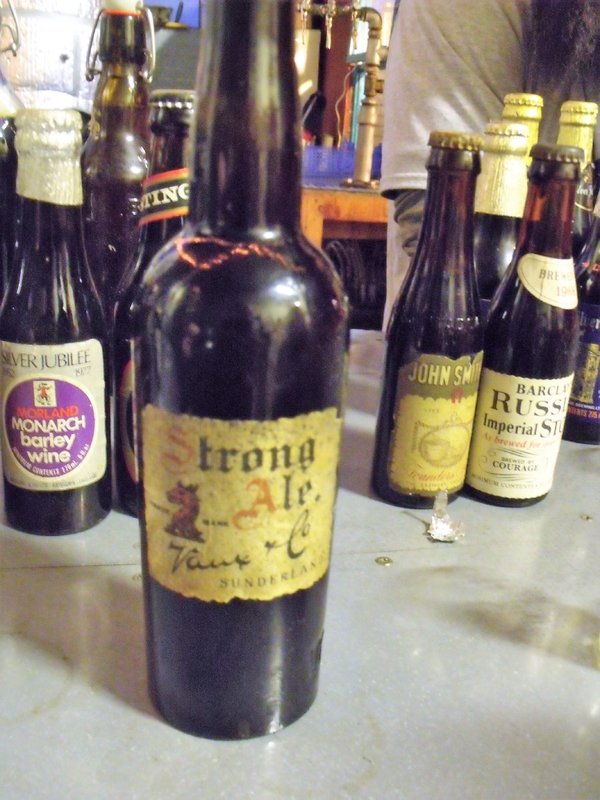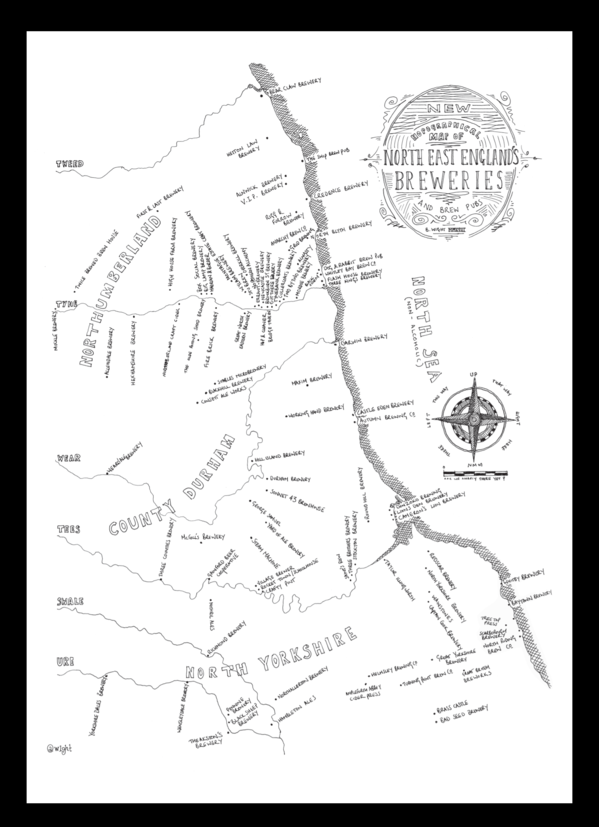 Brad Wight is also a brewery cartographer extraordinaire. You can buy a copy of his North-east breweries map by contacting Brad via Twitter @w1ght. The map costs £19 including p&p. He's also working on a Yorkshire version followed possibly by Manchester.