Feature
Steve Wellington: Burton's beer hero
Added: Monday, February 5th 2018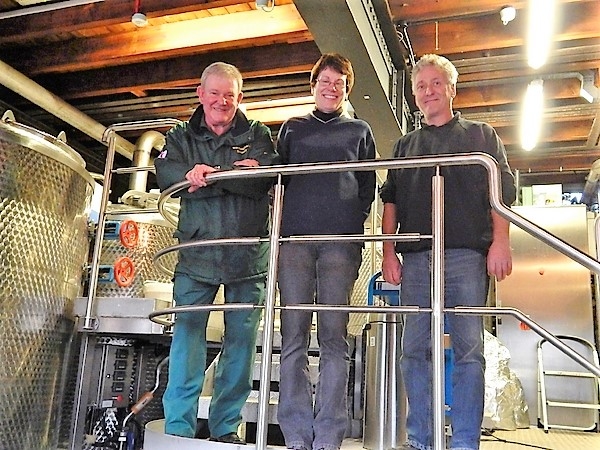 Steve Wellington has retired...well, sort of. This will be the fifth time the acclaimed Burton brewer has hung up his mashing fork and this time he means it. Apart from the small fact that Planning Solutions, which owns the Heritage Brewery in Burton within the National Brewery Centre, has asked Steve to act as a consultant.
"We've got to install a bottling line and Planning Solutions wants me to oversee that," he explains. So he will still be seen at the brewery from time to time. But at the age of 73 there will be no more alarm calls at dawn in order to start the mash and then oversee the entire production cycle: he can now leave that demanding work to his colleagues Caroline Horrabin and Martin Hodson (Steve is on the left in the photo above).
Steve spent a daunting 53 years working for various parts of the Bass empire and the connection remains, for Heritage was previously known as the William Worthington Brewery. Molson Coors, which took over the Bass brands and breweries in 2002, kept ownership of the Worthington name, forcing a name change on the brewery. Worthingtonwas one of the towering figures in Burton brewing and his company merged with neighbouring Bass in the 1920s.
Steve Wellington has many claims to fame but is best known and admired for his commitment to Worthington's White Shield, a bottle-conditioned beer that is a potent link to the great India Pale Ales of the 19th century brewed in Burton.
When Bass lost interest in White Shield – considered too fiddly and low volume at a time when Carling lager was the group's main attraction – the beer was sent to out several small breweries and ended up with King & Barnes in Horsham.
"When King & Barnes was threatened with closure, I went to the chairman of Bass and said 'It's an iconic brand – please don't let it go'," Steve recalls.
At the time he was a running a small pilot brewery within the Bass Museum at Burton that had opened in 1993 and produced beers for special occasions such as pub openings. The brewery lacked a bottling line and Steve had to take a deep breath and ask the Bass chairman if he could buy one.
"He said yes – if it cost less than £100,000. I found one in Italy for less than that."
So White Shield came back to Burton and it was given a ceremonial reception, with members of the Staffordshire Regiment marching through the town to celebrate the historic beer's return.
"White Shield was very successful," Steve says. "We ran out of capacity in the pilot plant and production was moved to the main Bass brewery where 400-barrel batches were brewed. We got 500ml bottles into supermarkets."
Saving White Shield was the high point of Steve's long and distinguished career in brewing. He's from Canterbury and says it was the smell of malt and hops from Cobb's brewery in Margate in Kent when he was a schoolboy that created an interest in making beer.
His family had other ideas. He trained as doctor in London but decided he didn't want to pursue medicine as a career.
"My father said 'bank!' but I said no and responded to an ad for a brewer with Bass in Burton," Steve says. "I went to the interview carrying a copy of the Times to look intellectual. Doing bio-chemistry as a student doctor helped and I got the job of trainee brewer."
He spent seven years working as a pupil brewer and in 1972 won an industry diploma with honours. He was given a special award of £250 to travel the world and Bass put in more money to help him.
"Bass was a like a family," he says. "It looked after you from cradle to grave. It had 11,000 employees and never went outside for services. It had its own tailors and even undertakers."
He went on a peripatetic journey for the group. He brewed with Carling in Canada and Tuborg in Denmark before being put in charge of exporting Bass to South America and the United States.
"I was selling ale to lager countries but sales of Bass – keg and bottle – took off, especially in the US thanks to a partnership with Guinness there."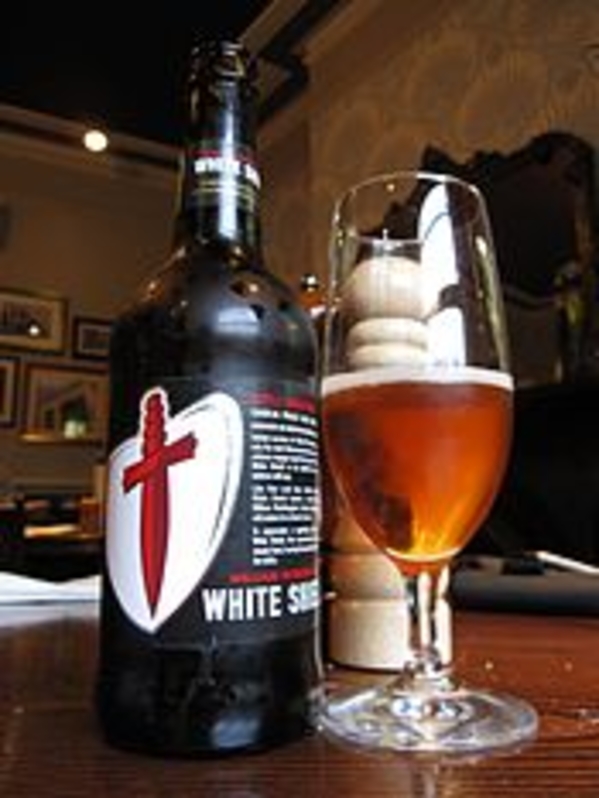 His most bizarre posting was to Saudi Arabia with the task of selling Barbican no-alcohol beer. He signed a distribution contract with a sheikh who demanded a Rolls-Royce if he hit the sales target set by Steve. Thinking there was no way the sheikh could meet the target, Steve agreed then watched in amazement as Barbican took off like a rocket.
When Steve confronted his bosses back in Burton there were raised eyebrows until they saw the sales figures. The sheikh got his Roller.
Following stints in the Caribbean and Australia, Steve got married, started a family, stopped travelling and did some serious brewing back home. In 1991 he briefly left Bass to do consultancy work but was invited back two years later to run the small brewery in the Bass Museum, using the former five-barrel pilot plant of the Bass subsidiary of Mitchells & Butlers in Birmingham.
The constraints of the small plant were frustrating as Steve wanted to brew a wider range of beers. Once again he beat the well-trodden path to the chairman's door and asked for a bigger brewery. The answer was yes – as long as the new plant was in the museum and acted as a visitor attraction. The William Worthington Brewery, with a 25-barrel capacity, was born.
Then all hell let loose in the brewing industry. In the wake of the controversial Beer Orders of the 1990s that forced the national brewers to turn their pubs into free houses, Bass quit brewing in 2000. When the American brewer Coors – now Molson Coors --bought the sprawling Burton brewing plants in Burton it also inherited the Bass Museum and announced it planned to close it as it was losing around £1 million a year.
Following a short but spirited campaign, the museum was saved and sold to Planning Solutions who eventually bought the Worthington Brewery as well. The museum is now called the National Brewery Centre and, as well as telling the fascinating history of brewing in Burton, stages a wide range of events including beer festivals.
At its heart is the Heritage plant where Steve and his small team have the freedom to brew a diverse range of beers. They include such former Bass beers as Charrington IPA from London, Masseys of Burnley and Offilers of Derby. He does a bottle-conditioned version of the Charrington beer along with the revered Bass P2 strong stout and needs the new bottling line to replace the antiquated one in the old pilot plant.
There has been a series of beers with Shield in the name – but not White Shield, as the brand is still owned by Molson Coors. But, chancing his arm, Steve brews a cask beer called Masterpiece that is White Shield in draught form.
He is having great fun brewing a series of beers in collaboration with cartoonist Bill Tidy, well known to CAMRA members for his long-running Kegbuster strip in What's Brewing. Bill designs the pump clips for such brews as Alien Abduction and – says Steve – they fly out of the door.
There's just one problem keeping Steve awake at night. Molson Coors still owns the rights to White Shield and has been pondering for more than a year whether to sell the brand to the Heritage Brewery. If that happens, Steve Wellington can finally retire a truly happy man, having ensured the future of one of the country's legendary ales.
*First published in BEER, Spring edition 2018