Feature
Beer takes to the water on Thames island
Added: Friday, February 2nd 2018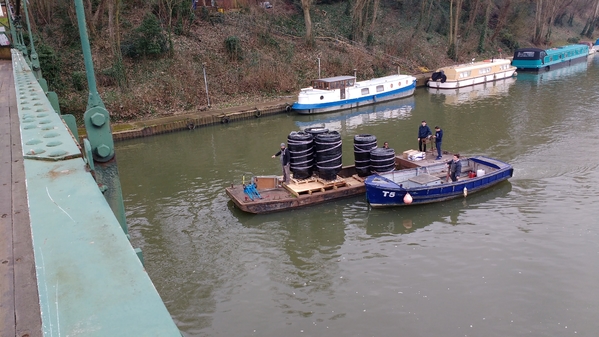 By Sarah Howe
When searching for a name for his brewery, Brian Watson couldn't have predicted how apt his final choice would turn out to be.
"I chose Oddly mainly because I like the sound of it. But it also reflects my outlook on life and approach to brewing," Brian says. 
Name chosen, his next job was to find premises for his brewery. 
"I started brewing in a cabin in my back garden. Almost immediately, I realised it was too small and so I began cuckoo brewing on a larger kit. This meant I could start to make beer commercially. But, again, we soon ran out of space, so I knew it was time to find my own premises." 
But finding his own place turned out to be very difficult, not just because of the high costs involved in the London area, but also because of the alarming rate at which industrial land is being reclassified for housing. 
In autumn 2016, Brian received details about a building in west London. Even though it was immediately obvious it needed too much work, Brian's interest was aroused and he arranged a viewing. 
He was shown a building on its last legs – overgrown and crumbling apart. There was no plumbing, electricity or heating; window panes were cracked, smashed or missing alltogether; and plants were taking root on the inside. 
"I visited the building a second time and it was raining… indoors. Turned out the roof was full of holes," says Brian. 
If that wasn't enough to put off the most intrepid entrepreneur, the building was on an unkempt island in the Thames, only accessible by foot bridge. Getting anything on or off the island would be a logistical nightmare. 
The island – Platt's Eyot – is in Hampton, not far from Hampton Court Palace. It has a fascinating history of boat building, dating back to the 1860s. Some of the buildings are vast First World War boat sheds, but today the sheds and warehouses are dilapidated and the island overgrown. 
Despite the potential problems, Brian was hooked by this strangely beautiful, other-worldly place -- and the comparatively cheap rent. He took on the building and set about the seemingly impossible task of transforming it into a brewery.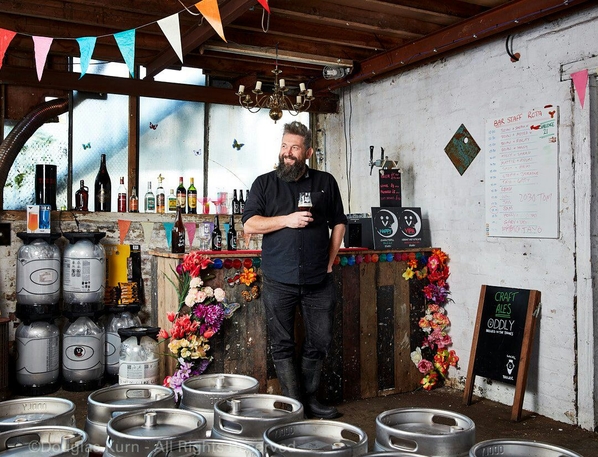 Starting on 5 December 2016, simply cleaning and repairing the smaller of the two rooms, which was to be the brew house, took two months. First, the windows had to be repaired, the rotten ceiling brought down and the mouldy walls thoroughly cleaned, sealed and painted pristine white. The electricity and water supplies were re-established, and new lighting installed. Finally, a bright pink floor was laid, complete with drainage. (Brian is pictured above in his brewhouse: photo by Douglas Kurn.) 
Even though it was bitterly cold inside and out, Brian's friends turned up to muck in with the cleaning and painting.
"We got a small wood-burning stove rigged up, but it wasn't very effective given how cold it was. That said, we were able to thaw our fingers just enough to eat our sandwiches!" Brian says. 
Brian's labour of love moved up a level, appropriately enough, on 14 February 2017-- Valentine's Day -- when his five-barrel brew kit was delivered .The next challenge was to get it from the river bank to the island. The solution required a boat and some ingenuity. Luckily, island site manager Craig has both. He strapped a barge to his boat to increase capacity, enabling the large, cumbersome equipment to be transported (top picture shows the brewing kit arriving by boat). 
Helped by his son and friends, Brian managed to get the brewing vessels on to the barge. Craig then carefully steered the boat with its unwieldy cargo across the Thames to the island. After a short but precarious trip, the Oddly brew kit was delivered safely to its new home and brewing could begin. (Pictured below, the brewhouse with its pink floor.)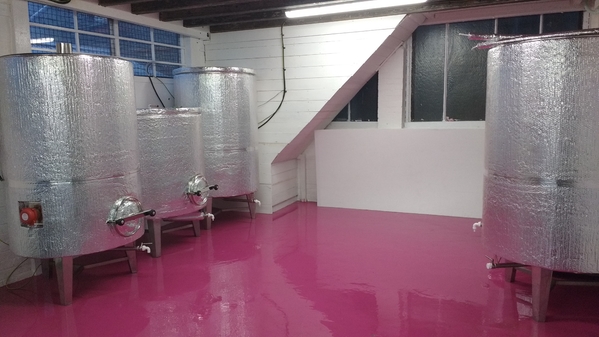 But what is brewing on an island like on a day-to-day basis? 
"I really love brewing on Platt's Eyot," says Brian."When you walk across the bridge on to the island, you immediately sense a different atmosphere. It's another world – a special place. 
"The boat sheds are occupied by a variety of businesses, from a sculptor to recording studios. And, of course, there are still boat builders. One of the businesses makes prosthetic limbs – they use a woman's arm to wedge open the door in summer. It's quite alarming when you see it for the first time, but then you realise it's artificial. A lot of what you see on the island is surreal. 
"The boat people who live around the island on houseboats, barges and all manner of floating structures are an eccentric bunch, with lots of community spirit. I like it when they pop in to the brewery to say hello. 
"I have a sense of being close to nature when I'm brewing. I'm doing something quite industrial in a big shed, but I'm on the river bank surrounded by ducks, swans, insects, fish and plants – and so many wild plants, including hops. Sometimes I just stand in my doorway and stare out at the river, watching the wildlife and boats go past. It's quite beautiful." 
But it's not always so romantic. Brian explains how his island location can also be incredibly frustrating at times. Bottle delivery day, for example, is particularly trying. 
"Any other brewery, on receiving a few palettes of bottles, would have them safely wheeled inside the warehouse in a matter of minutes. For me, it takes two people 10 hours to move two palettes of bottles from the river bank to the brewery. The bottles have to be boxed up in the car park and carried over the footbridge. 
"Grain deliveries are tricky, too, but my neighbours often help, including one who has a small boat that was used to assist in the evacuation of Dunkirk almost 60 years ago!" 
Despite the difficulties, Brian's love affair with brewing and Platt's Eyot shows no sign of waning. On the contrary. The island and its unique community are now inspiring his brews .As well as encouraging him to think more creatively about each new beer, Brian was thrilled to find hops and elderflower growing wild. 
"I've been foraging and used some of the ingredients in my beers – blackberries, rosehips and wild hops, for example. A brewer friend and I made a Champagne-style beer with elderflower we collected on the island. There's a lot of wild rocket growing, too, but that just goes in my sandwiches!" 
A year on from the brewery being completed, Oddly is going from strength to strength. There are now six beers in the core range, plus some new ones in development. Oddly Lucky, a complex black ale made with 13 grains and 13 hop varieties, picked up top gong at a beer festival recently, and Brian has opened a licenced bottle shop in north London, a joint venture with three other brewers. Nonetheless Brian is not resting on his laurels. 
"When I'm not brewing, I should be selling – but I'm the worst sales person in the world! I'm much better at chatting, so I go to beer festivals and talk to people instead. I get lots of positive feedback. The bottle shop, Bottle Shop Heroes in Wood Green, is another way for me to meet the public directly. 
"My passion is making beer, not selling or social media. I think you can taste whether someone cares about what they're producing. And I really do care about what I'm doing. I brew beers that interest me and are interesting to make, and I hope they fire the imagination in other people. I switch between making traditional beers and innovative ones – it pushes my abilities. Oddly enough, it seems to be working." 
Brian's Oddly good beers
Rhia (4%) – A clean, crisp and refreshing golden ale
Vipa (6%)– IPA infused with Masala chai spices
Duffin (4.5%)– British best bitter with a modern twist
Happy (5%)– A complex pale ale
Lucky (4.5%)– A deep, dark and mysterious black ale
Poppy (6%)– Flanders red
Elderwhite (4%)– a Champagne-style beer made with hops and elderflower. 
Email: hello@oddlybeer.com
Phone: 020 3741 7717
Address: Unit 12, Platt's Eyot, Hampton TW12 2HF