Feature
Craft beer is booming in Budapest
Added: Tuesday, April 18th 2017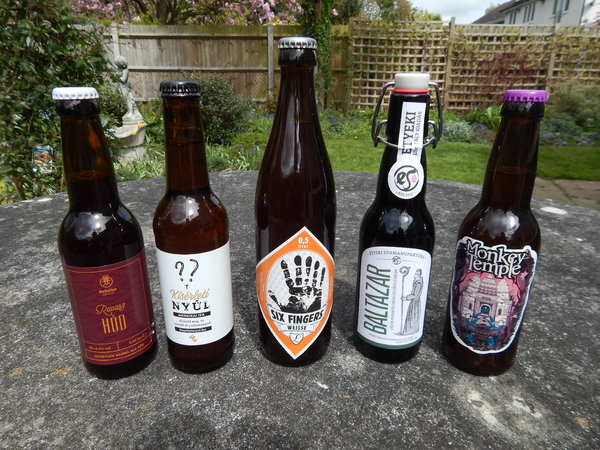 Hungary has had more than its fair share of revolutions but the latest one is beery rather than bloody. There are now some 70 craft breweries in the country, bringing much-needed relief to drinkers who until now have had few alternatives to what locals call the "factory beers" of Heineken, AB InBev and Molson Coors.
It's fitting that the heart-beat and driving force of the beer revival is centred in Budapest at Élesztő, which means yeast. Good beer is certainly rising at this complex of buildings at 22 Tűzoltὁ, based in a former factory. A central, tree-lined arcade has, either side, a bar, wine bar, tea rooms, hostel, restaurant and a Brew Studio with courses for home brewing.
At the far end of the arcade is a pub with the intriguing name of the Cask Ale Bar. You have to scratch yourself in disbelief, for as you enter the large arena and head for the bar, you will spot two British handpumps. They really do serve cask beer from a tiny brewery called Hübris. It's run by Adam Laszlo and Zsolt Kosztolanylbaji who produce lager on their souped-up home brewing kit but use other breweries to make ales, including the cask beer called Blue Cat.
It was the result of a meeting with Tom Bolt from Signature Brew in London, who showed the two young Hungarians the arcane rituals of brewing cask beer. My timing was perfect: I went behind the bar at Élesztő just as Adam was knocking a venting peg into the top of a cask, then hammering a tap into the bung hole.
Back in the bar pints were pulled and I had a taste of Hungary's first ever cask beer. It's brewed with Belgian pale malt, crystal and smoked malts and has a single English hop called Minstrel. The 4% beer has a pear drop aroma, with earthy and spicy hops, and a malt note similar to freshly-baked bread. There's a good balance of juicy malt, spicy hops and ripe fruit on the palate while the finish becomes hoppy, fruity and dry.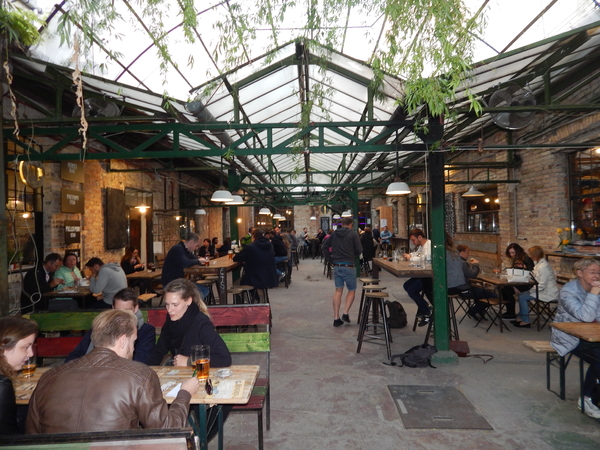 Daniel Bart joined the tasting. He is a pivotal figure on the Hungarian beer scene. He opened the country's first craft brewery Keserü Mēz – Bitter Moon – in 2011 and organised the first beer festival the same year. He told me the giant global brewers control between 96 and 97% of beer sales in Hungary, with the remainder divided between craft breweries and imports. While craft beer is more expensive than factory beer – there's no British-style progressive beer duty for smaller brewers – it's finding ready support among younger drinkers, both men and women. The beer drinkers packing the bar and the seats along the arcade at Élesztő proved his point.
Craft beer may account for only a small proportion of the beer drunk in Hungary but it's having an impact. Daniel said the global brewers have responded with their attempts at more interesting beers, including a black beer from Heineken.
The impact can also be seen in the most unlikely of places: the vast and imposing Hotel Gellért on the banks of the Danube. The hotel was completed in 1918 and is a shrine to Art Nouveau with some later Art Deco flourishes. It has a spa, ornate bedrooms, a renowned restaurant and separate brasserie -- and it stages an annual beer festival in February. The owners even allow street food to be sold on the elegant terrace overlooking the Danube: the Ritz and the Savoy please copy.
Around 100 beers are available from 40 breweries at the festival, drawn mainly from Hungary but with some from the Czech Republic and Slovakia. The brasserie bar has two house beers brewed for the hotel by a Hungarian craft brewery. They are called Giorgio and Gerardó, the first a copper coloured ale, the second a wheat beer.
The beers pay homage to a monk called Gallért who lived in the 11th century in a monastery on top of a tall outcrop of rock across the road from the hotel. He was an Italian first called Giorgio but he changed his name to Gerardó. When he died, his fellow monks put his body inside a barrel and rolled it down to the foot of the monastery: not a bad way to go and worthy of two beers being named in his memory.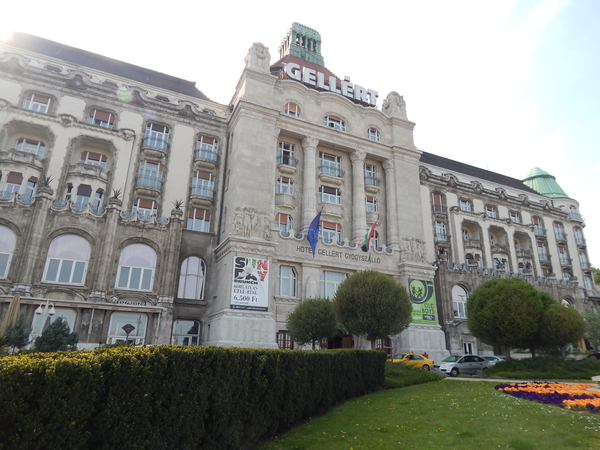 In sharp contrast to the splendours of the Hotel Gellért, Szimpla Kert – the Coffee Garden – at 14 Kazinczy is a Budapest version of a pop-up pub but on a grand scale. It's based in buildings that had fallen in to disuse and were going to be demolished but were rescued by a group of young entrepreneurs who turned it into the hottest ticket in town. There's been minimal investment in the structure. It straddles over two floors with bare-brick walls and dim lighting, save for one room used for dining that's well lit and is decorated with modern paintings. There are so many rooms, nooks and crannies that there's a map to help you find your way. There's even a drop-in cinema while one room over-looking the street shows old home movies from the 1950s and 60s.
The beer range is short. There's an amber ale from a local brewery called Big Face that's good but an IPA from the German brewery Hops & Barley is unlike any version of the style known to personkind. The complex is in the old Jewish Quarter though there are few Jews there today as a result of the Nazi invasion during World War Two. Surprisingly, a large synagogue – said to be the biggest in Europe – managed to survive the jackboot.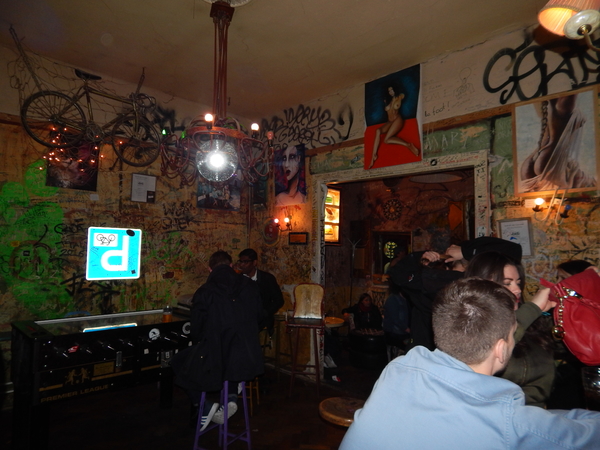 Good beer and food are on offer at Bestia – the Beast – in St Stephen's Square in central Budapest, opposite one of the main cathedrals. There are two beers from Hübris, a Belgian Wit and a stout, with other offerings from Union, Horizont, Roth, Stari, Foti, Mad Scientist, Brew Your Mind and Monyo. I enjoyed Roth Beer's Galaxis IPA, a 6% unfiltered pale bronze beer using the Australian Galaxy hop, with a peppery and spicy nose and palate balanced by rich grain and bitter hops. Horizont's APA – American Pale Ale – is 4.5% and is very pale with a big lemon/citrus nose, a tart fruit palate with fresh grain and bitter hops, and a well-balanced finish with creamy malt, bitter hops and lemon fruit.
Krak'n Town Steampunk Saloon at 31 Jósef Körút is comfortable and welcoming with many small nooks leading off the main bar. The design is Art Nouveau with floral wall coverings and miniature hot air balloons hanging from the ceiling. A cellar bar is spacious and offers a wide range of beers including Blonde, APA, Midnight Express Stout and Green Zone IPA from Hop Top, American IPA from Brew Your Mind, and a Belgian Quadrupel and Bière de Miel (honey beer) from Mad Scientist. The owners of the bar had better care in case BrewDog spots they're using "punk" in the title.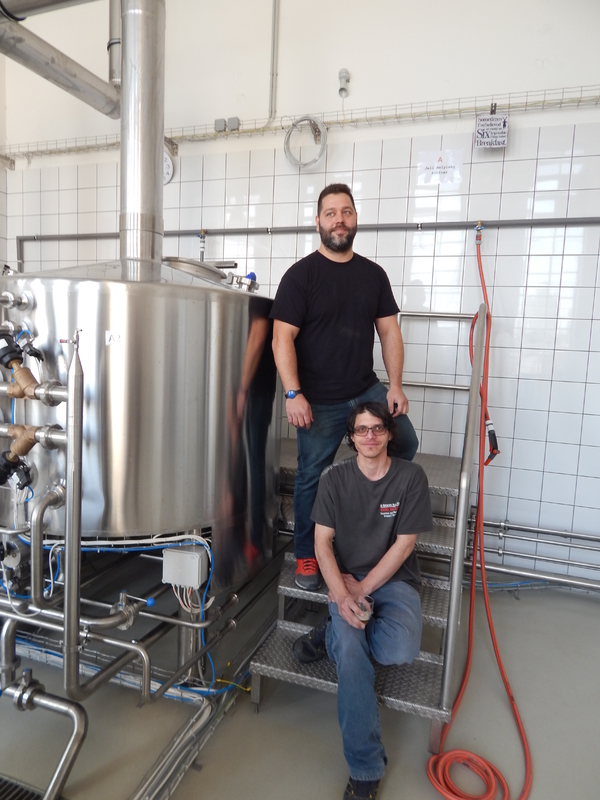 The latest recruit to the craft beer scene is the Feher Nyul (White Rabbit) Brewery in Budapest at 110 Soroksári. It's been brewing for just three weeks and was opened by Almos Saigo, Peter Meiszner and Andras Csepregi, three keen home brewers who went the extra mile after visiting Brau Welt, the annual brewing conference in Nuremberg in Germany, where they picked up information about commercial brewing skills. Their brewing kit is Hungarian-made and can produce 15,000 litres a year but with room to grow to 180,000 litres.
The brewery is based in a former textile factory with room to expansion and the partners plan to add a tap room for visitors. They are brewing ale at present but, if they add additional equipment, may introduce lager at a later stage. The hop store has Amarillo, Cascade, Falconer's Flight and Simcoe varieties from the United States. Malts are sourced from the Netherlands (Swaen), England (Simpson's) and Bavaria (Weyermann). The local water is hard and needs no treatment for ale brewing.
The beer range includes IPA, Double IPA, APA, Oatmeal Stout and Russian Imperial Stout. The 6.6% IPA is pale bronze with cracker-like malt, citrus fruit and bitter hops on the aroma, followed by a bittersweet palate with a fine balance of fruit, hops and juicy malt. Bitter hops take over in the complex, fruity finish.
Oatmeal Stout is so new it doesn't yet have a finalised AVB but it's jet black with a pungent hop nose with bitter chocolate and coffee. Sweet, creamy grain builds in the mouth, balancing bitter hops and burnt fruit. The finish is bittersweet with hops, dark fruit and toasted grain to the fore.
I finished my visit to Budapest in a memorable fashion, sitting in a beer garden alongside the Danube at night. Across the water, and brilliantly lit, was the impressive sprawl of the Technical University, designed like a French chateau. To the left, the bright lights of the Hotel Gallért and high above the city the spot-lit Liberty Monument, built following the end of the Nazi occupation.
The beer garden is part of the Jónás Craft Brewhouse at 11 Fovam Ter. There's a joke in the name: the brewhouse is at the end of a modern shopping mall shaped like a whale, so this is Jonah in the whale. The bar is owned by the Reketye Brewery just outside Pest – historically Buda and Pest were separate cities on other side of the Danube – and it produces a wide range of beer. I sampled Monolith, a red IPA of 5%, with a russet/copper colour and a big malty and spicy hop character with some dark fruit, Ravasz Hód, a brown ale whose name means "tricky badger", and an Amazon Blond. Beers from other breweries include Brew Your Mind's Peach Please, very fruity and using the Galaxy hop.
*Getting the most out of beer in Budapest: Élesztö organises a Craft Beer Tour of the city: www.BudapestCraftBeerTour.com.
A more specialist tour is confined to District 9 of the city, which includes Élesztö: www.districtnine.hu. For a one-on-one guided tour of the city, including its history, architecture and language, with visits to craft beer bars, I recommend Curio City run by Suzy Szoke: www.curiocitybudapest.com