Feature
Siren voices herald groundbreaking beers
Added: Wednesday, March 29th 2017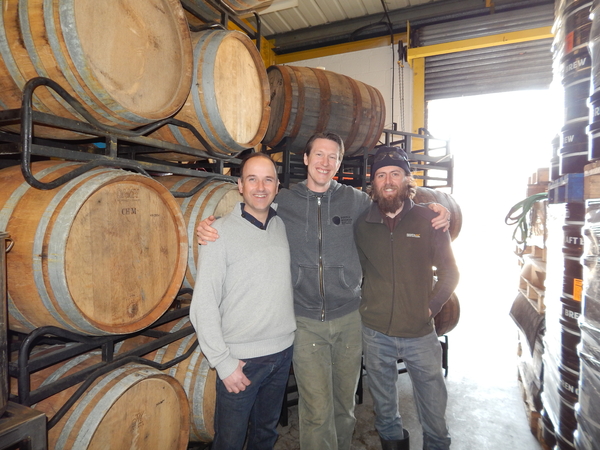 Darron Anley didn't plan to get into brewing but he heard siren voices. He had run a successful IT company and when he sold it he wasn't keen to embark on another business venture.
But he loved good beer, dabbled in home brewing and saw what BrewDog was achieving. And so in 2013 he teamed up with business partner Ryan Witter-Merithew to launch a brewery in the unlikely location of Finchampstead in Berkshire, surrounded by leafy lanes, plush houses, golf courses, a country park and, at a more plebeian level, Reading FC's training ground.
They called the company Siren Craft Brew and forged ahead with a range of cask, keg and bottled beers. Four years on you can visibly measure their success with the recent installation of a new American-built brewhouse that feeds 19 fermenting vessels.
Siren occupies a substantial area of the small Hogwood Industrial Estate and the brewery will go on expanding. As members of his team scurried around washing brewing vessels, driving fork lift trucks and piling up casks and kegs, Darron said they were taking over a new unit that would act as a cold store for beer and would install a tap room where visitors could sample and buy beer to take away.
The new brewing kit can produce 6,000 litres per brew and can knock out two brews a day. It may be American-built but it's based on the tried-and-trusted English system of mash tun, copper and whirlpool. To underscore the English credentials, the base malt is good old Maris Otter.
Across the yard from the brewhouse, a large warehouse is packed with around 350 oak casks bought from Bourbon whiskey distillers, French wine, Armagnac and Cognac producers, and even tequila distillers in Mexico. Only a small proportion of Siren's total production is aged in wood but it helps the brewery stand out from the crowd.
The first beer that emerged from Siren put down a marker for the founders' determination to break the mould and produce beers of distinction, slowly and passionately made. It wasn't a pale ale, a bitter or yet another IPA but an 11% barley wine called Maiden. It's aged in a range of oak casks and each year a blend of the aged beers is topped up with a fresh brew in the manner of the solera system used by Spanish sherry makers to ensure consistency of flavour and character.
But you can't build a viable business on the back of one annual vintage barley wine and Siren now has a range of core beers that are distributed to free houses in London, Brighton, Bristol, Cardiff and Birmingham. Enterprise Inns is a big presence in the local area and Darron says he can't meet their demands for deep discounts. He does, however, deal with another large pub company, Mitchells & Butlers, which takes his bottled beers. He also does some business with Waitrose.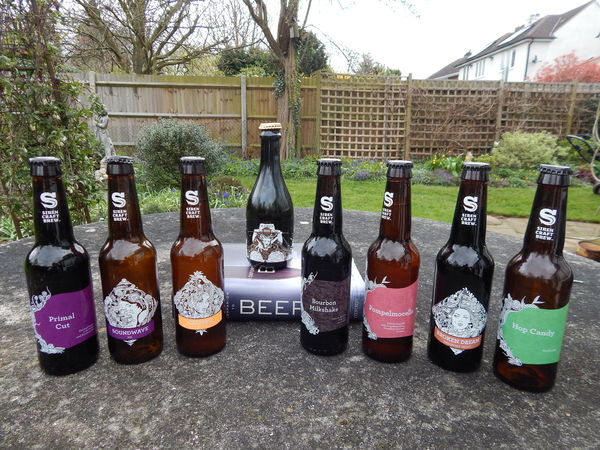 The core beers are Yulu, a 3.6% pale ale made with the addition of lemon zest and Earl Grey tea; Undercurrent, 4.5%, a pale ale with a 20% addition of oats and hopped with American Cascade and Palisade varieties; Soundwave, 5.6%, a West Coast IPA with a resounding 65 units of bitterness created by Citra, Columbus and Simcoe hops; Liquid Mistress, 5.7%, a red IPA using cara malts such as Munich sourced from Bavaria; and Broken Dream, described as a "breakfast stout" made with coffee and lactose (milk sugar): at 6.5% I would probably go back to bed rather than  work after such a breakfast libation.
The latest brew is an 11% Bourbon Milk Shake made with lactose and aged in bourbon barrels from George Dickel, Wild Turkey, Four Roses and others for a year. It's smooth, creamy, with oak and vanilla notes, and is dangerously drinkable, with a hit of alcohol. Mackeson it's not!
The brewers at Siren are Steve Hoile and Kyle Larsen. Steve was a keen home brewer who has now stepped up to big time brewing. Kyle is from Washington State in the U.S. and worked at Double Mountain Brewery in Oregon before moving to Britain.
As well as their shiny new kit, they are involved with collaboration brews. One was with Cigar City in Tampa, Florida. The beer was aged on a bed of cypress wood, cocao nibs and lactose in a device call the spinbot. The vessel is hooked up to a fermenter and the spinbot creates a vortex top and bottom that thoroughly churns and mixes the beer.
There's also collaboration across the Pond with the yeast strain used at Siren. It came originally from Vermont but, over the course of four years, it has mutated and become registered as Siren's house culture.
The production split at the brewery is 45% keg, with the remaining 55% divided equally between cask and bottle. This is a very modern brewery reaching out to all drinkers with a vibrant range that is widening the frontiers of beer styles and appreciation. 
*Below, the Siren brewhouse with the spibot on the left, hooked up to a fermenter.
www.sirencraftbrew.com