Feature
Colin Dexter on Morse, murder...and beer
Added: Wednesday, March 22nd 2017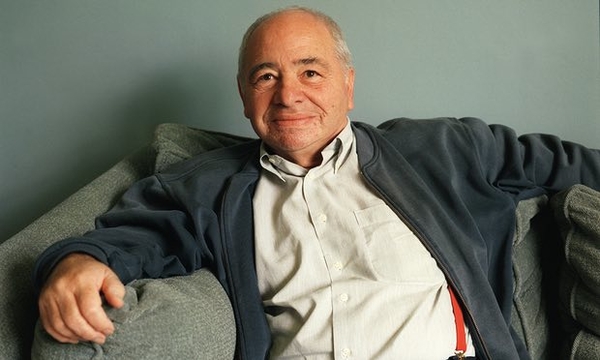 The following interview by Roger Protz with Colin Dexter appeared in the May 1990 edition of What's Brewing and is reprinted by kind permission of CAMRA, the Campaign for Real Ale. Colin Dexter died on 21 March 2017. 
Colin Dexter was fated to have a life-long love affair with beer. He was born in Scotgate in Stamford in the same street as Lincolnshire's much-missed Melbourn's Brewery.*
With his nostrils twitching from an early age with the aromas of mashing malts and boiling hops, he joined the fraternity of ale lovers in his teens. His father was a taxi driver – "He was fond of beer, went to the pub in the evening and drove for 50 years" – and would bring home bottles of Ind Coope light ale for Colin and his brother.
"I started drinking beer at 13 and at 14 I used to nip into local pubs. I would drink in the back bars – nobody seemed to mind. I was spotted once by one of my school teachers."
The creator of Inspector Morse has always enjoyed the atmosphere of the pub and the pleasures of beer. "When I was a student at Cambridge I used to drink Greene King and worked through until three in the morning after three or four pints."
He spent his formal working life in education. Writing came late and flowered after retirement.
"I taught Greek and Latin in Midlands schools for 14 years. I was very successful but deafness became a problem. I couldn't hear greetings properly and children can be cruel – if you don't turn round from the blackboard when they speak to you they start laughing at you."
He is open about his hearing problem and sat down on his "best side" in the back bar of the King's Arms in his adopted town of Oxford. He slowly supped a pint of Flowers ("I'm diabetic now. I'm supposed to drink wine but it makes me thirsty – I much prefer beer") while I, loyal to Oxon, tucked into Brakspears.
So Colin Dexter gave up teaching and moved to Oxford, where he worked for 21 years for the examining board, overseeing the papers in Greek, Latin and English.
Crime writing developed logically from his love of puzzles. He devised the Ximenes crosswords for the Observer for many years and the seed for his fictional character was sown when he came across a fellow crossword crank.
"Between 1965 and 1975 the national crossword championship was won either by me or by Sir Jeremy Morse, the chairman of Lloyd's Bank. He was also chairman of the International Monetary Fund for a while.
"There was also a Mrs B. Lewis who did crosswords! I'm conscious of names – all the names in the first Morse book were of crossword compilers."
Last Bus to Woodstock was published in 1974 and happened by accident. Colin and his wife were on holiday in North Wales and it rained continuously. "I'd finished all the books I'd brought to read so I started to write. Eighteen months later I had a book.
"I sent it to Collins who had it for six months. I got fed up and tried Macmillan. Thirty-six hours later they phoned to say they wanted to see me and there was a decision to publish it within two days."
He has never had an agent. Macmillan looked after the business side of Morse. They handle translations, TV rights, arrange speaking engagements and make sure that each new Morse novel is submitted for the Crime Writers' Association awards.
They just managed to get a copy of the new Morse, The Wench is Dead, into the latest awards and Colin is now the proud owner of the Gold Dagger from his peers. They put it in his hand, not his back.
Books, first books in particular, are usually semi-biographical, Colin said. The Morse novels always feature Oxford, crosswords, 19th-century novels, Wagner and good beer.
But Morse's creator is quite unlike his literary progeny. He is small, buys a fellow a pint and has a bubbling good humour.
"Morse is the meanest bugger in the world. He never stands his round – the most unforgivable of the social sins. Poor old Lewis has to buy all the beer!"
Colin is delighted by the success of the TV series, though only the first few plays were based on his original novels. "It gets 15 to 16 million viewers. ITV is impressed and the Americans love it. And it was brave of Central Television to go for a two-hour format for each programme."
He has unstinted praise for John Thaw's performance as Morse. "He carries the series. He has a good relationship with Sergeant Lewis and he conveys all the qualities of Morse – he is world-weary, melancholy, falls in love with all the women he sees."
It is not possible to translate everything on to the screen. "The cerebral side of Morse has had to go, along with the cryptic cleverness. But four-fifths of Morse is portrayed by John Thaw."
There have been changes for television. In the books Lewis is the same age as Morse but, in order to get Kevin Whately for the part, he has become younger and has a Geordie accent.
In the novels, Morse owns a Lancia, but has a red Jaguar  In the books Lewis is the same age as Morse but, in order to get Kevin Whately for the part, he has become younger and has a Geordie accent.
In the novels, Morse owns a Lancia, but has a red Jaguar on film. "That bloody car!" Colin laughed. "They spend hours pushing the thing round Oxford."
I said I detected another subtle change on TV – Morse was drinking less. He even left pints unfinished.
Colin agreed. "That was pressure from John Thaw. I don't think he's a great beer drinker. And he was worried about his image – the series is show in other countries.
"Actors start at seven in the morning and finish in the evening. There's a lot of hanging around, a lot of free time. They're away from home and it's easy to go for a couple of jars and get into the drinking habit. I believe Thaw is on orange juice now."
Colin will not be following suit. He finds he works better after a few pints of beer. "If the body is enjoying a drink, have a drink. The body will soon tell you when it isn't enjoying it."
I recalled the occasion in one Morse novel when the inspector, unable to crack a case, had drunk a whole bottle of Teacher's in a sitting and had then gone back to work the next morning. I said I would not have been able to get out of bed, but Colin disagreed.
"I once had a bottle of Scotch and some wine in a day and felt fine the next morning. If I've got to think, I've got to drink!"
He lists his favourite beers as Morrells – which he discovered when he first came to Oxford – Flowers and Fuller's London Pride. "Beer has to be kept well. Morrells wasn't always good in the 1980s – then they sacked the brewer. It's now the best pint in Oxford."
With a name that sounds like a composite England cricketer, it's not surprising that he loves the game. He goes up to Lord's in the summer and drinks London Pride: "It's heavy and satisfying."
When he was in hospital a few years ago he dreamt he was winning a cross country race but he was more concerned with getting a pint of beer after finishing than being lauded as the winner. When he woke, slavering for a drink, he saw the dreaded message above his bed "Nil by mouth".
The experience influenced The Wench is Dead. Morse's batchelor life style, boozing and dire diet lead to a burst ulcer and he becomes a reluctant and frustrated hospital patient. "Nil by mouth" is not just advice to the staff but a grim warning for Morse.
With the aid of the long-suffering Lewis and a woman librarian -- more unrequited love – Morse solves a seemingly real-life murder on the Oxford canals that took place in the last century. I said the theme reminded me powerfully of Josephine Tey's brilliant mystery novel, The Daughter of Time, in which her detective, Inspector Grant, laid up with a broken leg, proves that Richard III could not have killed the Princes in the Tower.
"I'm conscious of the similarity," he said, though he was not impressed by Tey's novel and thought her characterisation and dialogue wooden.
The major difference – and I can say no more without ruining the book for you – is that The Wench is Dead is pure fiction and Colin gets an impish pleasure from the queues of readers at the Bodleian library in Oxford, searching for source material quoted in the book that does not exist.
His major writing influence is Raymond Chandler. "His plots were awful but he wrote amazing dialogue and created atmosphere. He is the only crime writer who just scrapes into the first division of good writers."
He was scathing about most English crime writers. "Dorothy Sayers!" he said and her name hung in the air like a dreadful expletive.
"Agatha Christine wrote badly but her plots were brilliant. She wrote three or four of the best mystery stories." P D James is the best contemporary writer, he thought, but "she writes novels with crime in them rather than pure crime novels."
I said it was time get back to my word processor. Colin laughed: "I can't even type!"
I left to walk to Oxford station, where Morse often tumbles half-asleep from a Paddington train after a night at the opera and a swift half gallon of ale.
Colin stayed in the King's Arms for one more pint. "The mind becomes lucid after beer," he assured me. Then he would go home, fill his pen and, in his gentle and genial way, invent some dreadful murder for Morse to unravel.
*Melbourn's Brewery in Stamford has since reopened and is owned by Samuel Smith's. It brews fruit beers only. Morrells Brewery closed in the 1990s.Photo of Colin Dexter by Eamon McCabe of the Guardian.