Feature
US beer brightens Brixton food scene
Added: Saturday, August 13th 2016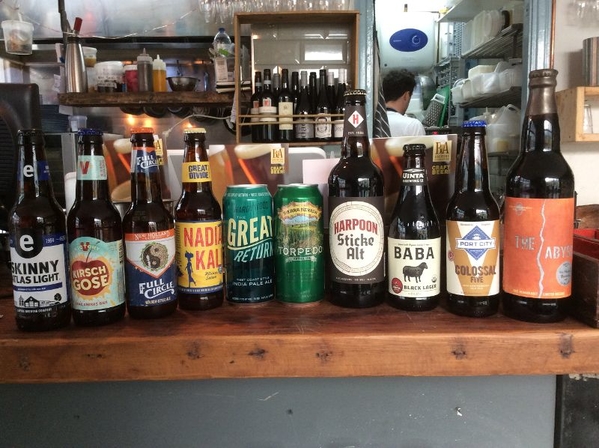 A food and beer dinner organised by American brewers came with a twist: the food was vegetarian. Meatless meals may be low on the agenda in the United States but both vegetarianism and veganism are growing fast in Britain and craft brewers accept the need to reach out to diners who avoid meat and dairy.
The dinner was organised by the Brewers Association (BA) that represents the craft sector in the U.S., where there are now more than 4,000 producers, with pale ales, saison, sours and IPAs topping the agenda. Held during the Great British Beer Festival, the meal was staged at Salon, a small but acclaimed restaurant in Market Row, a buzzing, twisting alleyway of shops and eateries off Coldharbour Lane in Brixton.
Salon is rated by the Observer as one of Britain's 40 best restaurants. It draws its ingredients from a deli on the ground floor and the chefs also forage in London and surrounding countryside.
Brewers whose beers were showcased at the event were joined by a clutch of beer writers, including Sophie Atherton, newly enshrined editor of the Cask Report, her predecessor Pete Brown, Susannah Forbes, Jeff Evans, Mark Dredge, Des De Moor and Adrian Tierney-Jones. Sylvia Kopp, German beer evangelist who is the BA's ambassador in Europe, was also in attendance, on the eve of her sell-out tutored tasting of American craft beers at GBBF.
The BA takes beer and food matching sufficiently seriously to have a resident chef, Adam Dulye, who runs lunches and dinners that invite consumers to treat beer as the equal of wine. He presented the beers and dishes with Salon's chef Nicholas Balfe who admitted he was quite partial to a pork chop but had accepted the challenge of creating four meat-free courses.
The evening started with two aperitif beers with snacks: Skinny Atlas Light from Empire Brewing in Syracuse, New York, and Kirsch Gose from Victory Brewing in Downington, Pennsylvania. Gose is the new buzz beer in the U.S., based on a rare style from the Leipzig area of Germany. It was hidden from view during the period of the two Germanies and has only recently been rediscovered. It is firmly in the European tradition of both Berliner Weiss and Belgian lambic, with lactic bacteria used during fermentation and brewing water heavily salted.
The first course was marinated beetroots, whipped sheep's curd, puffed barley and hibiscus with a beer match of Full Circle – a Kölsch-style beer -- from New Holland Brewing, Michigan, and Nadia Kali Hibiscus Saison from Great Divide Brewing in Denver, Colorado. Both styles of beer have a good malt backbone balancing the hops and they were fine companions for the rich and slightly tart food, with a spicy note from the hibiscus.
IPAs were centre stage for the second course that featured girolles – foraged wild mushrooms – sweet corn, orange and allspice butter. The two beers were the outstanding Sierra Nevada Torpedo from California, well known to British drinkers, with The Great Return from Hardywood Park Craft Brewery in Richmond, Virginia. This is 7.5% beer brewed with Cascade, Citra and Simcoe hops that deliver a powerful fruity bitterness with 70 IBUs.
It was my first taste of the Hardywood IPA and I thought it superb, with a profound hop bitterness balanced by biscuit malt and fruit. Both beers cut the rich and creamy character of the dish, the glistening chewy mushrooms in particular.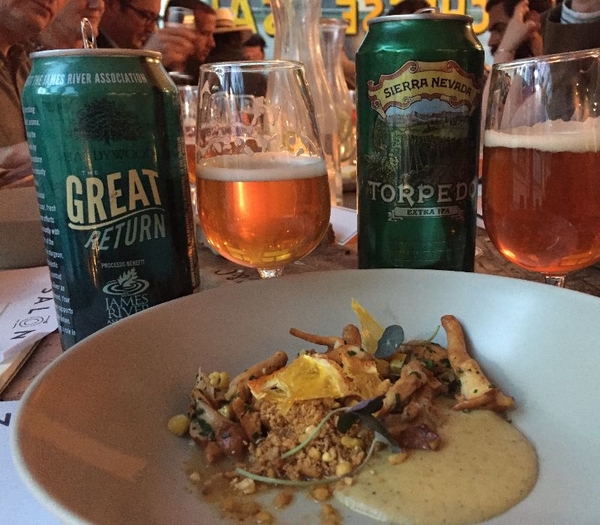 The main course was superb, built round smoked celeriac steak with rainbow chard and pickled walnut. With so many rich and competing, nutty and herbal flavours, the dish required beers with a big kick of malt and hops and they came in the shape of Harpoon 100 Barrel series Sticke Alt from Boston, Mass, and Baba from Uinta Brewing in Salt Lake City, Utah.
Harpoon is best known as one of the IPA pioneers in the U.S. but this beer is based on the German Alt style: Alt means "old" and is a reference to warm-fermented ales that predated lager and cold conditioning. The fine balance of malt and hops blended well with the food, with Baba, a black lager, contributing coffee and caramel notes.
The dessert was olive oil ganache, salted caramel, cherry and hazelnuts – again, a kaleidoscope of ripe and overlapping flavours. The complementary beer flavours came from Colossal V from Port City Brewing, Alexandria in Virginia and The Abyss Rye from Deschutes in Bend, Oregon.
With so much attention paid to IPAs these days, it's good to see Port City reviving an older English style, in this case Old Ale, a beer with a massive nose and palate of juicy malt with wine-like notes and – for an American beer – a restrained hop character. The Deschutes beer chipped in with a rye beer that offered fresh bread and spicy notes that helped balance the creamy hit of the dessert.
It was a memorable meal that proved – if proof were needed – that beer is a welcome companion at the dining table. Salon regularly sells beers from Kernel in Bermondsey so there will always be a good beer match in the restaurant.
*Thanks to the Brewers Association @BrewersAssoc, Salon @SalonBrixton and Lotte Peplow.
Salon, 18 Market Row, Coldharbour Lane, Brixton, SW9 8LD. 020 75019152; reservations@salonbrixton.co.uk.