Feature
Daisy Claeys: 30 beer years in Bruges
Added: Thursday, May 5th 2016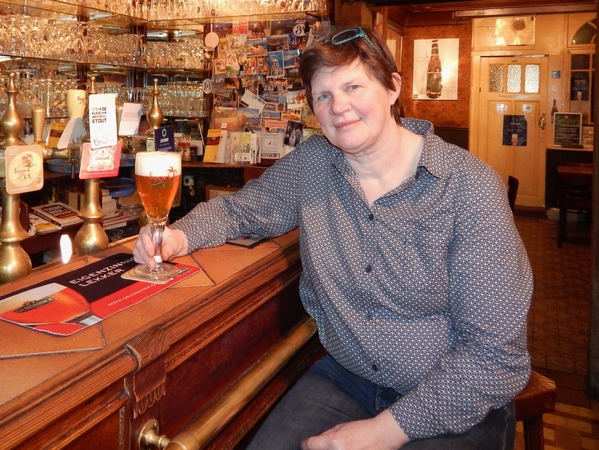 Back in 1983 it took a certain amount of courage to open a beer bar in Bruges and tell customers "We don't sell Pils". Daisy Claeys, owner of 't Brugs Beertje – the Little Bruges Bear – says that 30 years ago most Belgian bars were tied to InBev and sold Stella Artois and market leader Jupiler.
Both local drinkers and tourists were shocked to discover that the small, two-roomed bar in a narrow side street near the market square didn't serve a drop of lager -- or Pils, as it's universally called in Belgium.
"A bar without Pils had never been seen before," Daisy says. "But I had a mission. I had the same principle as the small family breweries but I was told it wouldn't work without Pils.
"It was a new concept. I got all the Trappist beers and it took off from there."
The homely bar, decked out with a plethora of fascinating old brewery posters and advertisements, draws drinkers from all round the world. They are entranced by the choice available: Daisy began with 120 beers in the first year but the list has grown to 300. She could sell more but is restrained by the size of her cellar.
She was encouraged to open her bar by the growing interest in speciality Belgian beers. The interest took on a wider appeal as a result of a trip by British beer writers in the 1980s who enjoyed a tasting of beers in the bar's back room. Among those present were Michael Jackson and Tim Webb who on that historic evening conceived the ideas for their books and guides on Belgian beer.
Jackson described Belgian beer as the country's "best-kept secret" but he broke the silence with five editions of his Great Beers of Belgium and also featured them in his TV series the Beer Hunter. Tim Webb weighed in with seven editions to date of his Good Beer Guide Belgium.
Their efforts led to beer drinkers in Britain and the United States beating a path to Daisy's door. Her fame grew when the Hairy Bikers filmed in the bar. In 2010 she was given a top prize for her services to tourism by Horeca, which organises awards for the Belgian hospitality sector. Chairman Chris Janssens said her efforts had "put Bruges on the map".
Daisy is keen to involve her customers and turn 't Brugs Beertje into a real community bar. There's an upstairs room that houses a beer museum with more fascinating artefacts and where drinkers can sample new beers and choose their favourites.
"Some people want to be surprised," Daisy says, "but others prefer their favourites. Draught beers are my best sellers but they're drunk by the international crowd – locals prefer bottle-conditioned beers.
"It's important to rotate the draught beers. The new Bourgogne des Flandres is trendy and Zot from the local Halve Maan brewery is very popular." She said Halve Maan has added a "wild beer" called Straffe Henderik Wild made by spontaneous fermentation to its range: it's available only in bottle.
Daisy follows the seasons of the year with fitting beers, such as autumn, winter and Christmas beers, with wheat and fruit beers for the summer.
She says her trade hasn't been affected by the smoking ban and she welcomes it: "I don't know how I survived all those years with people smoking."
She doesn't have room in her small bar but bigger establishments can set aside one room for smokers. People can't drink in them and they are sealed to prevent smoke seeping out. They're known as "fish tanks".
Daisy says she can't believe it's 30 years since she opened the bar: "Time flies when you're having fun!"
't Brugs Beerjte is so famous world-wide that Daisy is perfectly laid back about new competition in the town. She is full of praise for the smart new brewhouse at Halve Maan, which also has a restaurant and museum. She thinks both the Beer Museum in the old post office in the market square and Le Trappiste in vaulted cellars at 33 Kuiperstraat are superb.
But Daisy Claeys will never be short of customers who are passionate about the great beers of Belgium. Food is kept simple -- pasta, pâté and cheese – because people really are here for the beer.
And what happens if someone wanders in and asks for lager? Daisy laughs. "I serve them a draught Zot Blond – it's light and bright."
But it's not Stella.
* 't Brugs Beertje, 5 Kemelstraat. 050 33 96 16. Closed Wednesday. 4pm-midnight, weekends 4pm-1am.
NB During World War One, the French army identified the city as "Bruges" on maps but officially it's Brugge. Don't speak French there. English is widely spoken.