Feature
CAMRA's new chief has sky high plans
Added: Friday, October 31st 2014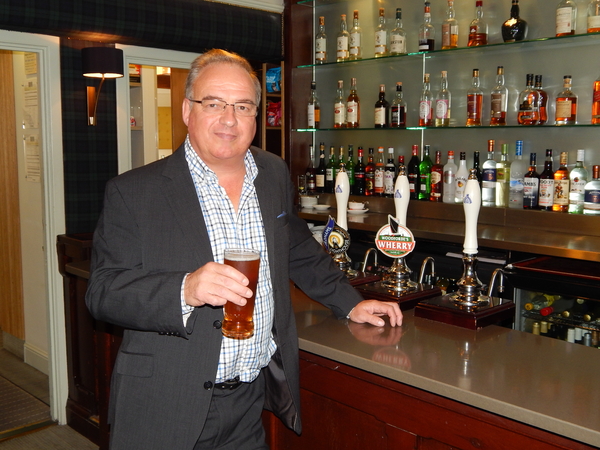 Tim Page, the new chief executive at CAMRA, the Campaign for Real Ale, ticks all the right boxes. He's passionate about pubs, drinks good beer, makes his own cider and is involved in saving and creating a home for wildlife on common land in his village in Cambridgeshire.
He enjoys working for not-for-profit organisations and is impressed by the "incredible devotion" of CAMRA members who, he says, devote so much of their free time to running beer festivals, researching pubs for CAMRA guides and websites, and supporting breweries.
He thinks it "astonishing" that 1,000 volunteers run the Great British Beer Festival. He sees that as a sign of the campaign's strength, with its ability to motivate such large numbers of members.
Page, aged 59, is a former professional soldier and he says getting on well with people was a critical part of his job. He left the army with the rank of colonel, served in Northern Ireland, Rhodesia, Cyprus and Germany, and as chief of land and air operations during the post-war reconstruction of Bosnia.
After close to 30 years military service, he took on a new, different but equally challenging role as national director of the charity Emmaus that helps homeless people rebuild their lives through living and working in communities. During his time with Emmaus, the number of projects grew from seven to 20, and he recruited the Duchess of Cornwall to be the charity's royal patron.
In 2011 Page became chief executive of another charity, East Anglian Air Ambulance. He developed the UK's first day/night helicopter emergency medical service, assembled a team of world-renowned medical experts and oversaw a 30% increase in the number of seriously injured patients who were helped by the service.
With the Duke of Cambridge due to start work with EAAA next year, Tim Page is clearly a man with contacts in high places. But he's equally at home with grassroots organisations, which was the appeal of CAMRA and its large and active membership.
"I enjoy diversity," he says, "and one of my jobs with CAMRA will be to represent the views of all its members.
"There's richness in variety and it's healthy that people have a range of different opinions. I plan to go out and meet people and understand their viewpoints – I can only influence debate after listening to and understanding the opinions of CAMRA members. I have to earn the right to express my opinion as the chief executive."
Tim Page believes that CAMRA's status as a not-for-profit organisation is its strength and that the campaign should encourage people to live more socially.
"I'm aghast at the individualism of modern society, with people sitting behind locked doors and getting their beer from supermarkets," he says.
He wants to challenge the "outdated concept" that CAMRA is only about real ale and thinks saving pubs is the key issue.
"CAMRA must raise awareness of pub closures and we must enforce the message 'use it or lose it'," he says. "The campaign has to work with pub companies to help landlords make their pubs attractive to customers and to sell drinks at reasonable prices. Pubs have to attract more custom to survive."
He supports CAMRA calls for tougher planning laws that will make "change of use" more difficult and prevent pubs being turned into mini supermarkets, betting shops or private housing.
"Councils have the power to interpret the law and must realise the importance of pubs to their communities. Pubs shouldn't be sold when they are at the heart of their communities," he adds.
He views the recent activities of the country's two giant pubcos, Enterprise and Punch, as a particular problem. Page thinks the government's plans for a Pub Adjudicator, who will intervene in disputes about rent, beer prices and choice, is a step in the right direction but he says there's still much work to be done to stop the blight of pub closures.
He sees his role at CAMRA as "outward facing". He has met the campaign's National Executive – all volunteers – and the head office staff in St Albans. He will not be desk bound and he'll allow the staff to run the campaign on a day-to-day basis while he is out meeting CAMRA members and influencing the principal decision-makers in government and the brewing industry.
He says his predecessor, Mike Benner – now managing director of SIBA, the Society of Independent Brewers – worked for CAMRA for 20 years and "I'm aware of his huge achievements and I don't feel any need to come in like a tornado to change things. I'll work with SIBA and the British Beer & Pub Association but I'll also keep them at arm's length when we disagree."
Page thinks the independence of CAMRA is essential. He believes the media often misinterpret the campaign's work and see it as part of the brewing industry instead of being a consumer movement on the drinkers' side of the bar.
He envisages no conflict with CAMRA's national executive, the custodians of policies decided by annual meetings. "I want to make the campaign work effectively, not to change the way it's run. Its greatest asset is the huge number of active members."
And he wants more of them. He says 165,000 members make a big impact with brewers, pub owners and politicians – "but think what twice that number could achieve."
Is such a figure achievable? As they say in military circles, let's run it up the flagpole and see if it salutes.
Tim Page: the CV
The son of a farmer, he now lives in a village east of Cambridge. He is married to Christine, a Primary Academy head teacher, and they have five children.
In 1974 he was commissioned into the Royal Anglian Regiment before studying English and Philosophy at Exeter University, where he joined CAMRA. During his army career he served in many different countries, commanded the Cheshire Regiment, and trained officers at Sandhurst.
He left the army in 2002 and went to work for Emmaus as national director. In 2011 he was appointed chief executive of the East Anglian Air Ambulance. He is a liveryman of the Drapers' Company and a member of its charity committee, which allocates £2m a year to cultural and educational causes and in support of disadvantaged members of society. As well as working with fellow villagers to save and sustain an area of common land, he is interested in sport of every kind, cooks, sails, and makes jam, pickles, wine and cider from home-grown fruit and vegetables.
*Print version: Publican's Morning Advertiser, 30 October 2014