Feature
The pub where wood is in pole position
Added: Thursday, July 10th 2014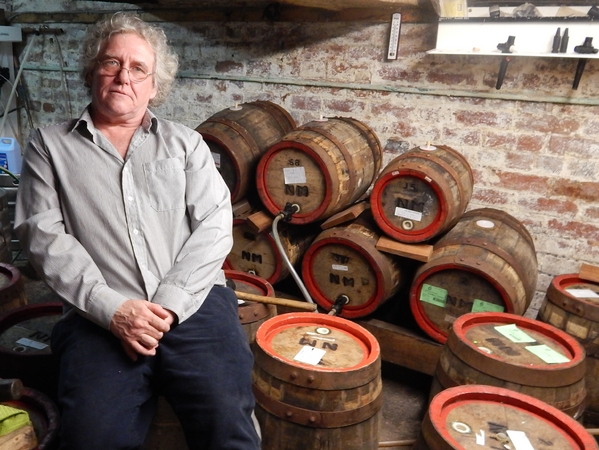 They do things differently at the Junction in Castleford. The West Yorkshire pub specialises in serving beer "from the wood" and it's a policy that attracts drinkers from far afield, keen to discover whether ale is different when it comes from a cask fashioned from oak.
The Junction has had a chequered history, owned by a succession of brewers before falling into the hands of Enterprise Inns. The pub closed for two years but it was bought and rescued by Neil Midgley (pictured above in the cellar of the pub) and Maureen Shaw, who brought with them different skills and experience.
Maureen had worked in the accounts department at Sam Smith's and knew a fair bit about beer and pubs as a result – including beer from the wood, as the Tadcaster brewer still employs coopers. Neil's background was also in wood. He's a carpenter and joiner by trade and he used his skills to transform the Junction.
He threw out grotty old carpets and laid parquet flooring. He got partitions and pews from an old chapel in Derbyshire and he has even built a wood-panelled side room – a "snug" – at a time when most pubs are knocked through.
Then Neil and Maureen turned their attention to the beer. In a former mining town, where John Smith's and Tetley dominate, they scoured Yorkshire and beyond to get handcrafted beer from small breweries. And then they went the extra mile and decided they would specialise in serving beer from oak casks.
Neil Midgley loves everything about wood, in particular the aromas of fresh oak. He believes wood can impart additional flavour and character to beer that you can't get from metal or plastic casks.
He's not alone. With the exception of a few diehard brewers, including Sam Smith's, Theakston and Wadworth, wood was sidelined in favour of metal as long ago as the 1930s. But now many brewers are going back to wood. They're ageing beer in casks obtained from the Scotch whisky, Bourbon, Cognac, wine and sherry industries.
At the Junction, Neil and Maureen had the good luck to meet up with Alastair Simms, a master cooper with Wadworth in Devizes, who now works for the White Rose Cooperage in Wetherby. He builds casks for the Junction, ranging in size from pins to kilderkins, which Neil and Mauren fill with beer from their chosen suppliers.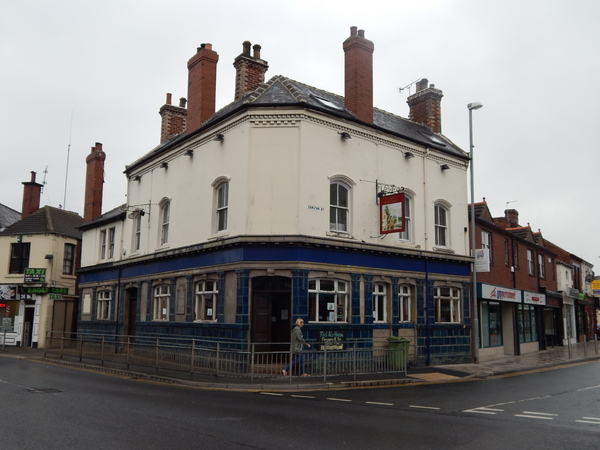 I accepted a challenge from Neil Midgley to host a charity tasting with three beers served from both regular containers and from oak. The income from the event has gone to Stop the Traffik, the organisation that campaigns to stop modern slavery. The snug at the Junction was packed and we settled down to sample the beers on offer.
We began with a 3.8% Gun Dog Bitter, brewed by Walls of Northallerton. It's brewed with pale and crystal malts and hopped with American, German and Slovenian varieties. The beer from both plastic and wood was delicious, with juicy malt and fruity hops. But the beer from the wood had an added dimension of vanilla and tannin that added to its complexity.
The second beer – Elland brewery's Beyond the Pale – would, I thought, prove the real test. The 4.2% beer has a straightforward recipe of pale malt, a touch of darker Munich malt, and just one hop, American Casade. Pale ale is a delicate breed and would it survive storage in wood? The version from a metal cask was superb, packed with biscuit malt and tangy citrus hops. But from the wood, the beer had hints smoke, oak and vanilla. Vanilla is often found in whisky and comes from a compound in the wood known as vanillin.
The third and final beer came just from the wood. It was Elland's 1872 Porter, the current Champion Beer of Britain. I have sampled the beer several times but this version had been aged in Scotch whisky casks for a year. At 6.5%, it's a beer of great depth to start with, brewed with pale, amber, brown and chocolate malts, and hopped with English Northdown and Target.
But this oak-aged version had new levels of complexity. There was a warm, whisky hit, with oak and a creamy vanilla note vying for attention with chocolate malt, liquorice, coffee and spicy hops.
The audience loved the beers and voiced their enthusiasm for the versions from wood.
The most inspirational thing about the Junction is that it's not in a trendy part of London or Leeds but in Castleford, working-class down to its boot-straps.
Maureen Shaw says that a few years ago many of the regulars would have been filling those boots with John Smith's but now they sample craft beers from all over Britain and discuss the merits of wood and metal.
And the wood "regular" takes on a new meaning at the Junction. David Litten, for example, travels from Hull – a three-hour round trip by train. That's more than dedication, that's hearts of oak.
*Print version, Publican's Morning Advertiser, 10 July 2014.