Feature
Rooster's: new owners build on Sean Franklin's bold Yorkshire hop heritage
Added: Tuesday, December 17th 2013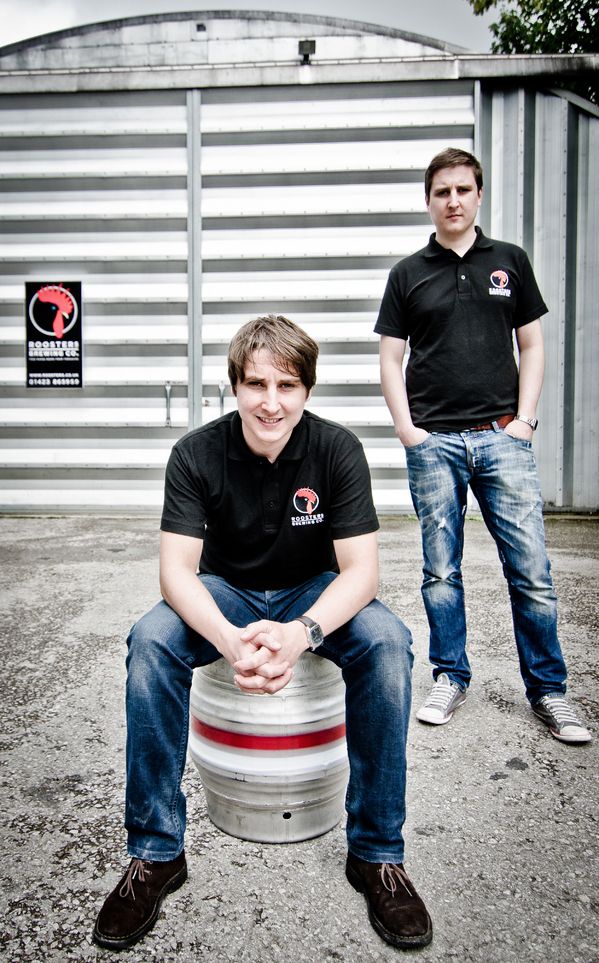 Rooster's Brewery is living proof that the old saying "Don't mix the grape and grain" doesn't hold water. It was Sean Franklin's passion for wine that led him down the road to brewing and helped revolutionise beer in Britain.
The brewery in Knaresborough, North Yorkshire, is now owned and run by the Fozard family: father Ian and his sons Oliver and Tom (above). It started life as Franklin's Brewery in 1980 and is one of the oldest and certainly the most influential of Britain's micro-breweries.
Ian Fozard is a vastly experienced pub owner who sold his Market Town Taverns group in order to fund Oliver and Tom. The brothers combine a great love for beer with their marketing and brewing skills. Tom worked in publishing while Oliver learnt the beer-making arts at Daleside and Copper Dragon. Crucially, he also worked with Sean Franklin for seven months before taking over the brewing kit Sean had lovingly assembled.
The Fozards have added three new regular beers since their arrival in December 2011 – there's even a dark Porter called Londinium. But the core range stay true to Sean's template of exceptionally pale beers that allow hop aroma and flavour to burst out of the glass.
Sean's background is wine. He studied the science of wine- making in Bordeaux under Emile Peynaud, who has been called the father of modern wine. Sean became well-versed in the characteristics given to wine by different grape varieties. Back in Britain, he worked as a quality controller, monitoring the wine that was sent in bulk to be packaged here. His job came to an abrupt end when Britain joined the Common Market, which meant that wine from mainland European countries had to be bottled at source.
From sipping and savouring fine French wine he went to work on a building site. He was quietly contemplating his future over a pint of beer in the Turkey Inn in the hamlet of Goose Eye when his life took a momentous turn. Years later, in 2001, he told beer writer Michael Jackson: "It was a cool spring morning. The beer was made on the premises and it was well served and refreshing. From that moment, the idea that I could make beer gripped my imagination. It became an obsession."
He went to the United States where he sampled New World wines. But his epiphany came in the Yakima Valley of Washington State, America's major hop growing region. He fell in love with the intense, fruity, citrus-driven hops grown there, the Cascade in particular. He likened its character to the robust character of the Muscat grape and the lychee note of the Gewürztraminer. The Chinook hop reminded him more of the "cat's pee", gooseberry and blackcurrant of the Sauvignon Blanc while the Liberty variety is akin to the raspberry aromas and flavours of Cabernet Franc.
Sean Franklin:
love affair
with American
hops
Back home Sean launched Franklin's Brewery alongside the Gardeners Arms pub in Bilton, a suburb of Harrogate. The plant was tiny and the output was equally small. There was little free trade in the area but Sean persevered with Franklin's Bitter. He thinks he was the first British brewer to use American Cascades and he started to build a reputation for his pale, hoppy and citrus/fruity beers.
He was learning all the time. He told me that when he made a beer using pale and crystal malt, the crystal changed the character of the Cascades, with more orange than grapefruit. From that experience he decided his beers would have just a pale malt base, building flavour from different hop varieties.
"Malt and hops are in conflict and you have to allow one to shine through," he says. "You have to balance the bitterness against the malt base."
In 1993 Sean built a new and bigger brewery on an industrial estate in Harrogate. Franklin's Brewery lingered for a while under new ownership, but Sean called his new company Rooster's. He's a fan of the late John Wayne and the film True Grit in particular, in which Wayne played a character called Rooster Cogburn. It gave the new brewery a distinctive name and launched Yankee, Sean's seminal beer hopped solely with Cascades.
By 1983, Sean, with the important support of his wife Alison, who masterminded sales, was brewing 32 barrels a week. He added three more pale beers – Special, Scorcher and Cream – plus an amber ale called Rooster's. By this time, the impact of the government's Beer Orders was in full swing. Sean and Alison were able to find an increasing number of outlets as big brewers had to offer guest beers to their pubs.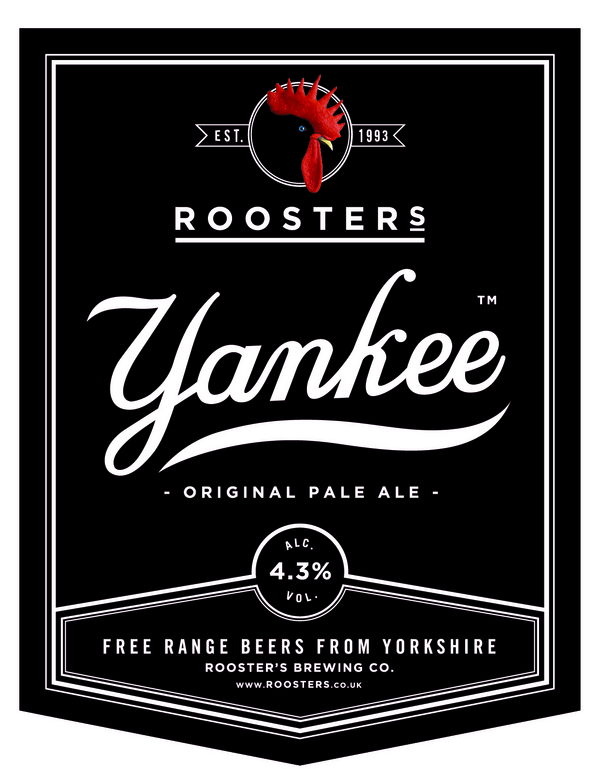 In 2001 the Franklins were on the move again to the outskirts of Knaresborough. The corrugated metal building, put up by a farmer 13 years earlier, looks like a giant World War Two Nissen Hut but its spacious interior is ideal for brewing. Sean installed new kit he'd bought from the Crooked River Brewery in Cleveland, Ohio. It was a three-vessel system with a mash mixer, lauter or filtration vessel and a kettle and whirlpool. In spite of his love of American hops and beers, Sean – with days of back-breaking work – converted it to the conventional British system: the lauter became the mash tun, the mash mixer is now the hot liquor tank while the kettle uses whole hop flowers rather than pellets. The hop back, which receives the wort following the copper boil, has a deep bed of hops that act as a filter and impart additional aroma.
By 2011 the Franklins were ready to retire. The takeover, Ian Fozard says, took just one weekend of amicable discussion. Oliver, following his stints at Daleside and Copper Dragon had not only worked with Sean but also shared his passion for Rooster's style of beer and was well acquainted with the brewhouse.
To fund the takeover, Ian sold Market Town Taverns to Heron & Brearley, owners of Okell's Brewery on the Isle of Man who have a growing group of pubs on the mainland. There were 15 Market Town pubs and Ian had built a strong reputation in the north for serving a good range of British cask ales, Belgian beers and wine, accompanied by excellent food. He remains a non-executive director of the pub group.
He passed on his love of pubs to Oliver and Tom, who enjoyed a shandy with him before they were of legal drinking age. Oliver even worked as a pot boy in the Old Bell in Harrogate, one of his father's pubs. The brothers were determined from an early age to run their own brewery and today Rooster's allows them to turn their dream in to reality.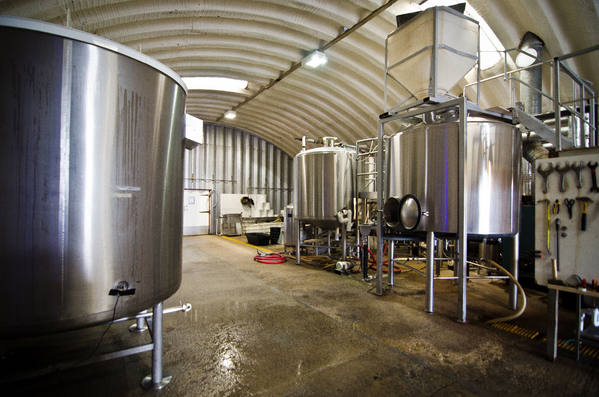 Soft brewing water is supplied from a reservoir near Pateley Bridge. Oliver and his brewing team – nine people now work at Rooster's – Burtonise the water with typical Trent Valley salts such as gypsum and magnesium for the pale beers while calcium carbonate is added for darker ales. The base malt is Golden Promise, which, Oliver says, has a good malty background and body to build his hops on. Specialist malts for darker beers are imported from Bamberg in Germany.
The hop store is packed with varieties from home and abroad. Depending on the brew, Tom can call not only on Cascades and Chinook, which recall the founding days of Sean Franklin, but Nelson Sauvin, Motueka and Pacific Gem from New Zealand, Amarillo and Crystal from the U.S., Styrians from Slovenia and English Bramling Cross. The yeast culture originated at Thwaites of Blackburn.
More hops have been brought in to give bountiful aroma to a beer that celebrates 20 years of the brewery. 20th Anniversary IPA is 6% and is hopped with Cascade, Citra, Galaxy, Motueka, Nelson Sauvin, Pacific Gem and Simcoe.
Rooster's produces 75 barrels a week but the Fozards are planning to expand to keep up with demand for their beers. They will install a new hop store and double the size of the cold store where casks are kept for a week before leaving for pubs. A laboratory will be added to monitor product quality. Bottled versions of the beers are currently packaged at Hambleton Brewery but will eventually be brought in house.
Tom Fozard has devoted months of work in 2013 to rebranding the beers with stronger images on pump clip and labels. 4.3% Yankee has been joined by Buckeye (3.5%), Wild Mule (3.9%), True Grit (also 3.9%), YPA or Yorkshire Pale Ale (4.1%), Fort Smith (5%), an IPA-style beer named after the town where True Grit was filmed, Cogburn (4.3%), All Star Yakima Pale Ale (4.3%) and Londinium (5.5%).
The brothers have also revived the name of Outlaw, a subsidiary company run by the Franklins for specialist and trial beers. Under that name, the Fozards have brewed a coffee porter with the help of Taylor's of Harrogate, the celebrated tea and coffee blenders. Taylor's have also been involved in a jasmine tea beer developed with beer writer Melissa Cole.
In the Old Bell Tavern on the Royal Parade in Harrogate, with high ceilings and wooden settles, we met up with Sean Franklin. A newspaper clipping framed on the wall says President Bill Clinton visited the tavern during a trip to Britain. Ian Fozard said the president drank a Diet Pepsi but we did rather better with a glass or two of Anniversary IPA. It's an anniversary well worth celebrating as Rooster's has played a formidable role in transforming the appreciation of beer and in particular the role of the hop in brewing.
Sean once memorably called hops "the grapes of brewing", a description that has gone down in British beer folk lore and helped inspire other craft brewers to discover hop aroma and flavour. Not surprisingly, Sean is in great demand as an advisor to breweries, including Meantime in London.
And, instead of putting his feet up, he's built an 80-litre brewing plant at his home where he tries out experimental beers. True Grit.
Photo credits: Rooster's brewhosue Ian Bird; Oliver and Tom Fozard Tom Bishop