Feature
Good beer – and choice – return to Ireland
Added: Sunday, September 9th 2012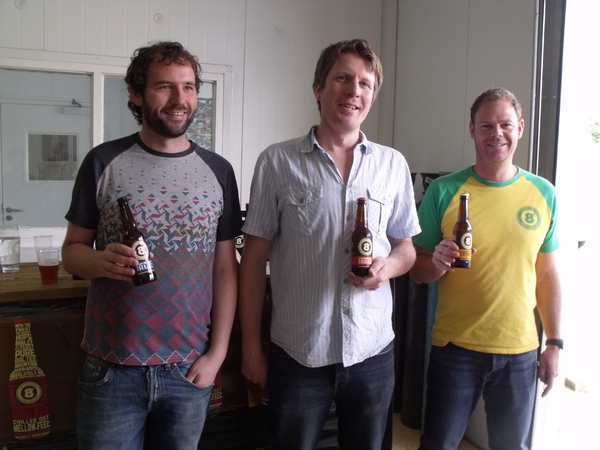 The wind of change is blowing through Irish brewing and drinkers are revelling in a greatly improved beer choice. For the first time in a generation, there's more to Irish beer than the stouts produced by Guinness and Murphy's.
There are close to 20 small independent breweries in the Republic and five in Northern Ireland. They're not attempting to challenge the dominance of the Big Two. The new beer scene in Ireland is reminiscent of the United States, where close to 2,000 craft breweries have mapped out a different route to market with beers that are distinctively different to the bland offerings of the giant producers.
In Ireland you will find new interpretations of porter and stout: it's difficult to turn your back on a style that made the country famous throughout the world. But today you can also enjoy pale ale, golden ale, IPA, red ale, wheat beer and properly-made lager – beers that reach out to a younger audience that is proudly Irish but has a modern European outlook.
Guinness, with its stout on just about every bar in the country, may not be losing sleep over the emergence of an independent brewery sector. But the attitude of many drinkers I spoke to should give the company pause for thought. The brewery that shares the Harp symbol with the Irish state is no longer seen as the proud bearer of that national emblem. It's part of the global Diageo drinks group, which has the misfortune to have its headquarters in London.
One drinker said to me: "Guinness is now a British company". There could scarcely be a more damning indictment than that in a country where history and the struggle for nationhood hang heavy in every town, city and village.
Murphy's is even more remote from its Cork roots. It's now owned by Heineken, which picked up the rival Beamish brewery when it took over Scottish & Newcastle's Irish interests. Beamish has closed and its stout is brewed at Murphy's.
The Irish beer revival has been led by a remarkable Dublin entrepreneur, Oliver Hughes. He was involved briefly with a small craft brewery in the 1980s that failed to survive then worked in England for several years, where he devised plans for a brewpub back home. In 1996, the Porterhouse opened in Temple Bar, Dublin, and overnight drew crowds that appreciated the beers brewed on site, including Plain Porter (4.3%) – a Dublin speciality – Oyster Stout (4.8%) and Wrasslers 4X Stout (4.8%). Today there are three Porterhouse bars in the capital and a stand-alone brewery on the edge of the city. There are 10 regular beers on tap, including three lagers, a red ale – Porterhouse Red (4.4%) -- a strong ale, An Brain Blásta (7%), and a superb cask beer, Hop Head (4.7%), brewed with American Cascades and German Hallertau varieties. The hops give the beer a massive hit of floral, resinous and citrus notes.
Hughes has spread his wings. There's a Porterhouse in London's Covent Garden and the latest incarnation is in the former Fraunce's Tavern in New York City: it's the oldest tavern in New York, the venue where George Washington said farewell to his troops at the end of the War of Independence. Hughes is not only an inspiration to Irish brewers but he has – albeit in small volumes – restored cask beer to the country, a style snuffed out by Guinness and Murphy's when they moved to nitro-keg in the 1960s and 70s. (www.theporterhouse.ie).
Ireland's second major independent, Carlow Brewing in County Carlow, has scored great success at home and abroad. It was founded by Seamus and Eamon O'Hara in the 1990s and moved to new premises in 2009 to keep up with the international demand for its beers. The brewery is still owned by the O'Hara family. Seamus exports 60% of his 15,000 hectolitres a year to 20 countries, including the U.S., Italy, France, Sweden and Britain, where his Irish stout can be found in Marks & Spencer's. The beers, all badged O'Hara's, include two stouts, pale and red ales and a gold wheat beer, available in both cask and keg versions as well as bottle.
Seamus and his brewer Cieran Kelly use Irish barley with specialist malts – caramalt, chocolate and roasted barley -- imported from Fawcetts in England. A big range of hops include Amarillo, Cascade, Chinook, Fuggles, Goldings and Saaz. Brewing water is hard, filtered through limestone, and is "good for stout" Seamus says. The draught beers are nitrogenated but are occasionally found in cask form. The beers enjoy an exceptionally long, three-hour mash, with the wort filtered in a lauter tun. The wort is boiled for an hour in the brew kettle, with hops added at the start and finish of the boil.
Irish Red (4.3%) has a big roasted grain aroma, with sultana fruit and hop resins. Tart fruit builds in the mouth with toasted malt and bitter hops. The finish is bittersweet, with rich smoked malt, dark fruit and light hop resins. Stout (4.3%) has a chocolate malt nose with smoky/roasted grain notes. Bitter hops build in the mouth with burnt grain, bitter chocolate and dark berry fruits. The finish is bittersweet with a good balance of bitter hops, roasted grain, burnt fruit and chocolate.
Leánn Fóllain (Wholesome Stout) is 6% and was brewed to celebrate the brewery's first 10 years. It has a big creamy malt aroma, with espresso coffee, dark berry fruit and tangy hop resins. Roasted malt and bitter hops build in the mouth along with bitter hops, chocolate, coffee and dark fruits. The finish is bittersweet with toasted/roasted grain, chocolate, coffee, burnt fruit and tart hop resins. Pale Ale (5.2%), hopped with Amaraillo and Cascade, has a massive aroma of grapefruit with biscuit malt and tangy hops resins. The palate is fruity with lemon, lime and grapefruit, balanced by juicy malt and bitter hops. The finish is increasingly bitter with hop resins, citrus fruit and sappy malt (www.carlowbrewing.com).
The Metalman Brewery in Waterford, run by Gráinne Walsh and Tim Barber, and the Dungarvan Brewery, run by two couples, Cormac and Jen O'Dwyer and Claire and Tom Dalton, describe the demand for craft beer as "fantastic". Metalman opened in 2011, moved to new premises this year and is already planning to expand. The name comes from navigational markers on the River Suir known as the Metalmen: they were erected in the 19th century by Lloyds of London to prevent accidents and insurance claims.
The brewing kit at Metalman, including wood-jacketed mash tun and copper, came from Biddy Early's, one of the first Irish micros that closed when the owner died. Tim Barber spent time learning brewing skills in England, with Sara Barton at Brewsters in Grantham, Lincolnshire. The Metalman beers are carbonated for keg but Gráinne – which means Love – and Tim produce some cask beer and plan to bottle.
The main beer is Pale Ale (4.3%) brewed with Maris Otter pale malt along with caramalt, crystal and lager malts. The hops are Cascade, Magnum and Summit.  It has a massive hit of spicy hop resins on the nose, with biscuit malt and tart citrus fruit. The palate offers an iron-like bitterness in the mouth with tangy fruit and peppery hops. The finish is long and bitter with an iodine note from the hops and diminishing fruit and malt. Moonbeam (5%) is a dark ale brewed with Maris Otter pale malt and amber, crystal and lager malts. The hops are Green Bullet, Nugget and Pacific Gem. The beer has a roasted and smoked malt aroma with dark berry fruits, peppery hop resins and a light note of espresso. Coffee builds in the mouth with liquorice emerging alongside roasted grain, dark fruit and spicy hops. The long, complex, bitter and hoppy finish has roasted grain, spicy hops, burnt fruit, espresso coffee and liquorice. Seasonal beers include an amber ale, Windjammer, that heralds the arrival of the tall ships in Waterford harbour. (www.metalmanbrewing.com)
At Dungarvan, 95% of production is not only in bottle but is also conditioned with live yeast. The brewery opened in 2010, with sales to restaurants as well as bars, and the two couples have moved into cask ale for a few outlets with their Helvic Gold, Copper Coast and Black Rock. The brew length is six barrels, using conventional mash tun and copper: there are two to three brews a week. Bottle-conditioned beers are filled straight from the fermenters, bottled flat and warm conditioned to allow the yeast to start working again and create a natural carbonation. The beers are finally cool conditioned for four to six weeks before they leave the brewery.
Helvic Gold (4.0%) has a pale bronze colour and is brewed with Maris Otter pale malt and a dash of Munich malt. Whole hops are Goldings and Northern Brewer, with Cascade used as a finishing hop in the copper. The beer has a luscious citrus/grapefruit nose with a fresh herbal note, with rich malt and spicy hop resins. Citrus builds in the mouth, balanced by growing hop bitterness and sweet malt. The lingering finish is hoppy and fruity. Copper Coast (4.3%) recalls the copper mining industry in the area and is, suitably, a Red Ale brewed with pale and crystal malts and lightly hopped with Challenger and Northern Brewer. It has an aroma reminiscent of "barley twist" confectionery, with light hop resins and a herbal note. Biscuit malt, the continuing herbal note and growing hop resins build in the mouth, followed by a bittersweet finish where malt is well balanced by hop resins and sultana fruit.
Black Rock (4.3%) is a true Irish stout brewed with pale malt, roasted barley and flaked barley and hopped with Northern Brewer. The aroma offers bitter black coffee, an astringent note from the roasted grain and a delicious hint of liquorice. There's smooth creamy malt in the mouth, the continuing tart note from the roast, with coffee and bitter, spicy hops. There are bitter notes form the roasted grain and hops in the finish with a fine counter-balance of coffee and liquorice. (www.dungarvanbrewingcompany.com)
The Irish are found of the craic or chat and there's plenty of craic in its Antipodean form at Eight Degrees Brewing in Mitchelstown. It's run by Cameron Wallace from Australia and New Zealander Scott Baigent: they both married Irish women and moved to the Northern Hemisphere. They were both keen home brewers Down Under and honed their brewing skills at the world-famous VLB school in Berlin. Aussies and Kiwis are notorious for not rubbing along but Cam and Scott have worked out a good relationship with the help of their Irish colleague and ringmaster Mike Magee. Eight Degrees – the partners' preferred serving temperature as well as the latitude of Mitchelstown – has a 15-barrel plant with 30 hectolitre fermenters, allowing for two brews a day. Fermenters double as conditioning tanks. Some of the kit came from the original Carlow plant and employs a mash mixer, kettle and whirlpool: hop pellets are used. Scott and Cam have been brewing since April 2011 and produce six beers, including Oktoberfest, Ocht (Irish for eight), Howling Gale Ale, Sunburnt Irish Red, and Knockmeal Down Porter. Production is split one third keg and two thirds in bottle. Bottled beers are unfiltered: "filtration strips out hop aroma and flavour," Scott says. Draught beers are dry hopped in the keg and all the beers are made without colourings or preservatives. The beers are sold by Porterhouse in Dublin and nationwide through off-licences and restaurants, including the acclaimed Fenn's Quay eating house in Cork.
Howling Gale Ale (5%) is brewed with pure mountain water, pale and Munich malts and torrefied wheat. The hops, depending on availability, are New Zealand Cascade and Summit or Amarillo and Centennial. The pale bronze beer has hop resins on the nose with lemon jelly fruitiness and lightly toasted malt. Biscuit malt, lemon/citrus fruit and spicy hop resins dominate the palate with continuing citrus fruit, toasted malt and bitter hops in the finish.
Sunburnt Irish Red (5%) is a gentle poke at Irish people who arrive in Australia with pale skin and rapidly go bright red in the sun. The beer is brewed with Maris Otter pale malt, caramalt, crystal and Munich malts, with torrefied wheat. The hops are Cascade and Pacific Gem from New Zealand. The hazy red beer has sultana and raisin fruit on the nose, with a wholemeal biscuits malt character and gentle hop resins. Nutty malt, burnt fruit and increasing hop bitterness fill the mouth. Sweet juicy malt dominates the finish but there's a good balance of dark fruit and tangy hops.
Cam and Scott say their Knockmeal Down Porter (5%) is a conscious move away from conventional Irish stouts. It's brewed with pale malt, a large amount of chocolate malt, caramalt, roasted barley and torriefied wheat, with Admiral and Fuggles hops. It has a bitter chocolate, toffee and coffee nose with smoked grain, roasted barley and peppery hops. Chocolate and coffee dominate the palate with toasted and roasted grain, a continuing toffee note and peppery hops. The finish is dry and bitter with smoky malt, chocolate, coffee, toffee, peppery hops and dark burnt fruit. It's an immensely complex and rewarding beer. Cam and Scott's humour bubbles to the surface again: on the label, the last two letters of Knockmeal are crossed through, making the beer Knockme Down Porter. Fighting talk! It would have appealed to that famous Dublin roustabout, Brendan Behan. (www.eightdegrees.ie)
Franciscan Well in Cork has been in operation in 1998 and stresses its key role in the Irish beer renaissance by staging an annual festival for all Irish craft brewers. It has a superb location, in a former monastery where monks once brewed. The well has dried up and head brewer Peter Lyall uses the public supply to fashion a range of beers served in both cask and keg form from his 11.5 hectolitre Canadian plant. The beers are supplied to the large bars alongside the brewery as well as many other outlets in Cork city and county.
The building at 14 North Wall is wonderfully atmospheric. From the street, you walk down a long corridor framed by ancient curved monastery walls. You turn right into the cavernous main bar where beers are served in both keg and cask form. Beyond there are more rooms and a garden area and to the right is the large and imposing brew house where Peter works his malty magic. Cork is known as Rebel City as it was the major stronghold of the Home Rule movement and the military base of the leading fighter for independence, Michael Collins, who was fond of a glass of stout. Not surprisingly, several of the beers have a rebel theme, as in Rebel Red and Rebel Lager. Purgatory Pale Ale pays homage to the building's monastic roots.
The brewery can produce 11.5 hectos at a time. It's an infusion mash system, with a copper boil that lasts for a long 75 minutes and Peter adds hops three times for Purgatory Pale Ale. He has a vast range of hops, in pellet form, at his disposal:  Admiral, Cascade, Challenger, East Kent Goldings, First Gold, Fuggles, Hersbrucker, Perle, Saaz and Target. The beers have a Maris Otter base with crystal, Munich, Pearl, wheat malt and roasted barley, depending on the recipe. The four fermenters are conicals and Peter uses lager, ale and wheat yeasts for his beers: ale fermentation lasts three days, wheat five and lager seven. Ales are conditioned for 14 days, wheat beer for 15 and lagers for 21 days. The local water is soft. The monks used to say their well liquor had "magical qualities" and it's a pity it can no longer be used.
Rebel Lager (4.2%) has toasted malt and spicy Saaz hops on the aroma, followed by a dry, malty palate with herbal hops. Toasted malt and spicy hop resins combine in the finish. Rebel Red (4.3%), which accounts for 40% of the brewery's production, has 12% crystal malt in the grist and a small amount of dark roasted barley: "It's like a chef adding garlic," Peter Lyall says. The hops are all English: East Kent Goldings and Fuggles. The complex, full-bodied amber red beer has nutty malt, bitter orange fruit, caramel, fresh tobacco and grassy hops on the nose, with rich roasted grain, orange fruit, hop resins and caramel on the palate. The finish is bittersweet, with roast, caramel, orange fruit and bitter, spicy hop resins.
Friary Weisse (4.7%) is comprised of 43% wheat malt with German Hallertau hop varieties. Due to the wheat beer yeast culture, it has all the hallmarks of a true Bavarian weisse, with banana, Juicy Fruit and cloves on the nose and palate, with light floral hops. The finish has sweet, creamy malt, banana, herbs, bubblegum and gentle hop resins. Shandon Stout (4.3%), named after a district of the city, is a true Cork version of the style, distinctively different to a Dublin stout. It's brewed with Irish ale malt, roasted barley and wheat, and is hopped with Fuggles and Target. It has a big chocolate and coffee nose, with roasted grain and bitter, spicy hops. Coffee and bitter grain build in the mouth, with burnt fruit and peppery hops, while the finish has smoky malt, dark fruit, coffee and spicy hops. The beer is usually served in nitrogenated form. Purgatory Pale Ale (4.5%) is brewed with pale malt only and hopped with American Cascade and English Target. It has a massive grapefruit/citrus nose with tangy hop resins and sappy malt. Citrus fruit dominates the mouth with growing hop bitterness and lightly toasted malt. The long, intensely bitter finish has toasted malt, tart fruit and pungent, bitter hops. (www.franciscanwellbrewery.com)
In sharp distinction, Xavier Baker is carving out a different route to success at the Dingle Brewing Co with just one beer, Tom Crean's Premium Irish Lager. Crean is a local hero, an Antarctic explorer from Kerry who worked alongside Captain Robert Falcon Scott and Ernest Shackleton. Baker, an ex-pat from the Isle of Wight, has an impressive 10 hecto plant and plans to install three additional fermenters that will double production. He is supplying bars and restaurants in Cork and Dublin as well as locally and plans to add a distillery where he will make Shackleton Whiskey. He may eventually also produce ale.
His spacious brewery, with spick-and-span brewing vessels, is in an old creamery with a water source on site – "it's the best water in Kerry," Xavier says. "It's soft to medium hard – ideal for lager brewing." He started brewing in July 2011 on Tom Crean's birthday and the beer is on sale at the South Pole Inn in Annascaul, which Crean ran for many years when he retired from the navy. The upstairs room of the inn houses a Tom Crean Museum. Xavier uses 90% lager malt with caramalt in his beer: he currently sources his malt from Munton's in England but will move to Crisp's of Ireland. The hops are whole leaf Saaz. He adds two kilos of hops in the kettle but there's no late addition. Following the boil, the hopped wort is cooled to 15° and is then run into the fermenters, where it takes 12 hours for the yeast to begin to work. Primary fermentation lasts for five days, followed by a two-day rest to remove diacetyl (butterscotch) character. The green beer is then chilled to 0° and transferred to the lager vessels where it conditions for 30 days – a respectable period by modern lager standards. Finally, the beer is filtered and CO2 is added. It's not pasteurised and has a two-week shelf life.
The finished beer is pale bronze and has a thick, creamy head. The aroma is rich with toasted malt, herbal and floral hops and light citrus fruit. Creamy malt fills the mouth but is balanced by tart hops and lemon fruit. The bitter/hoppy finish is balanced by toasted malt and herbal hop resins. Xavier calls it "an easy drinking lager" but that undervalues it. It's a well made beer, properly lagered, and has a superb fresh Saaz hop character. (www.dinglebrewingcompany.com)
Close by and in an Irish-speaking area, brewster Adrienne Heslin runs the smallest brewery in Ireland, Beoir Chorca Duibhne: the West Kerry Brewery, founded in 2008. She produces just 600 pints per brew and they are available in bottle or on handpump next door in the Tig Bhric/Brick pub or at Kane's in neighbouring Ballyferriter. The tiny plant was built and installed by Graham Moss of Moss Brew in England. Adrienne heats water in the kettle, transfers it to the mash tun and then returns the wort to the kettle for the boil with hops. Most of the production goes for on-site bottling, some of it in large swing-top bottles. Adrienne adds fresh yeast in the bottling tank for the packaged beers.
Her cask Porter (4.2%, also bottled at 5%), is aged for six weeks and is worth making the trip to the very edge of the British Isles. Paul ÓLoingsigh, who runs the Tig Bhric, a spacious and comfortable inn with welcoming fires even in summer – squalls from the Atlantic Ocean keep the temperature low -- says emphatically, as he serves a pint of Porter by handpump, "Cask is the finest way to serve beer. It will grow in Ireland." The beer is brewed with lager, black, cara, crystal and chocolate malts with torrefied wheat. The hops are Challenger, Fuggles and Perle. It has a smoked malt, liquorice, bitter chocolate, espresso coffee and burnt fruit aroma, with spicy hops. It's intensely bitter in the mouth but the bitterness is balanced by smoky and roasted grain, dark fruit, coffee and chocolate. Rich toasted malt comes back strongly in the finish with a fine balance of coffee, chocolate, dark fruit, liquorice and spicy hops.
In sharp contrast, Adrienne's Golden Ale (5%) is a fruit salad of a beer with massive grapefruit and peach on the nose, along with peppery hop resins and juicy malt. It's brewed with pale malt, cara and crystal malts and torrefied wheat and is hopped with Challenger, East Kent Goldings, Fuggles and Perle. The palate is fruity but is balanced by bitter and spicy hops and sweet, chewy malt. It finishes dry, hoppy and fruity with a lingering juicy malt note. Cúl Dorcha Dark Ale (5%) is brewed with lager malt, a large proportion of caramalt, crystal and torrefied wheat and is hopped with Challenger, Fuggles and Perle. It has a glowing deep amber colour, with a big hit of roasted and toasted malt, sultana fruit and spicy hops on the aroma. Burnt fruit, toasted grain, a hint of chocolate and peppery hops fill the mouth while the finish is bittersweet and complex, with intermingling biscuit malt, dark fruits, peppery hops and a hint of chocolate. (www.tigbhric.com)
Cuilán Loughnane at White Gypsy Brewery at Templemore has brewed in Canada and opened his plant three years ago. The kit was originally built by the Munich brewer Paulaner for a company in Singapore and was designed to produce wheat beer. It's based on a mash mixer and lauter tun system, with the mixer doubling as the brew kettle for the boil with hops. Cuilán is a passionate believer in brewing with local ingredients. He uses Irish malt and is even developing his own hop field alongside the brewery but this year's crop has been ruined by torrential rain and he currently imports Bramling Cross, Fuggles, Goldings and Northdown varieties from England. His 10-hecto kit produces Ruby Ale, Imperial Russian Stout and strong German-style Doppelbock lager. He's maturing batches of strong stout in wine and whiskey casks.
His Imperial Russian Stout (7%) is brewed with 10% smoked malt and 8% roasted barley alongside pale malt and is hopped with Bramling Cross and Northdown. It has a big peppery hops nose with blackcurrant fruit, bitter chocolate, espresso coffee and smoky/roasted grain. There's massive hop bitterness in the mouth with rich blackcurrant fruit, chocolate, liquorice and smoky malt. The finish is bittersweet with blackcurrant fruit, coffee, chocolate and smoked malt. He plans to brew a vintage Irish stout in wood using peated malt.
The 7.5% Doppelbock strong German-style lager is brewed with pale malt, 25% Munich malt, 5% cara Munich and 10% chocolate malt. The hops are Perle and Sapphire, which are added three times. The beer has smoked malt, sultana fruit and herbal and spicy hops on the nose, with sweet, rich malt in the mouth, herbal hop resins and a hint of chocolate and caramel. The long, complex finish is fruity with light herbal hop notes and a hint of chocolate. Cuilán sells his beers to 30 outlets in the area and in tune with his "keep it local" outlook he doesn't want to go national. (www.whitegypsy.ie)
I wasn't able to visit the Hooker Brewery in Galway but I drank Hooker Pale Ale (4.3%).in the Am Canteen restaurant in Dingle. It has a big peppery hop nose with biscuit malt and damson fruit. Hop bitterness builds in the mouth along with rich chewy malt and sharp, tart fruit. The beer has a hoppy and bitter finish balanced by tart fruit and lightly toasted malt. Hooker is neither a lady of easy virtue nor a rugby player: it's a type of Irish sailing boat but the beer is promoted in the United States with the slogan "take a Hooker home tonight". (www.galwayhooker.ie)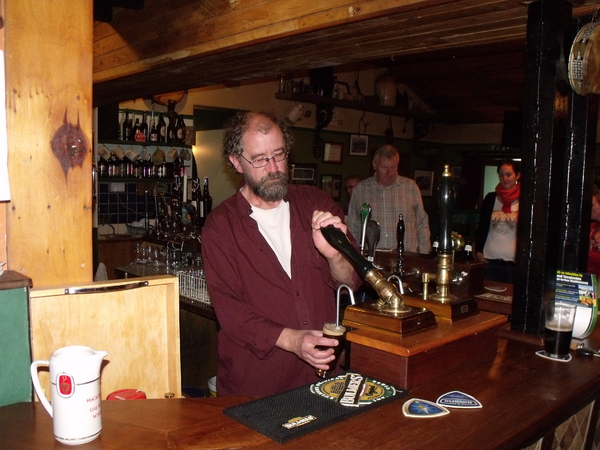 Beoir: beer drinkers' consumer group
Beoir was launched in 2010 as an independent group of beer drinkers who campaign for greater choice and quality in Ireland. Its main aim is to support and raise awareness of Ireland's independent breweries. It organises regular tasting events. For full details see www.beoir.org or follow the group on Twitter: @BeoirOrg.
Red Ale
Many independent breweries produce Red Ale, a popular style in Ireland. Some brewers consider it to be an authentic and traditional style, though one brewer told me he thought it was "a load of bollocks". The best-known Red Ale was the beer brewed by George Killian Lett in Enniscorthy. When the brewery closed in 1956, Lett's licensed the beer to Pelforth in France where it was briefly a cult drink as Killian's Bière Rousse and was even advertised on the Paris Metro. By this time it was a lager beer, not ale. Coors in the U.S. now owns the brand and promotes it as being as authentic as the original Irish ale, even though it's a lager.
It seems that ale brewers such as Letts were following in Guinness's footsteps by adding dark roasted malt to their recipes. The British government's "Free Mash Tun" Act in 1880, which switched duty from malt to alcoholic strength, led to a slow move by Guinness and other brewers from roasted malt to unmalted roasted barley. The use of roasted grain, whether malted or not, became a signature of Irish brewing.
*My trip was arranged by Brewery Hops, which organises tours of Irish craft breweries: www.breweryhops.com. I was also supported by Tourism Ireland: www.discoverireland.com.