Guest Column
Kiwi's new hop takes a whack or two
Added: Saturday, August 24th 2013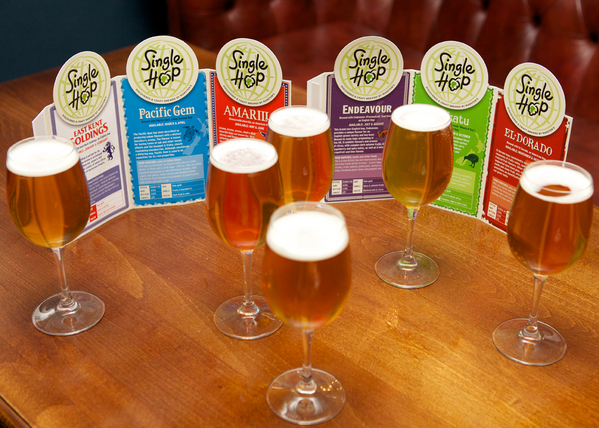 Contrary to the belief held in brewing circles, our latest single Hop Ale, Wakatu, does not pay homage to the average Brewery Engineering Department. 
"The outlet valve on the copper's jammed solid"
"It was. I've fixed it!"
"When? How long ago?"
"About half an hour"
"It was still jammed five minutes ago! What did you do to it?"
"Took a mallet down and gave it a Wakatu."
"Thanks, Isambard. Please have another go, without the mallet."
Brewers the world over may be familiar with such a situation. However, Wakatu is the name of a hop grown in New Zealand – one that offers a more subtle approach. Its heritage derives, in part, from that land of Teutonic engineering excellence, Germany. 
As the hop growers of NZ embarked on their hop breeding programme in the 1950s, the initial focus was on developing new hop varieties that would incorporate disease resistance, and also be suited to the local climatic and agricultural conditions. In the '70s, the emphasis shifted towards new varieties with increased levels of bittering alpha acids. More recently, the aim has been to breed novel varieties that are distinctively different to hops grown anywhere else in the world. This objective, allied to the (almost) pest and disease free environment that the region now enjoys, has led to many exciting new varieties, with flavours that are distinctly Kiwi ... not to mention lime, lemon, mango, floral, herbal, grassy, pine, vanilla….
Wakatu is one such new variety, first appearing in 1988. It's the result of a cross between the ancient German low-alpha noble variety, Hallertau Mittelfrűh, and an indigenous New Zealand male hop. Hallertau Mittelfrűh, incidently, was the fourth hop in our 2012 Single Hop Ale series, appearing in April 2012. Originally known as the (rather geographically confused) New Zealand Hallertau Aroma, the variety has been renamed Wakatu. As well as the new name being more redolent of its surroundings, it also refers to the plight of ancient South Seas settlers caught in a fierce storm and blown into eastern Tasman Bay. Their craft was wrecked (– or 'waka tu' – thrown on to) on rocks at Boulder Bank, with the loss of all on board. There is also a village of the same name on the outskirts of the regional capital, Nelson.                                  
The result of this cross breed was a hop that shared a few of the Mittelfrűh attributes; but with a higher level of bittering compounds, along with some notable differences in the proportions of aromatic oils.
Since its introduction, Wakatu has grown rapidly in popularity. While the country has a relatively small hop industry, about 1% of world output, Wakatu is now the most popular variety in New Zealand. It accounts for about 40% of all domestically grown hops. In spite of this, it's rarely been used as a signature hop in its own right – more commonly as a blend; and often in relatively mainstream beers at low levels, solely as a bittering hop. So who better to advise on the intrinsic values of this hop than those guys who've put it to the most creative uses so far – the NZ Craft Brewers?
Here's a few of the comments I elicited when I enquired: 
I love Wakatu; it is a lovely hop; I use it in several beers but so far always as a blend; it yields some tropical fruit and light pine notes (I think, since it is in a blend…)
Andy Deuchars- Head Brewer – Renaissance Brewing Co 
Wakatu is quite lemony/lime and also has that classic Hallertau zing.
Steve Nally - Invercargill Brewery 
Wakatu has recently been given this name; until recently it was known as Hallertau Aroma.  We use this hop for bittering in a few of our beers, and it also works well with late kettle additions.  I don't use it for dry hopping, I think it can be, but I don't think it is one of the common varieties used for dry hopping.  I find it gives a slight fruity character and has a bit of a zesty finish.  The alpha acid of this variety is not too high, normally c.7-8 % we find. It gives a nice crisp bitterness, quite clean.  
Tammy Viitakangas, Aotearoa Breweries 
Wakatu is an interesting hop. It's typical noble spicy woody floral, but has a touch of citrus when drunk fresh, the spiciness comes out as the beer ages. Nice clean bitterness.
Mike Neilson, Tuatara Brewing 
Wakatu has Hallertau parentage and still shows some of that noble character, particularly in its bittering character. Its cohumulone is decent enough but it also has a whack of myrcene, meaning for me I prefer to use it later in the kettle. It has good citrus notes. Some people mention lime when talking about it, but I get more of an earthy, almost British hop note from it. It's borderline herbal with some floral dandelion notes and that good grassy NZ note that us Kiwi brewers love!
Kelly Ryan, Good George Brewing 
Many thanks to the Craft Brewers of NZ for revealing their own findings in such a candid manner. Suitably inspired, my task was to brew a beer to clearly highlight all the characteristics of Wakatu with no other hop variety present, in our sessionable 4% abv Single Hop Ale format. In order to retain all these prized, yet volatile aromatic oils, around 93% of the hop addition was added after completion of the boil, at varying stages. This was followed by a dose of finishing dry hop to the beer as it cooled and conditioned.
And, so to the result – Marston's Single Hop Wakatu. The flavours and aromas are indeed complex; but lime predominates – a real explosion of pungent, sweet-citrus lime and lemon zest. I also pick up herbal, lemongrass, tropical fruits and floral notes – underpinned by a firm, all-malt body and balanced but punchy bitterness – 43 units, and not one of them harsh.
A real aroma and flavour whack. Or two.
WAKATU – TECHNICAL DATA
PEDIGREE  - TRIPLOID VARIETY, RELEASED IN 1988. TWO THIRDS GERMAN HALLERTAU MITTELFRUH, ONE THIRD NEW ZEALAND MALE.
ALPHA ACIDS, %                                               6.0 – 8.5
BETA ACIDS, %                                                  7.0 – 8.5
COHUMULONE, % OF ALPHA ACIDS        28 - 33
TOTAL OIL, ml/100g                                         1.2 – 2.1
% OF TOTAL OILS:
MYRCENE                                                            35 - 59%
HUMULENE                                                        9.5 - 17%
CARYOPHYLLENE                                              5.5 – 8.5%
FARNESENE                                                        4.0 – 7.0%           
Compared to parent Hallertau Mittelfrűh, Wakatu's myrcene level is notably higher (which gives a range of citrusy notes). Humulene, responsible for earthy, spicy and pepper-like contributions, is significantly lower. Farnesene, generally a minor player in the world of hop oils (often quoted by the analysts, unable to detect it in any given hop variety as "
*Wakatu Single Hop cask ale, 4%, September and October in Marston's and other discerning pubs. 
The 2013 Single Hop line-up (pictured at top) is:
      East Kent Goldings from the UK (Jan/Feb) – spicy, earthy, sweetly floral; c.6.5% alpha acid
      Pacific Gem from New Zealand (March/April) – fruity, oaky, earthy; c.15% alpha
      Amarillo from the US (May/June) – grapefruit and lemon, floral; c.10% alpha
      Endeavour from the UK (July/Aug) – spicy, blackcurrant, autumn fruits; c9% alpha
      Wakatu from new Zealand (Sept/Oct) – floral, complex dark fruits; c.7% alpha
      El Dorado from the US (Nov/Dec) – apricot, pineapple, sweet citrus; c.15% alpha  
*Simon Yates brews the Marston's Single Hop beers at Banks's brewery in Wolverhamtpon