News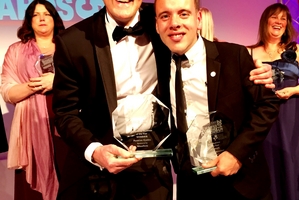 Just a few months after opening, Bradford Brewery has scooped the top award of New Business of the Year in the annual Bradford Means Business competition sponsored by the local Telegraph & Argus newspaper. Brewery managing director Matthew Halliday is seen picking up his award.
Added: Wednesday, July 1st 2015
News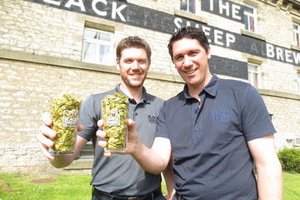 Rob and Jo Theakston have launched a new hoppy, golden pale ale, Hoptacular, at their brewery in Masham, North Yorkshire. Four hops are used to give the 3.6% beer a big bitter and fruity appeal, with much of the character coming from fermentation in traditional "Yorkshire Squares"
Added: Wednesday, July 1st 2015
News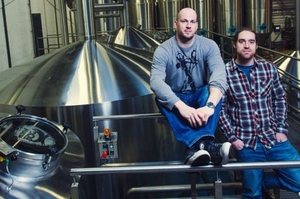 Pugnacious Scottish brewer BrewDog will invest $30 million in a brewery in the United States, due to open in August 2016. The brewery, along with a tap room and visitor centre, will be based in Canal Winchester in the region of Columbus, Ohio. The brewery will act as the spur for BrewDog's exports. Pictured: founders James Watt (left) and Martin Dickie
Added: Monday, June 29th 2015
Comment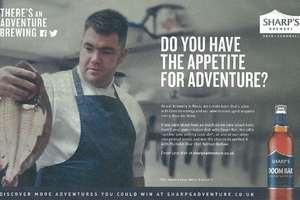 Molson Coors has admitted that the bottled version of its best-selling Doom Bar has been brewed for the past two years in Burton-on-Trent. Yet bottle labels announce in bold type ROCK CORNWALL. And an advertisement in Waitrose Weekend, illustrated with a bottle of Doom Bar, says Sharp's creates beer "alive with Cornish energy" at Rock. Other big brands, including Foster's, Kronenbourg and Stella Artois, also stress their places of origin but brew in Britain
Added: Monday, June 29th 2015
Feature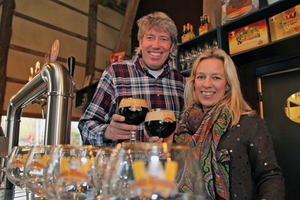 Wilderen in Belgian Limburg makes beer, gin and whisky and attracts 100,000 visitors to a complex that includes old farm buildings where gin production in the 18th and 19th centuries was on a grand scale. The company is run by husband-and-wife team Mike Janssens and Roniek Van Bree (pictured) who have brought their brewing and design skills to restoring the old buildings
Added: Thursday, June 25th 2015
Ter Dolen in the Limburg region of Flanders offers the twin delights…
The Montagues and the Capulets will be loving, fighting and dying in…
CAMRA's Pubs Heritage Group has produced a superb, full-colour guide to the…