Review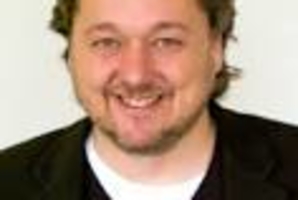 In The Pub, Pete Brown has written a lyrical love song to a great British institution, in all its manifestations, from ancient ale house to Victorian gin palace and modern micro-pub. He traces the history of the pub and pub names and lists hostelries of all shapes and sizes united by good beer.
Added: Thursday, August 18th 2016
Feature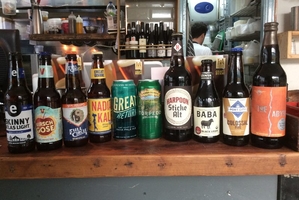 An evening of fine vegetarian food at Salon in Brixton was highlighted by beers supplied by the Brewers Association from the United States. The organisation takes beer-and-food matching sufficiently seriously to employ a resident chef, Adam Dulye. Five courses were matched with beers ranging from saison to gose, IPA, Alt and Old Ale
Added: Saturday, August 13th 2016
News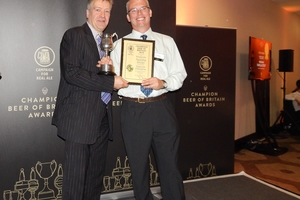 Vanilla Stout brewed by Bingham's Brewery in Berkshire won the prestigious Champion Beer of Britain award at the Great British Beer Festival on 9 August. It's the first time in the history of the competition that a "Speciality Beer" -- using additions to malt and hops -- has won the top award. Runner up was Old Dairy for its Snow Top, with bronze going to Tring Brewery for Death and Glory. Pictured: Chris Bingham (right) accepting his trophy from CAMRA chairman Colin Valentine.
Added: Wednesday, August 10th 2016
News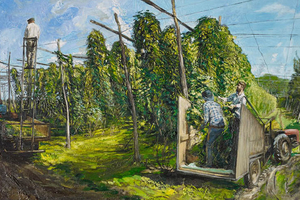 Lewis Hazelwood-Horner will have an exhibition depicting working breweries and London pubs at Mall Galleries in central London on 19 and 24 September. His work is the result of residencies in a number of breweries and the paintings will show all stages of the brewing practice. The paintings also show hop farms in Kent and the breweries involved include Harvey's, Howling Hops, Redemption, Truman and Kernel.
Added: Thursday, August 4th 2016
News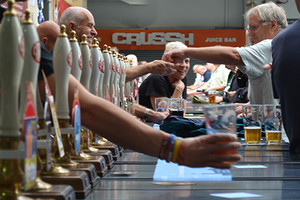 The Great British Beer Festival, staged by CAMRA, is one of the world's top festivals and offers some of the best choice. 900 beers will include British cask ales plus brews from the United States and mainland Europe. The festival at London Olympia from 9-13 August will also include the Champion Beer of Britain competition while top experts will present tutored talks every day.
Added: Sunday, July 31st 2016
Joe Stange, an American journalist from Missouri, is based in Berlin and…
Greene King has launched a special beer to commemorate football legend Bobby…
Burton-based Ian Webster has written a fascinating history of Allsopp's and Ind…