Feature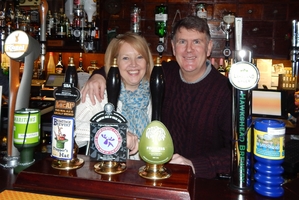 Scouse wits say you can get half cut in Gallaghers' pub in Birkenhead without touching a drop of booze. Frank and Sue Gallagher (pictured) are professional hairdressers who fancied running a pub. When they took over the derelict Dispensary pub they not only restored it and changed the name but added a barber's shop as well. Now you can enjoy local cask ales and have a short back and sides.
Added: Wednesday, March 25th 2015
News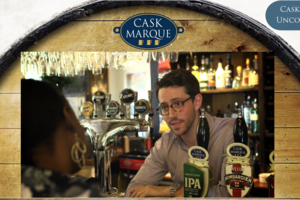 Cask Matters, supported by brewers, pub companies and consumer groups, has launched an e-learning scheme to train bar staff in best practice for storing and serving cask beer. The programme is based on a series of short films (clip shown here) that covers all aspects of cellar and bar work.
Added: Wednesday, March 25th 2015
News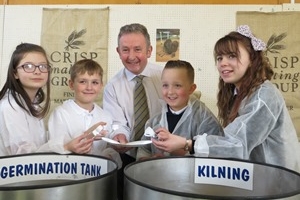 Crisp Malting Group has used British Science Week to take the art of growing grain and turning barley into malt to school children. Young students at Portgordon Primary School in Moray, Scotland, were taken on the journey that leads from barley field to maltings by Richard Lake and Rebecca Gee of Crisps -- and the children were given malted bread at the end of the lessons as a treat.
Added: Tuesday, March 24th 2015
News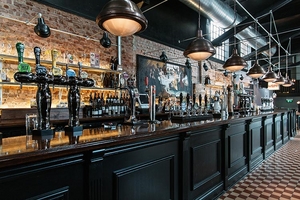 Launching Community Pubs Week, CAMRA, the Campaign for Real Ale, reports that 600 pubs have now been listed as ACVs -- Assets of Community Value. They include a brewpub, the Bohemia, in Finchley, North London (pictured). This success is underscored by the third successive beer duty cut in the Budget that will boost pub sales and save jobs
Added: Monday, March 23rd 2015
News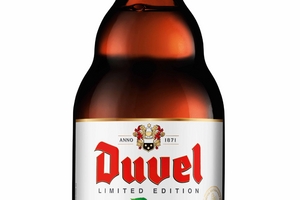 The 2015 vintage of the limited edition Duvel Tripel Hop features a new American variety, Equinox, that comes from the same Pacific North-west hop farms that created Citra, Mosaic and Simcoe. Duvel Tripel Hop is a stronger version of the famous Belgian golden ale and has become an annual treat as a result of beer lovers lobbying the Duvel-Moortgat brewery
Added: Saturday, March 21st 2015
How well does beer match food? Roger Protz helped devise a beer…
Oddbins has launched a beer-only store in Blackheath, south London, that will…
Mikkel Borg Bjergso (pictured), founder of the Danish "gypsy" brewery Mikkeller, has…