Rail Ale
Ludlow on the fast track to success
Added: Wednesday, September 17th 2014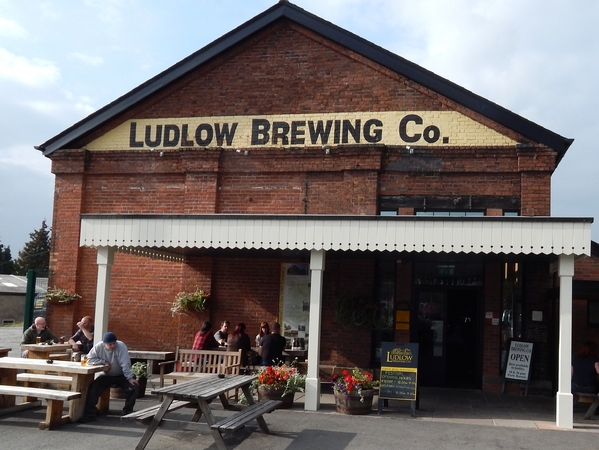 If you enjoy good beer and trains then head for one of the finest locations in the country to share your joint passions over a pint. As you leave Ludlow Station in Shropshire look right and ahead of you, alongside the track, is a striking  red brick and white-canopied building emblazoned with the name Ludlow Brewing Company.
The brewery, founded 8½ years ago by Gary and Alison Walters, is based in a railway shed that faced demolition and has found a new and vibrant use as both a brewery and a pub. "Shed" doesn't do the building justice. It's large and spacious, with two floors, a high raftered ceiling and bare brick walls. Drinkers can buy their pints at the bar, sit at wooden settles or deep sofas and watch their beer being brewed on the open-plan first storey.
Ludlow has the good fortune to be at the heart of Shropshire barley country where the finest of all malting grain – Maris Otter – is grown and supplied to the growing number of small artisan breweries in the county.
And there are good hops, too. Little Lambswick Farm near Ludlow makes its contribution to local beer and the Walters at Ludlow Brewing make good use of the farm's Fuggles and Goldings.
The brewery and tap room have been based in the railway shed for 3½ years. The first home was a few yards away in a former maltings. Gary Walters told me the town was once dotted with small malt houses, turning grain from the surrounding fields into the vital raw ingredient for beer-making. In keeping with the magnificent half-timbered medieval and Tudor buildings in Ludlow, the old malt house has an imposing curved cruck beam roof while a mark on the wall shows where grain was once laid out on a heated floor and left to germinate. Gary said malt from the town would have been transported to other areas by train, with grain loaded on to trucks at the station.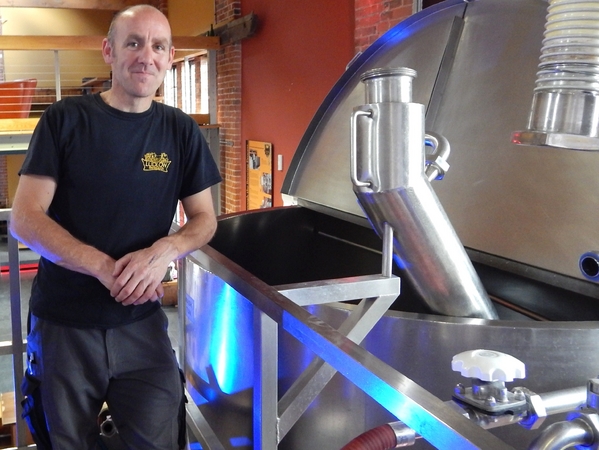 Back in the railway shed, Gary l(pictured) led the way up a gangway to the gantry where the mash tun and copper stand. The new, 20-barrel plant has been built by the German specialist firm Moeschle and is built to Gary's specification. Instead of the continental system of mash mixer, lauter tun and brew kettle, this is traditional English kit with the beer finishing in square rather than conical fermenters. Gary regrets he couldn't buy domestic vessels but says, sadly, that British companies can't match German prices.
In all other ways, Ludlow Brewing is fiercely and determinedly local. The Walters are keen conservationists who save on carbon footprints and energy.
"We're passionate about the environment," Gary says. "We produce beer for local pubs – we don't go beyond a 50-mile radius."
Solar panels have been installed on the roof to supply energy to brewery and bar while a11,000-litre tank on the roof collects rainwater that also serves all areas of the building. The heat created during brewing goes through an exchange system that supplies under-floor warmth for the bar area.
Gary says there have been only few pub closures in Ludlow and as a result he has a vigorous trade in the town. He closes the bar usually at 4 or 5pm every day in order to avoid clashing with the traditional pub hours in the town, though it stays open at weekends when it's booked for weddings and other events. A small stage near the entrance is used for jazz and folk combos.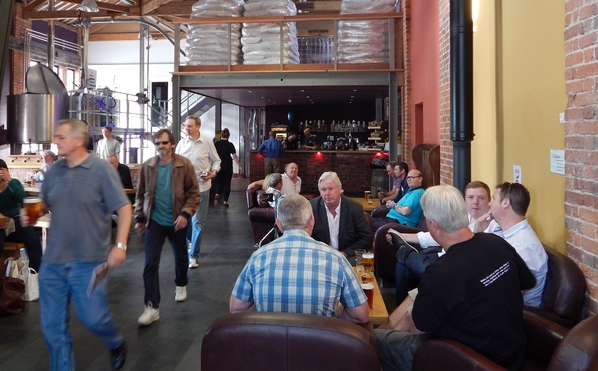 Drinkers in Shropshire, according to Gary, traditionally drink pale beer. Was this, I wondered, due to the county's proximity to Staffordshire and the famous waters of the Trent Valley that form the backbone of Burton pale ale? Gary thinks that's not the case, as water in the Ludlow area is not heavy in sulphates and there's no hint of sulphur on the aroma of his beers.
And dark beers are not overlooked. Hobson's Brewery in Cleobury Mortimer, one of the country's longest-running artisan breweries, founded in 1993, has an award-winning Mild while Gary at Ludlow has turned his Black Knight Stout from a seasonal to a regular beer due to local demand. His brewing kit is flexible and he can produce 10-barrel brews as well as 20-barrel ones.
But his best-selling beer is Gold and he has just added Blonde, though it's a quite different beer, using American and Czech hops in place of local varieties.
All the beers were going down a treat and a big crowd was building as a folk group entertained on the stage. And for rail buffs, Ludlow is often home to vintage trains: on 13 September, for example, a train drawn by the steam loco Oliver Cromwell arrived with passengers from London, who found instant throat relief a few yards away.
The beers
Blonde (4%): brewed with Maris Otter pale malt and Citra and Sladek hops, it has a citrus hop nose balanced by honeyed malt. Tart hops build in the mouth with a continuing juicy malt note followed by a bittersweet finish that ends dry and hoppy. The beer has the tart citrus character of many modern craft beers but the fruitiness is not overwhelming and is well balanced by malt.
Ludlow Best (3.7%): Gary Walters describes the pale amber beer as "an old-fashioned best bitter". It's brewed with pale and crystal malts and hopped with Fuggles and Goldings. It has a toasted malt aroma with herbal and spicy hops and a hint of toffee. Bitter hop resins dominate the palate with tart orange fruit notes, toffee and chewy malt. The finish starts bittersweet but segues into a hoppy, fruity finish.
Gold (4.2%): Brewed with Maris Otter pale malt and Fuggles and Goldings, the brewery's first beer has a distinctive lemon and lime aroma with a gentle hint of toffee. Juicy malt, tart hops and lemon fruit fill the mouth while the long, beautifully-balanced finish has toffee notes, honeyed malt and continuing lemon and lime fruit.
Black Knight (4.5%): Brewed with pale, black and caramel malts and hopped with Fuggles and Goldings, this is a fine example of an English – as opposed to an Irish – stout. It has a big caramel, burnt fruit and roasted grain nose, with caramel, chocolate, burnt fruit and peppery hops building in the mouth. The finish is dry, with vinous fruit, peppery hops, and rye bread and chocolate notes.
The Boiling Well (4.7%): The beer is named after a local meadow close to the brewery and its chestnut colour comes from pale and crystal malts along with Fuggles and Goldings hops. It has raisin and sultana fruit on the aroma with cracker biscuit malt and spicy hops. The rich malt note dominates the palate but there are compensating contributions from hop resins and rich fruit. The finish is bittersweet to start but ends dry with continuing notes of sultana fruit, creamy malt and bitter hop resins.
Stairway (5%): the brewery's premium strong ale is a pale as a Pilsner and, to underline the point, is brewed with Czech Sladek hops. It has a floral and grassy hop aroma with sappy malt and sherbet lemon fruit. Lemon fruit dominates the palate with bitter and grassy hops and creamy malt. The finish is dry with bitter hops, juicy malt and lemon fruit.
*The beers are available in bottle for home consumption and can be bought in carry-out boxes. Informal brewery tours and talks by brewers are available: www.theludlowbrewingcompany.co.uk.