Feature
Eden River beers on steep learning curve
Added: Sunday, June 10th 2018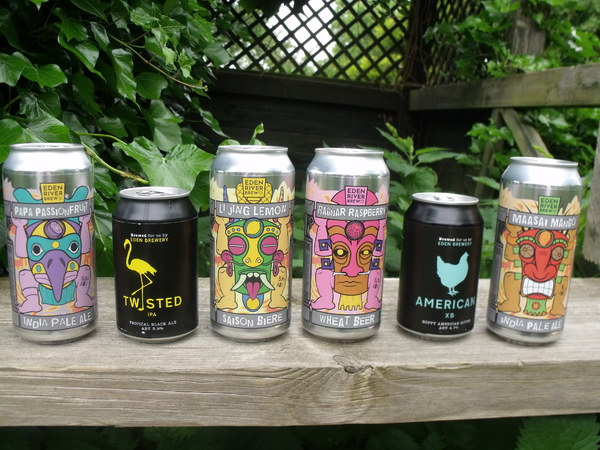 Eden River Brew believes in working with the local Cumbrian community to develop its range of beer. Cask beers are distributed to pubs in and around the Penrith area but canned beers have a wider reach – and some of the cans have been designed by graphic design students at the University of Cumbria.
The brewery, first known simply as Eden Brewery, was founded in 2011 by Jason Hill and was based at historic Brougham Hall. But demand outstripped the five-barrel plant and in 2017 the brewery moved to an industrial estate in Penrith.
Twisted IPA (5.9%) and American XB (4.7%) are brewed for Westmorland Family farm shops who own Tebay Services on the M6, Gloucester Services on the M5 and Cairn Lodge services on the A74(M).
Twisted IPA is a black version of the style and brewer Linda Stanton says she has avoided too malty a character by adding mango and guava during fermentation. The hops are Azacca and Citra, with additional Citra added prior to canning. The beer is only lightly filtered.
It's deep russet coloured rather than black with a big hit of sweet, rich fruit on the nose balanced by roasted grain and floral hops. Sweet fruit dominates the palate, with roasted grain and floral/bitter hops. The finish is bittersweet with continuing rich fruit, roasted grain and bitter hops.
American XB, described as British bitter with an American twist, is hopped with Amarillo, Citra and Summit varieties. The beer is lightly filtered and has a deep bronze colour with a big punch of citrus hops on the nose balanced by biscuit grain. Bitter hops dominate the palate with biscuit malt and dry fruit. The finish is bitter and fruity, balanced by biscuit malt.
The Totem Pole Range of 440ml cans is a project staged with second-year design students at the university. The project started in 2017 and itt gives students the opportunity to design art work for a special range of beers that are pumped full of flavour. Eden River chooses the top three most imaginative and vibrant designs and then Westmorland Family selects a winner that will go on sale at Tebay and Gloucester services. This year's winner was Sam Mallard.
Papa Passion Fruit India Pale Ale (5.9%) is the brewery's first sour beer, with yoghurt added to develop a lactic edge. Passion fruit is added in the fermenter and the hops are Amarillo, El Dorado and Summit whole flowers with Amarillo pellets added in the fermenter.
The beer has a hazy gold colour and pours a big fluffy head. It does what it says on the can: a ripe passion fruit nose balanced by floral and earthy hops. Bitter hops build in the mouth with rich, tart fruit and honeyed malt. The finish is long and dry with a fine balance of juicy malt, bitter hops and tangy fruit.
Li Jeng Lemon Saison Bière (5.6%) is a Cumbrian take on a Wallonia farmhouse beer. It's brewed with Savinjski Goldings whole hop flowers from Slovenia that are used in the kettle and in the fermenter where they are joined by New Zealand Motueka pellets. Lemon zest and juice are placed in both the kettle and the fermenter.
The beer has a pale gold colour and fluffy collar of foam. It has a superb aroma of nostril-twitching lemon, with biscuit malt and spicy hops. Sharp and quenching lemon fruit battles with spicy hops and juicy malt in the mouth, followed by a refreshing finish with continuing notes of lemon fruit, biscuit malt and bitter, spicy hops.
Ragnar Raspberry Wheat Beer (5.7%) is the brewery's first attempt at fruit wheat beer, using freshly-picked summer raspberries. German Hüll whole flower hops are used in the kettle along with 5g of French Barbe Rouge pellets. The beer has a hazy straw colour with spicy wheat to the fore on the nose with peppery hops and gentle raspberry fruit. The fruit suddenly bursts on to the tongue, dominating biscuit malt and lightly bitter hops. The finish is fruit and quenching, with raspberries balancing biscuit malt and peppery hops.
With Maasai Mango India Pale Ale (6.1%) mango fruit joins forces with fruity Azacca whole flower hops and further additions of Citra and El Dorado. 3kg of Citra pellets are added in the fermenter where the beer is held for four days. The finished beer has a hazy pale chestnut colour with a massive mango hit on the nose with biscuit malt and fragrant hops. Juicy malt builds in the mouth, balancing rich fruit and bitter hops. The bittersweet finish finally ends dry and hoppy but with a good balance of biscuit malt and juicy fruit.
*Eden River Brew Co, Hawksdale House, Hartness Road, Penrith, Cumbria CA11 9BD. Tel: 01768 210565. Email: info@edenbrewery.com. www.edenbrewery.com