Feature
Museum traces turbulent Turkish brewing
Added: Sunday, May 13th 2018
A new museum in Izmir traces the fascinating and sometimes turbulent history of brewing in Turkey. The museum, in old brewery buildings, is funded by the country's major beer maker, Efes. But it concentrates on Bomonti, the first commercial Turkish brewery that made the switch in the early 20th century from warm-fermented to cold-fermented beer.
Commercial brewing became possible only in the last days of the Ottoman Empire. In 1888 two Swiss brothers, Adolf and Walter Bomonti, opened a brewery in Constantinople – Istanbul today -- and produced ales by the top or warm fermentation method.
By 1894 there were five breweries operating in the capital and a decade later the Bomonti brothers built a new brewery and employed a German brewmaster to train the workers in the art of lager brewing. The first Pilsner beer was launched in 1908 in a plant with a capacity of 70,000 hectolitres a year and a workforce of 350. The brewery produced both a Pilsner and a strong Bock beer inspired by Paulaner of Munich.
A year later a rival brewery, Nectar, opened but in 1912 it merged with Bomonti. In 1912 the Aidin brewery was launched in Smyrna, now Izmir, and remained in production until 1928.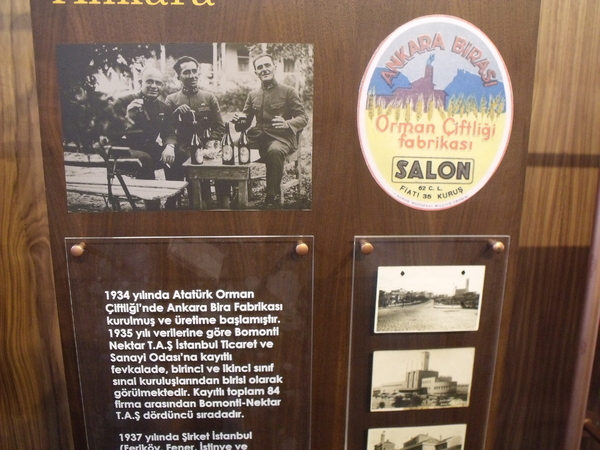 In 1923 the Turkish Republic was declared by Kemal Atatürk and the result was a more liberal attitude to the consumption of alcohol but at times the heavy hand of the state intervened. In 1926, for example, the government built a nationalised brewing company called Inhisarlar.
In 1934 Atatürk bought land in Ankara that he donated to the local people who responded by building a new brewery called Ankara Birasi (pictured above). The president may not have been best pleased by this outcome and in 1938 the government nationalised Bomonti. Adolf and Walter left in a huff and opened a new brewery in neighbouring Greece. The Turkish brewery remained and was later privatised and subsequently bought by Efes in 1999.
The museum is packed with old bottles, oak casks, brewing vessels, labels and advertisements. It's interesting to find that in the 19th century the French word brasserie (brewery) was widely used as at the time French was the language of the local bourgeoisie. Members of that social class can be seen in photographs that decorate a recreation of a Bomonti beer garden (below).
*The Mahall Bomonti can be found at Konak, Halkapinar Mahallesi, Sehitler caddesi, 1558 sokak, No 2, Izmir.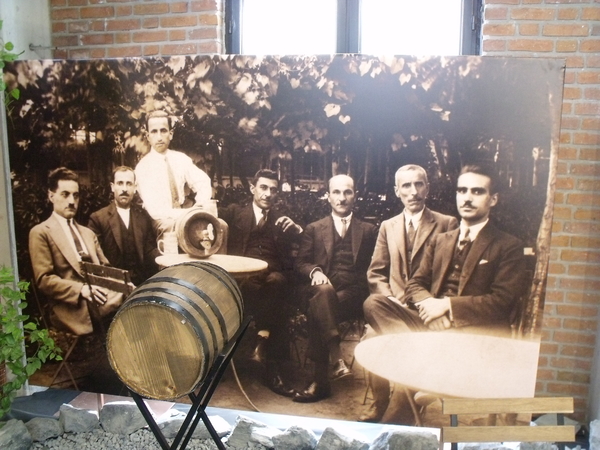 Efes is turning part of its Izmir brewery into a museum and visitor centre based on its original and no longer used brewhouse. Efes was founded in 1966 and now has three plants in Adana and Ankara as well as Izmir. It produces 5.5 million hectos a year.
The original plant at Izmir has a brewhouse based on fine copper vessels – mash mixer, lauter tun and kettle whirlpool. It was built by a German company and resembles a smaller version of the Löwenbräu brewery in Munich.
The standard Efes lager beers are aged – depending on individual beers – for around six weeks. As well as the leading Pilsner, Extra at 7.5% is a Bock-style beer and has an excellent aroma and flavour.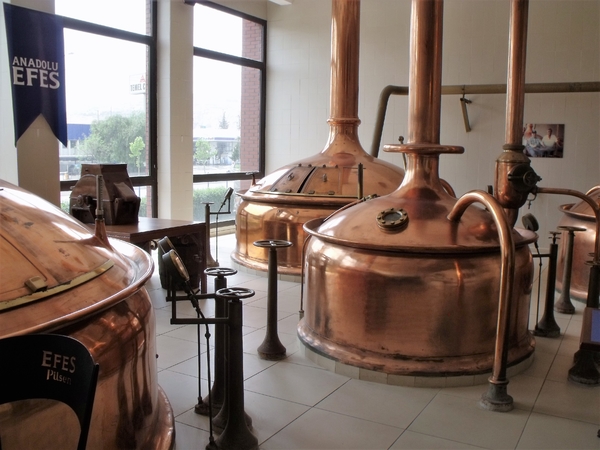 In a response to the craft beer movement, Efes has brought Bomonti back to life and is developing a range of beers under that name. Bomonti Red Ale, 5.3%, has roasted grain notes with juicy malt and light hops. Efes claims it's using the old Bomonti yeast cultures, both ale and lager, but Bomonti Black Stout, 4.5%, tasted to me more like a black lager than a stout.
The brewery is also building a new range of beers called the Efes Brewmaster Series. I sampled a 5% Weiss that had the true Bavarian bubblegum and cloves character. It's brewed with Turkish malt and two German hops, Magnum and Tradition.
*The visitor centre and museum are due to open in August. Efes Pilsen, Adalet Mahallesi, 2132 Sk No 6, 35530 Bayraki/Izmir