Feature
Still a Rebel but no longer Tiny
Added: Wednesday, April 4th 2018
It may be a rebel but it's far from being tiny. Tiny Rebel brewery started life in a garage in Newport, south Wales, but it's now a substantial business producing 7,500 barrels a year and running three bars and restaurants.
It sprang to fame in 2015 when the founders, Bradley Cummings (pictured right) and Gareth Williams, won CAMRA's Champion Beer of Britain with Cwtch – the Welsh for "cuddle". It was the first time a Welsh brewery had won the competition and it projected Tiny Rebel out of the garage and on to a much bigger stage.
The brewery today is based on the Wern Industrial Estate at Rogerstone on the outskirts of Newport. The premises used to produce shopping trolleys for supermarkets but it's put to better use today. The kit was installed in 2017 and cost £2.6 million: the money was raised from profits from beers sales, grants from the Welsh government and bank loans.
Tiny Rebel now employs 110 people who are engaged in brewing, sales, distribution and running the three bars based at the brewery (pictured), Newport city centre, and close to the Millennium Stadium in Cardiff.
The spacious brewery (below) was built by Vince Johnson in Mancheste. It's a two-stream system, 30 barrels per stream, which enables a large number of different brews to be pushed through.
"We wanted British kit," Brad Cummings says. "It's a single infusion system with cask beer fermented in open vessels. We also do two lagers, which are aged for five weeks."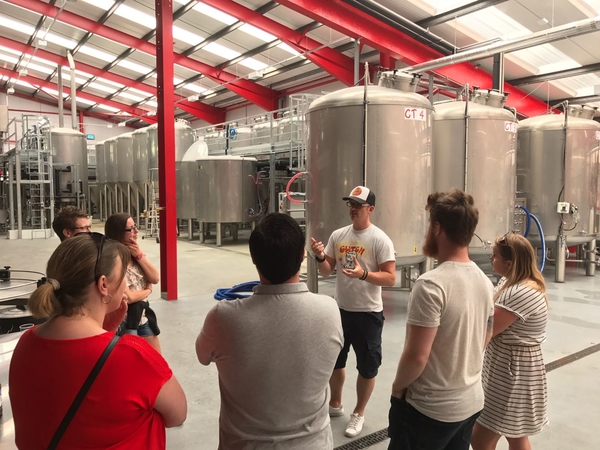 Brad and Gareth are brothers-in-law but with vastly different backgrounds. Brad's family runs a successful construction company while Gareth has a science background and was a keen home-brewer. He developed the recipe for Cwtch, a red-coloured bitter that's still the brewery's best-selling beer.
But there's a big range today that includes Club Tropicana IPA, Cali American Pale Ale, Stay Puft marshmallow porter, Frambuzi raspberry sour and Dutty, a Vermont-style IPA.
"We've produced 120 different beers," Brad says. "The core range kept growing but we've narrowed it down to six. With seasonals, we produce two new cask, keg and bottled beers every month, with others when we feel like it – that's the fun of having a flexible plant."
"We get the staff to recommend new recipes," Gareth adds. "We use their passion to produce new beers such as a hybrid lager and IPA."
Production is split one third cask, one third keg and the rest small pack. Canned beer is the big growth while bottled beers will be special brews such as barrel-aged ales. Brad and Gareth have bought a former bakery across the road from the brewery that will be used to store beer. The total cost of the brewery, new buldings and brewing kit runs at £3.6 million.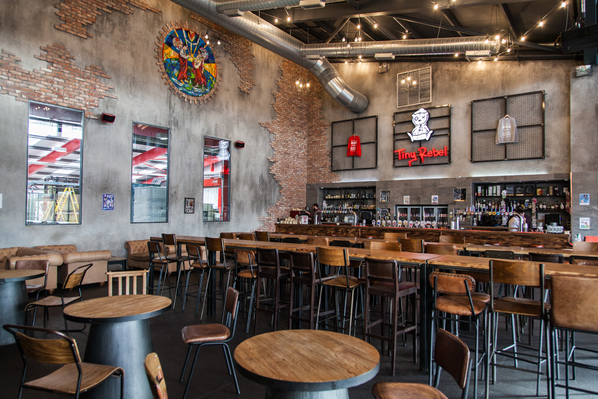 The growth of Tiny Rebel is phenomenal. As well as supplying the UK market, beers are exported to 35 countries, including the U.S., Brazil, Canada, Asia, Scandinavia, Australia and New Zealand along with mainland Europe. Brad and Gareth plan to export cask ale and they are keen stress their support for cask at a time when some other independent breweries are turning their backs on it.
Gareth says they use open fermenters for cask because "yeast acts differently in open vessels and conicals. Yeast is the key ingredient for character and flavour."
"Cask is about quality," Brad adds, "and some pubs don't always look after it well."
It was frustration with the pub sector that led them to open their own outlets. The restaurant and bar alongside the brewery in Newport is spacious and welcoming, with an excellent food offering.
"We can't survive on wet sales alone," Brad says. "Pubs are closing because they're not fit for purpose. We have developed a community hub here. We allow in kids and dogs and welcome families." It's become the "must visit" place for people in the Newport area and is packed at weekends.
The aim is to brew beers with drinkability. Gareth points to the way in which Dutty is designed. It's a Vermont-style IPA, a controversial style in the U.S. as it offers a sharply different approach to the "hop bomb" IPAs produced on the West Coast.
"We use a load of Comet and Mosaic hops in Dutty," Gareth says. "But we're aiming for low bitterness. We use two kilos of hops per cask for dry hopping. We're tackling the attitude that you can't put a load of hops into cask beer."
The result is a superb and easy-drinking 4.2 per cent beer, juicy, fruity and hoppy but with a good malt backbone from Propena grain. Along with all the cask beers, Dutty has a slight haze as it's not fined with isinglass. Cask ales are held in tank for two weeks and then conditioned in cask for a week before being released to trade. Hops are used in both whole flower and pellet forms.
The distinctive name and battered bear logo are the result of borrowing ideas from Brad's brother. He moved to the U.S. in his gap year and went to work in the games industry with Tiny Rebel Studios.
"We took the name," Brad says, "then we found the person who had designed the logo. She's based in Swindon, which is handy for Newport, and she now works full-time on all our designs."
As well as Brad's brother, there's a strong family influence at Tiny Rebel. Several members of both the Cummings and Williams families work for the brewery and Brad and Gareth are proud of their input.
No names, no pack drill, but the two founders are not enamoured of other craft breweries that have proclaimed their independence and then either sold out completely or allowed global players to buy a large parcel of shares.
They admit it must be hard not to say No if AB InBev comes knocking with a cheque for £80 million but as Gareth says "we were not set up to sell. We're still family owned."
With orders pouring in from many countries, new fermenters on order and a planned move to additional premises, Tiny Rebel seems set for the big time.
*Below, Tiny Rebel's Cardiff bar.