Feature
Mark Crilley on Manga, beer and pubs
Added: Friday, March 2nd 2018
Mark Crilley, the celebrated American "manga" artist and author of scores of young adult comic books and novels, is a great fan of British beer and pubs and regrets it's increasingly difficult to find British Bitter in the United States.
"In the 1990s there was a lot of British beer on tap in American bars," he says. "But the craft beer movement has pushed it aside. I enjoy the malty flavour and low carbonation of British beer. With modern craft IPAs there's an explosion of flavour but it can be overpowering."
He says Fuller's London Pride and ESB along with Greene King Old Speckled Hen can be found in the U.S. and Sam Smith's bottled beers are widely available but there's little else from the UK today.
Mark, aged 56, was brought up in Detroit. He began drawing and sketching from an early age and when he left college he lived in Fukushima, Japan, for several years where he taught English.
As well as meeting his wife Miki he discovered the Manga style of art. It originated in Japan in the 19th century and was used to illustrate comic books and adventure stories. The drawings are usually in black and white though colour versions exist. The illustration above shows a character outside an English inn.
Mark found that book shops had shelves packed with Manga books and comics. Inspired by the style, he returned home and produced his first comic book Akiko and went on to develop a series of books, one called Miki Falls, named after his wife, and Brody's Ghost.
They have been prodigiously successful and Mark has followed them with instructional videos that enable young artists to create their own interpretations of the Manga style. The picture below is from one of the Akiko adventures and features an English village pub.
When he's not working, Mark enjoys a glass of beer. His love of British beer stems from his college days when he had a room mate, Ian Jackson, from Macclesfield who enthused about the beer from his native country.
"We hit it off and stayed in touch," Mark says. "I went to his wedding in 1993 and visited pubs in Manchester. My last visit to England was in 2010 and I drank with Ian in the Castle in Macclesfield.
"I became obsessed with British pubs. It's sad that so many pubs are closing. British beer and pubs – and CAMRA – don't get the support they deserve.
"Pubs are unique to your country. They hold a special place. They have a tradition that stretches back centuries. In one of my early comic books in 1990 the characters were seen going into a traditional British pub.
"I've travelled widely and see American-style bars everywhere, usually dark watering holes. And there are a lot or Irish bars abroad, too. But the British pub can't be exported. After all, a pub is really somebody's front room!"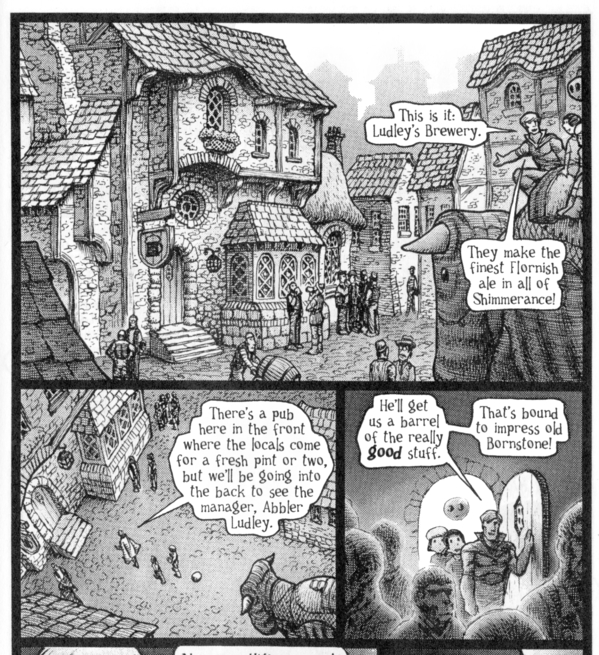 Mark still lives in Michigan, a state with 120 breweries. It ranks as the fifth state for the number of breweries and brewpubs. They range from Frankenmuth, founded by German immigrants in 1862 and still brewing Bavarian-style beers, to a swathe of modern craft producers. They include Founders, whose beers are available in the UK, and another large independent, Bells, to much smaller brewpubs.
Ascension Brewery in Novi and North Center Brewing in Northville are close to where Mark lives.  He says Ascension dabbled in an ESB but that seems to have disappeared and it now concentrates on IPAs and barrel-aged stouts. But North Center makes Bobby English ESB with hops imported from Kent, British malt and Fuller's yeast so it should have some semblance of the real thing.
As for the British pub, Mark is planning a story in which an American teenage boy, on holiday in England with his family, "sneaks off on a journey that takes him from the south of the country up to Berwick-on-Tweed."
The boy will travel along the A1 and I'm delighted to learn that Mark has a copy of my book Historic Coaching Inns of the Great North Road to help his research.
Roman roads, Manga, pubs and beer – a heady mix. Mark Crilley's book will be keenly awaited.
*Images courtesy Mark Crilley