Feature
Meet the Milton Keynes beer dons
Added: Monday, February 26th 2018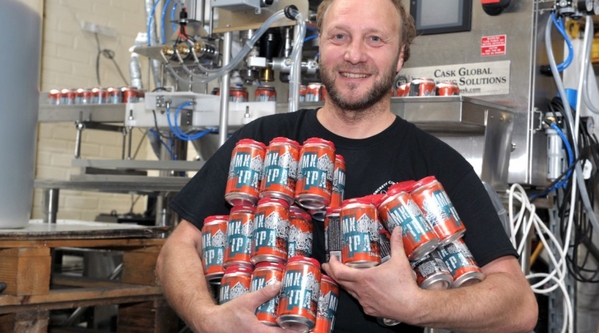 Dan Bonner, busily operating his canning line, pauses to pant: "We do this for love, not money!"
Filling cans demands a degree of skill. The empty containers have to be manually pushed along a conveyor so they're placed under the fillers. Once filled they move forward and the tops, complete with ring pulls, are fitted. The filled cans then have to be removed from the machine so the operation is repeated.
Any lack of speed and dexterity leads to cans backing up and beer spilling on to the floor. Dan (pictured above) unwisely asks me to have a go, not knowing my nickname is Old Fumble Fingers. Somehow I manage to successfully fill a few dozen cans without getting a ring pull drilled through my finger.
Dan is duly impressed and says I should add "can filler" to my CV but I think I'll stick to the day job.
We're at the Concrete Cow Brewery in Milton Keynes, named after the famous life-size sculptures designed by Liz Leyh that, along with the grid road system and endless roundabouts, are the new town's best-known feature.
Dan's brewery was founded in 2007 and is the oldest in the area. When a few beer writers sniffily laughed on social media at the very idea of Milton Keynes having a brewing heritage they were showing their ignorance of the history of the town. Until 1967 it was a tiny village with 200 souls in the middle of the Buckinghamshire countryside when it was chosen as the site for one of the new towns created – more with hope than expectation – to ease London's housing crisis.
It now covers Bletchley, Stony Stratford, Wolverton and 15 small villages in between and has a population of 250,000. It achieved further fame in 1969 when the Open University was created there with a new concept of studying for a degree at home.
"There was no history of brewing in the area," Dan says. "Charles Wells is the biggest brewer around here – and they're in Bedford."
Dan was a landscape gardener but, as a result of the heavy clay soil in the area, it was back-breaking work and he looked for alternative employment. He'd been a keen full-mash home brewer and when he met a man who had some brewing kit for sale he decided to take the plunge and brew commercially.
He had a two-day training course with Dave Porter of PBC in Salford and was then left on his own to operate a six-barrel plant.
It's been a slog. "Pubs are hard work," he says. Charles Wells dominates the area but more free trade is developing and an enormous Wetherspoons near Milton Keynes Central train station takes Concrete Cow cask beers.
But Dan has carved a main route to market with bottle-conditioned ales he sells to beer shops, hotels and restaurants. He supplies Bletchley Park, famous as the centre where the German naval codes were broken during World War Two, MK Dons football stadium and The Stables, the renowned music centre founded by the late Sir John Dankworth and his wife Dame Cleo Laine.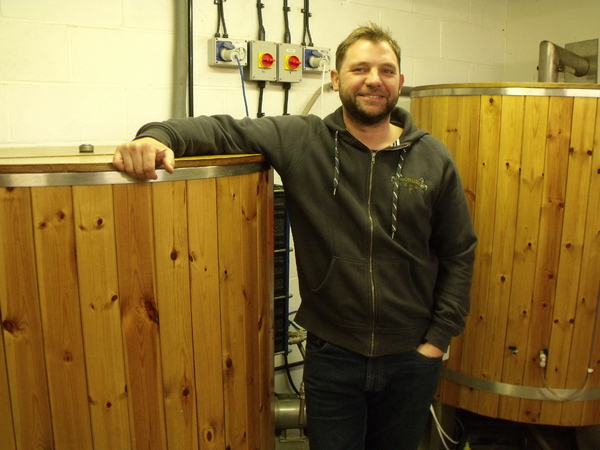 Dan has been canning for more than two years on kit bought from Canada and the range is popular with beer shops and craft outlets. His wife Denise, who works at the Open University, is a vegan and she has encouraged him to produce natural beers that are not filtered, pasteurised or cleared with fish finings. Most of his sales are now in bottle, with bottles held in a warm room for two weeks before being released to trade.
The local water is extremely hard and Dan doesn't need to add any mineral salts. His base malt is Extra Pale Propena and, depending on the recipe, adds chocolate, crystal, Munich and Vienna malts for colour and flavour.
His favourite hop is Nelson Sauvin from New Zealand but it's now impossible to get hold of due to its world-wide popularity. His English hops are East Kent Goldings, Challenger and Fuggles, and he adds American Amarillo, Citra, Columbus, Mount Hood and Simcoe in his various brews, with Czech Saaz in a lager.
He doesn't dry hop his beers in cask but adds additional hops 10 and 20 minutes before the end of a vigorous boil in the copper.
"Late hopping gives plenty of additional aroma," Dan says. "Dry hopping means using double the amount of hops and that makes the beer more expensive."
His beers include MK IPA (5 per cent), a seriously delicious India Pale Ale packed with juicy malt and fruity Citra, Columbus and Simcoe hops, Pail Ale (3.7 per cent) with Mount Hood hops, Old Bloomer (4.7%) brewed with crystal and chocolate malts and hopped with Challenger and Goldings, Fenny Popper (4 per cent) hopped with Cascade, and Dirty Cow (5 per cent), an intriguing fusion of German-style Weiss beer and pale ale.
His best-selling beer is Cock 'n' Bull (4.1 per cent): the name is based on a local legend (explained later). Dan describes it as a no- nonsense, old fashioned English bitter. He's delighted by its success and says some brewers who produce ever more hoppy pale ales forget that many drinkers still enjoy a good old pint of bitter. He doesn't reveal the malts and hops used in this beer as, given the story behind it, nobody would believe him.
Concrete Cow is small and packed, measuring 800 square feet. Dan doesn't have any plans to expand. As he says, he's brewing for love, not money, and he will continue to concentrate on producing beers full of taste and character, using the finest raw materials.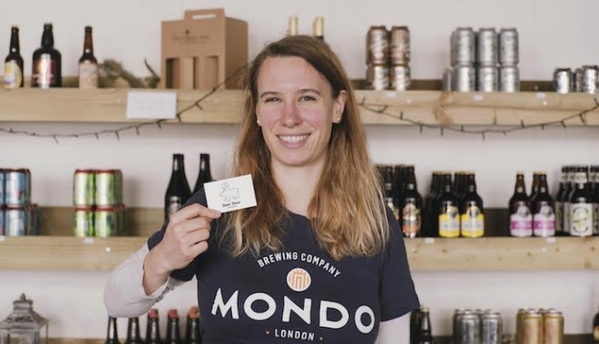 It's a different story at Hornes Brewery. "It's a building site," Ryan Horne (above) warns me in advance. He's based in the semi-rural area of Bow Brickhill, which remarkably survived the Beeching cuts and has a station and train line that links it to Bedford.
Ryan's brewery is behind the house on Station Road he shares with his wife Colette. The site is busy with the noise of saws and drills, with parts of the building covered in tarpaulin. It's being extended and will eventually house not only a bigger brewhouse but a beer garden and an area for beer tasting sessions. The original building was once a garage but it's being put to better use today.
Ryan has been brewing commercially since 2015. In common with Dan, he was a keen home brewer, a habit he picked up from his father.
"My first brew was using a Woodforde's Wherry kit," he recalls with a laugh. "I quickly moved on to full mash brewing and then did a brew with Dan at Concrete Cow."
He went commercial in 2015 with support from the ubiquitous Dave Porter, who installed a six-barrel plant with attractive wood-panelled vessels.
"I'm doing two brews a week," Ryan says. "There's a new fermenter on order to increase production."
His three original beers all have goat in the title. They take their inspiration from Herbie, Sooty and Dusty who live in a large paddock behind the brewery. They are partial to spent grain (see below) and keep Ryan company when he's taking a break from brewing.
One goat comes over and allows Ryan to stroke its head. When I attempt to pat it, the horns go down and painfully crack my hand against the fence. I decide not to add goat herd to my CV...
The beers inspired by the animals are Triple Goat Pale Ale (3.9 per cent), Triple Goat IPA (5 per cent) and Triple Goat Porter (4.6 per cent). Other regular beers include a bitter, Dark Fox (3.8 per cent), and Featherstone Amber Ale (3.6 per cent).
Ryan adds seasonal beers such as Summer Swallows and a green hop beer – made with hops straight from the harvest in early autumn. It's called Greensands and he uses whatever hops are available at the time, loading 20 kilos into the copper.
He dry hops just one of the beer, Featherstone Amber, using Cascade and Crystal in the copper and Cascade in cask. His base malt is Maris Otter and his hop store includes English Admiral, Challenger, East Kent Goldings, First Gold and Fuggles with a number of American varieties.
Ryan's IPA, a fine balance of rich malt and bitter hops, is brewed with Cascade and Summit while Porter has a complex recipe of Goldings, Citra, Crystal, Mosaic and Willamette. Summer Swallows uses Admiral and First Gold.
Beers are delivered within a 30-mile radius, the Mermaid in St Albans being the furthest drop. Ryan uses pins, min kegs, polypins and key kegs for draught beer but, in common with Dan Bonner, he is moving more and more into bottle-conditioning to supply beer shops and other outlets that can't handle draught. He will also use Dan's facilities at Concrete Cow to add canned beer to his range.
I wave goodbye to the goats – from a safe distance – and join Dan and Ryan for a quick drive to Stony Stratford. This is a must visit for anybody who thinks the Milton Keynes area lacks a beer heritage. The high street is on the old Roman road, Watling Street. It's well stocked with pubs, including two old coaching inns, the Cock and the Bull, and beer would have undoubtedly been brewed on the premises for centuries.
According to a local legend, drinkers in the two inns would vie with one another to tell the most absurd and unlikely tales, which gave rise to the expression Cock and Bull Stories.
The street also includes the now-closed Rose & Crown where it's claimed Richard Duke of Gloucester lodged in 1483 before taking Prince Edward to London to be crowned. In the event, the prince joined his brother in the Tower and the duke was enthroned as Richard III. I would add "the rest is history" except that most of the received history is a load of cock and bull.
We're heading not for an ancient inn but the new Stony Beer Bear on the high street. It's run by Franzi Florack (above), a woman who bursts with passion and knowledge about all things beer.
Franzi is from the Hamburg area of Germany but has lived in Britain for several years. She came to study at Leeds University but now devotes her time to running two acclaimed beer shops and micro-pubs, the Biergarten in Wolverhampton and the Stony Beer Bear.
The Stony Stratford branch is a former vets shop. It stocks 150 bottled beers from around the world while the bar has six local beers on tap. The pub is based in two attractive rooms with comfortable tables, chairs and sofas, with the main room looking out on to the historic high street.
We sample a few draughts while Franzi waxes lyrical about beer in general and such new offerings as sours, fruits and saisons. While she's from northern Germany, she has travelled widely and she and I recall our fond memories of drinking in Munich in such famous taverns as the Hofbräuhaus.
It was a cheery end to a good day in Milton Keynes. The new town, for obvious reasons, may lack a brewing heritage, but one is being fashioned now by Dan Bonner, Ryan Horne and Franzi Florack. Go and toast them.
www.hornesbrewery.co.uk;www.concretecowbrewery.co.uk; Stony Beer Bear, 86 High Street, Stony Stratford; Biergarten, 3 Triangle Building, Wolverton Park Road, Wolverton. New breweries in Milton Keynes: Blackened Sun, Stacey Bushes, and Bucks Star, Stonebridge.