Feature
David Bruce rolls out barrels in Berkshire
Added: Monday, October 30th 2017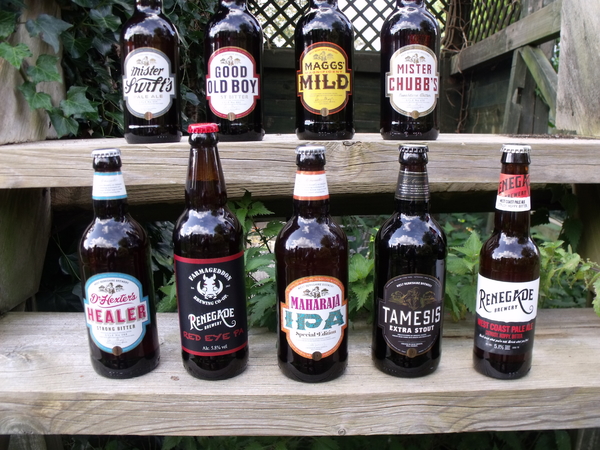 From little barley corns, big breweries grow. West Berkshire started life in 1995 as a modest five-barrel plant attached to the Pot Kiln pub in Frilsham. As demand grew for the beers produced by brewers Dave and Helen Maggs, they moved to an old bakery in Yattendon, near Thatcham, where they installed a 30-barrel plant.
The brewery has moved yet again, just a short journey to a sprawling former dairy farm where a multi-functional brewhouse has been installed and is capable of producing around 25,000 barrels of beer a year.
The man in charge of this big redevelopment is David Bruce, still best known for the chain of irreverent Firkin brewpubs in the 1970s and 80s.
David Bruce doesn't do modest. When the Maggs decided to retire, they invited David to take over and, in a whirlwind couple of years, he has transformed the brewery, from bucolic to big business.
He has raised more than £9 million from both local supporters of the brewery and the Enterprise Investment Scheme (EIS). He spent £1½ million on the site and £4 million on the brewing kit, which is computer-controlled and built in Parma, Italy. The rest of the equity will be spent on buying freehold managed pubs in London.
As well as vessels capable of producing ale and lager, the site includes canning, kegging and bottling lines and David Bruce is busily promoting West Berkshire as a company that can handle packaging for other breweries.
"We're close to the M4 and the A34," he points out. "We can deliver to London, Oxford, Bristol, Birmingham, Portsmouth and Southampton within an hour and a half. "
He says it's absurd that some breweries in the south and south-east send their beers all the way to Burton and even Stockport for packaging. He's on their doorsteps and can promise a fast and efficient service.
He's also offering visitor facilities at the brewery. There will be 200 seats inside, with food, including pizzas from an oven, coming from an in-house kitchen, along with a large bar area with 10 handpumps and 12 keg fonts. A glass wall will allow drinkers and diners to watch the brewing operation next door.
In warm weather, there will be outside seating, too, and visitors can watch ducks and other wild life on a large pond with cows grazing in the fields beyond, who are fed on spent grains from the brewhouse.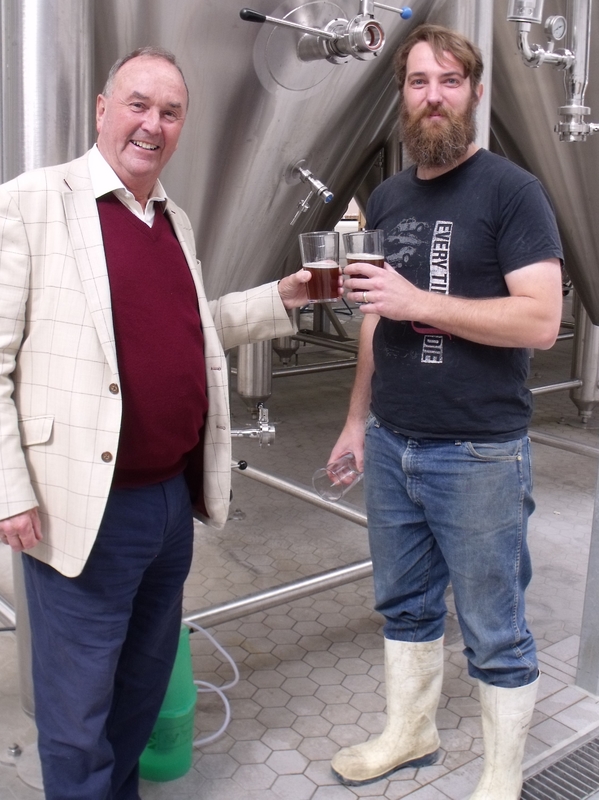 David Bruce (above left with head brewer Will Twomey) arrived at West Berkshire following an exhilarating, helter-skelter career in brewing and running pubs. When he sold the Firkin chain, he went on to develop Slug & Lettuce – now owned by the Stonegate pub company – then Capital Pubs, which he sold to Greene King for £93 million.
Across the pond, he was involved, as a founding shareholder, with a number of American craft breweries, including Brooklyn in New York City, Wynkoop in Denver, Colorado and Elysian In Seattle. Back home he is one of the founders of City Pubs and is busily looking for managed pubs in urban areas for West Berkshire. He has one in Islington, North London – the Depot – and is bidding for two more in the capital in Fulham and Kentish Town.
In order to raise the money to expand West Berkshire, David Bruce first had to recompense the Maggs for their many years of devotion to the brewery. He raised £1.23 million from 400 beer drinkers and residents in Berkshire and surrounding areas for the Maggs, who still own 5 per cent each of the brewery and are life presidents.
In November 2014, David started to raise money from the EIS and three years later had secured more than £8 million from 800 supporters and drinkers. There are now 1,200 shareholders who can claim 30 per cent of their investment back against their income tax under the EIS.
"All future gains are capital gains tax free," David explains. "It's a big incentive."
He raised a further £120 million through the EIS, a government-backed scheme to help start-up companies. That tranche of cash has gone not only into the brewery but also into a vineyard, Alder Ridge, which produces award-winning English sparkling wine, plus a distillery and no less than eight new pub companies. You need good shorthand to keep up with David Bruce...
But the EU has stepped in to clamp down on the EIS, which can no longer be used to buy existing trading businesses. David has
got round that by taking over former libraries, council offices and fire stations to turn into licensed premises. But now the EU is about to rule that the EIS can't be used to buy assets, a move David sees as stifling entrepreneurship. Suffice to say, he is not the keenest supporter of the European Union.
The new brewhouse is masterminded by Will Twomey, originally from Co Cork, who brewed down the road at the plant in the old bakery and now sports the obligatory long bushy beard of the craft brewing fraternity. A big range of beers comes gushing forth from a system based on mash mixer, lauter tun and kettle and whirlpool. Most beers are hopped with pellets but whole leaf varieties are used for the ales.
David Bruce hasn't forgotten his brewing roots – he trained with Courage and Theakston's before going alone – and 50 per cent of all the beer is cask and half of that is the 4 per cent traditional bitter, Good Old Boy.
The rest of the main West Berks range is made up of Mr Chubb's Lunchtime Bitter, Maggs' Magnificent Mild, Mr Swift's Pale Ale and Dr Hexter's Healer, named after real-life characters – including Dave Maggs -- around the old Pot Kiln pub and the River Thames.
A Special Edition range has been added. It includes English hopped Maharaja IPA and Pale Ale and an impressive extra stout, Tamesis, which will also be available soon in an oak-aged version. A stack of casks in a corner of the brewery will be used for a barrel-ageing programme in rye and bourbon casks shipped from Kentucky..
West Berkshire has also launched a second range of beers under the Renegade label. It's aimed at "new wave" craft beer drinkers and includes a West Coast Pale Ale, Snake Oil DIPA (double IPA), Vienna Lager and a Red Rye Ale.
The big range of beers is underscored by the sacks of malt and hops in their respective store rooms. Base pale malt is the tried-and-trusted Maris Otter, along with amber, caramel, chocolate, crystal, Vienna and wheat malts, with oats and roasted barley for stout.
The hops will give hop heads palpitations of pleasure: Bramling Cross, Cascade, Chinook, Citra, Columbus, East Kent Goldings, Jester, Mosaic, Oricana, Pioneer, Progress, Sovereign and Whitbread Goldings Variety.
David Bruce has a track record of moving on and selling a business after several years. Now in his 70th year, will he settle down and stay at West Berkshire for the long haul? Only time will tell but as always with David there will be a lot of fun and good beer along the way.
And he's keen to sell the mothballed 30-barrel plant at the Old Flour Barn. Get in touch if you're interested -- but don't expect any EIS funding.
*West Berkshire Brewery, The Dairy, Frilsham Home Farm, Yattendon, Berkshire, RG18 0XT. 01635 202968.