Feature
I&G finds a way through the wood
Added: Friday, October 27th 2017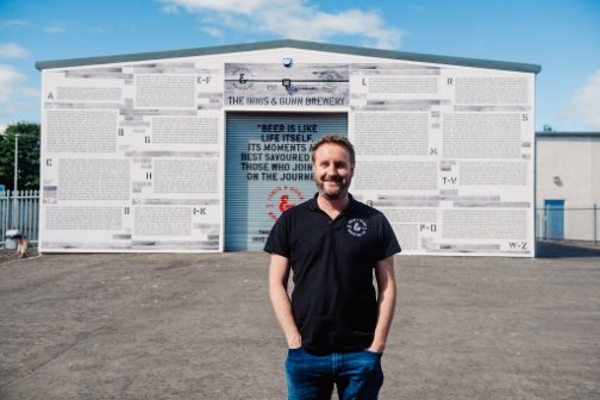 The bricks on the outer wall of the barrel store at Inveralmond Brewery in Perth are inscribed with people's names. They are the investors in Innis & Gunn -- the Scottish brewery famous world-wide for its oak-aged beers -- and they raised £3 million through crowdfunding to enable I&G to buy Inveralmond and expand production.
Dougal Sharp (above), the founder of I&G, had a simple but heart-felt wish for many years – to own and run his own brewery. When he launched the company in 2003, his beers were brewed first at Belhaven and then, as volumes grew, he moved to Tennent's in Glasgow, where around 90,000 hectolitres a year are produced.
Dougal is the former head brewer at Caledonian Brewery in Edinburgh and knows his way round mash tuns, coppers and fermenters. At I&G he wanted a more hands-on role with his own production facility. But he knew building a new site would take years as he went through all the hoops of obtaining local government planning consent.
"I'd always liked the beers and the guys at Inveralmond," he says, "so I had chat with them in December 2015. We agreed a deal in January the following year and Innis & Gunn finally bought them in April."
Inveralmond was opened in 1997 by Fergus Clark and it was the first new brewery in Perth for more than 30 years. It has a range of popular cask beers, including Lia Fail – Gaelic for Stone of Destiny –Fair Maid (which commemorates Sir Walter Scott's Fair Maid of Perth), Ossian,Thrappledouser and Rascal London Porter.
Since the I&G takeover, £750,000 has been spent on developing the brewery, including the barrel-ageing store, and there are plans for a bottling and canning line on site. At present Inveralmond's kit has a brew-length of 30 barrels and annual production runs at 20,000 barrels, but this will be expanded with new fermenters and cold tanks.
Two new cask beers have been added to the Inveralmond range, EPA (3.8%) and Daracha (5.2%). Daracha, Gaelic for oak, shows the influence of the brewery's new owners, for it's an oak-matured ruby-coloured ale.
And now Inveralmond is the heart-beat of Innis & Gunn, which Dougal claims is the biggest producer of barrel-aged beers in the word. He exports to 40 countries, including China, Canada, the U.S., France and Sweden along with sales throughout the UK. He has also opened, with great success, four Beer Kitchens in Edinburgh, Glasgow, Dundee and St Andrews that offer food alongside his draught and bottled beers.
At present Inveralmond isn't big enough to produce all the I&G beers. What Dougal calls his "high end" beers, which include Original (6.6%) that accounts for 50 per cent of sales, are still brewed at Tennent's in Glasgow and then transported to Perth for ageing.
While shorter run I&G beers are aged traditionally for between six and 12 months in oak casks in the barrel store, Dougal Sharp and Inveralmond head brewer Ken Duncan have developed a fascinating new system for Original and other big-selling brands.
An intriguing tank in the brewery is called the Amplifier. This is filled with I&G's main beers where they circulate and come into contact with oak chips in a muslin bag – chips that have undergone a painstaking process to create the aromas and flavours needed.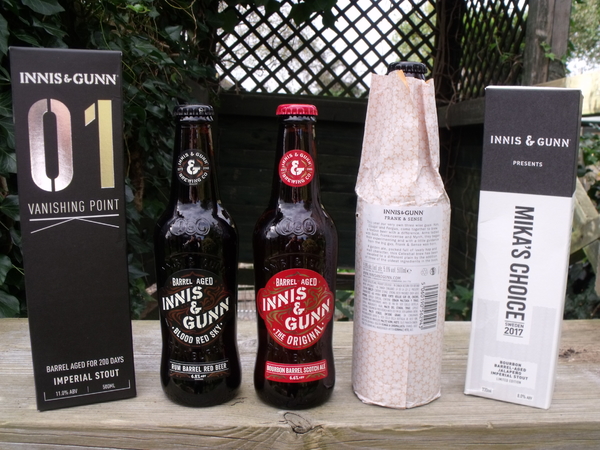 Ken Duncan is from the Highlands and has worked at Inveralmond since it was launched. He attended Heriot-Watt School of Brewing & Distilling in Edinburgh and he and Dougal have formidable beer-making skills – skills to which they have added a deep knowledge of oak-ageing and the best use of oak barrels.
To make chips, barrel staves are broken up. If the staves have come from the American bourbon whiskey industry they will have been charred and Dougal says the char has "a massive impact on flavour – you get char, oak and spirit."
The barrel pieces are toasted for one hour at 100 degrees Celsius. Ken Duncan says it's similar to curing malt. "There are sugars in the wood – they account for the sweetness of wood. When they're toasted, the sugars turn to caramel and you get bready, toasted aromas and flavours."
There are five different levels of toasting, known as low, medium and high wood. Water in the wood is boiled off as vapour while a second toast goes deeper into the wood and creates aromas and flavours of vanilla, spice and coconut.
"Steaming the chips brings out a massive vanilla aroma," Dougal says. "Steaming breaks down the cell walls of the wood but keeps the flavour."
Depending on the beer, different oak staves will be used, including those from bourbon, Irish whiskey and rum barrels. And a different blend of chips will also be used. Kindred Spirit has chips from Irish whiskey barrels and they are a blend of three parts dark to one lighter one. I&G Original is a 50:50 blend of light and dark.
When the beers have been through the Amplifier they are left to stand for a week and a half, and allowed to oxidise in the manner of sherry. The resting time develops deeper characteristics of oak, vanilla and tobacco.
The Amplifier and oak chips system has proved controversial and Innis & Gunn has been accused of misleading drinkers. The neck label of Original used to state "oak aged" but now it says "barrel aged". How can a beer be barrel aged if it hasn't been inside a barrel?
Dougal Sharp responds in bullish fashion. "I'm putting the barrels into the beer," he says. "It's just not possible to buy sufficient barrels to meet the volumes of the high end beers so I had to develop a new system."
He adds that Blood Red Sky (6.8%), which uses Jamaican rum barrels, has been such a soar away success that he cannot buy enough barrels to meet the demand.
"It's a modern interpretation of barrel ageing," he says. "There's no formal definition. We're transparent and clear about the process."
He adds the rider that the new barrel store will enable more barrels to be purchased and as a result there will be a bigger proportion of beers produced that use traditional production. It will then be possible to blend the high end brands with both properly barrel-aged beers and oak-aged chip versions.
I&G is rapidly developing more "limited edition" beers that are aged at Perth in the barrel store. They include Kindred Spirit (6.1%), aged in Irish whiskey casks, brewed with amber and chocolate malts and roasted barley alongside pale malt and hopped with Citra. It has a big vanilla, coconut and spice character.
01 Vanishing Point (11%) is an Imperial Stout barrel aged for 200 days. The 01 indicates that it's the first in a series. The beer I tasted had been in cask since July. It has additions of fresh-ground coffee, dark chocolate, gorse and vanilla, and the aroma and palate offered raisin and sultana fruit, oak, smoke, sweet grain and a hint of Brettanomyces wild yeast from the oak.
Mikka's Choice (8%) is another Imperial Stout, this one a collaboration brew with Mika Jeppson from Sölvesborg in Sweden. It has an addition of Jalapenno chillies and is aged in bourbon casks.
Frank & Sense (5.8%) is brewed for the Christmas market and is the result of Fergus Clarke, Ken Duncan and Dougal Sharp – the three wise men -- creating a recipe that uses frankincense and myrrh.  It's a golden ale – the colour of the malt makes up the third ingredient along with frankincense and myrrh – and is hopped with Cascade and Super Stryrians. It has a herbal and spicy nose, is hoppy and spicy in the mouth and has a dry, spicy/herbal finish.
You are unlikely to find the three wise men supping it in a stable but you may catch them in one of I&G's Beer Kitchens over the festive periods. Best not to ask Dougal if he's having chips with his meal...