Feature
Gunmakers, firing on all cylinders
Added: Monday, July 24th 2017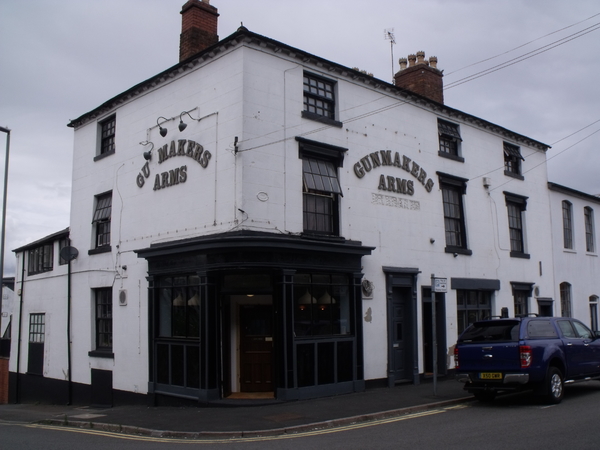 A small artisan brewery in England's Second City has joined the ranks of the growing number of beer producers who are rejecting fish finings. Two Towers in Birmingham has a range of beers – from mild, golden ale and bitter to dark porter – that avoids isinglass made from fish bladders and challenges drinkers with beers that are not crystal clear in the glass.
The brewery backs on to the Gunmakers Arms in Bath Street and the appreciative crowd of drinkers downing the beers in the pub suggests that a slight haze is not a deterrent to enjoyment.
Pub and brewery stand on the site of one of the many manufacturers of weapons of war in the Hockley area in the 19th and 20th centuries. The deep cellar of the brewery, which now houses the brew kettle and fermenting vessels, was once a firing range where guns were tested.
Today brewer Mark Arnott-Job (below) has the equally demanding but more peaceful task of mashing grain and boiling with hops to produce his beers. They were in great demand on the opening days of Birmingham Beer Week, 21-30 July, with pubs, bottle shops and restaurants celebrating the city's vibrant beer culture and the rapidly growing number of breweries there.
The pub had several guest beers – all unfined and suitable for vegetarians and vegans and served straight from the cask. They included Art Brewing, Blackjack, Boudicca, Bristol Beer Factory, Little Valley, Moonchild and Rock and Roll (bottom picture).
The house beers are served by handpump on the long bar of the pub, which dates from 1820. To reach the brewery, you walk to the back of the pub, go past an outside drinking area, then down a few steps into a spacious, two-storey building with fascinating old sepia prints of Birmingham's manufacturing past on the walls. There are two wood-jacketed vessels, the mash tun and the liquor tank holding brewing water standing proud at the front of the room.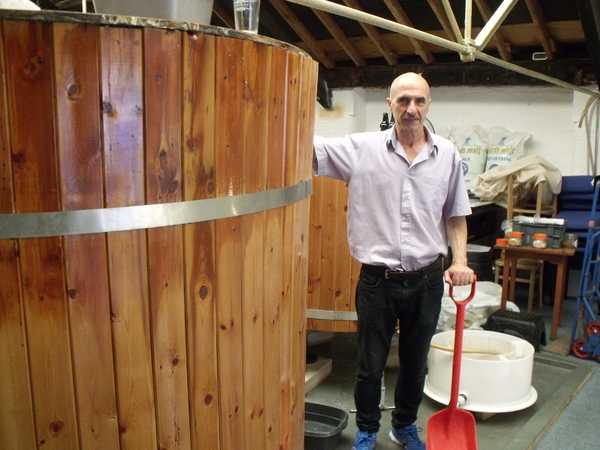 Mark says Birmingham water is extremely soft – which explains why the city was once famous for its dark milds. He says he adds "lots of gypsum" and other salts to "Burtonise" it and make it suitable for today's paler and hoppier beers.
Two Towers is named after famous landmarks in the city – a water tower and a folly. It's been based in its current home since July 2016 and before that was in Mott Street.  It's Mark first commercial brewery though he was a keen home brewer for many years before taking the plunge and making a living from his hobby.
His materials include Maris Otter as his base malt with – depending on the brew – dark crystal, chocolate and light cara malt, with mild ale malt for Birmingham Mild. There's an impressive spread of hops, including Bramling Cross, Fuggles, Goldings, Cascade, Citra, First Gold, Northern Brewer and Bobek.
They are used in whole hop form and I looked down into the cellar to see a bed of hops in the kettle where they are boiled with the wort that flows down from the mash tun above. Beyond the kettle are two fermenting vessels with a third smaller fermenter used for special or one-off brews.
The plant is a 10 barrel one and Mark is double brewing at present to keep up with demand. As well the Gunmakers, he supplies restaurants, bars and even a cinema but not many other pubs where more traditional drinkers are not happy with unfined beer.  Around a third of production is packaged in bottle-fermented format.
The beers have only the slightest haze – and the haze is undetectable in the darker brews. To counter the lack of finings, Mark chills the beers down to 5 degrees for three days and then lets them settle for three weeks in the cellar.
Back in the Gunmakers I started a tasting of the beers with Birmingham Mild, 3 per cent, with a dark chestnut colour and a lot of flavour for a beer with such a modest strength. It was surprisingly bitter for the style: was it just nostalgia or is it a little like the much-missed Ansells Dark Mild of yore?
There's dry chocolate, roasted grain and dark fruit on the aroma along with bitter and spicy hops. Dry malt dominates the palate with bitter chocolate, sultana fruit and earthy hops, followed by a finish that is dry and roasted, with more notes of chocolate and a late burst of bitter and spicy hops.
Hockley Gold, 4.1 per cent, has a superb floral hop aroma with earthy hop notes, spice and biscuit malt.  Hop bitterness grows on the palate with floral and spice notes, balanced by a dry, Ryvita-like malt character. The finish is intensely dry, balanced between grain and spicy hops, with a late burst of sweetness from the grain.
Complete Muppetry, 4.3 per cent, is a similar golden hue to Hockley Gold but is different in every other way. It has a big "fruit gums" aroma of lemon, lime and bitter orange, with lightly toasted malt and gentle spice notes. The big fruity palate is balanced by a big attack of hop bitterness and spice. The finish is dry, bitter and hoppy with tart fruit and toasted malt.
Baskerville Bitter, 3.8 per cent, has no connection to Sherlock Holmes but is named after John Baskerville from Birmingham who developed in the 1750s the elegant type face that bears his name. The beer is pale bronze with a big peppery hop aroma balanced by nutty malt and hints of lemon and lime. The palate is extremely dry with gently toasted and nutty malt, tart fruit and peppery hops. The hoppy, peppery finish also has strong notes of tangy fruit and nutty malt.
Chamberlain Pale Ale, 4.5 per cent, honours a legendary Birmingham figure, Joseph Chamberlain, a manufacturer who became a political leader both in the city and later in parliament. The beer is pale bronze with lemon fruit on the nose along with elderflower, spice and honeyed malt. Bitterness grows on the palate with a fine balance of bitter and spicy hops, tart fruit and rich malt. The finish is bittersweet, with rich honeyed malt, tangy fruit and spicy hops. This is a good traditional Brummie bitter with great malt character.
Bhackers Ackhams is a 5.6 per cent porter that has won several awards at local beer festivals. The bizarre name is a tongue-twisting reference to a famous Birmingham department store called Rackhams and a former red light district known as Ackhams.  This for me was the stand-out beer of the range. It has a deep brown/black colour with rich chocolate and black currant fruit on the aroma with roasted grain and floral hops. The palate is dry with roasted grain to the fore along with dark chocolate, burnt fruit and peppery hops. The finish intensely dry and complex with bitter chocolate, burnt fruit, roasted grain and spicy/peppery hops.
The beer range is excellent and as far as the absence of finings is concerned, let your taste buds judge.
*Gunmakers Arms, 93 Bath Street, Hockley, Birmingham B4 6HG. Two Towers Brewery, 29 Shadwell Street, B4 6HB.