Feature
Prize-winning pub a shrine to good beer
Added: Saturday, April 29th 2017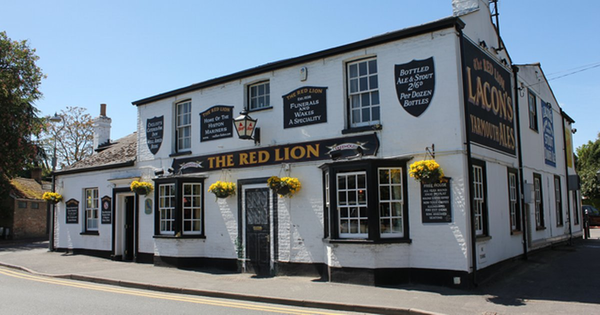 Beer lovers should trek to the Red Lion at Histon near Cambridge, a shrine to British beer...past and present. The pub is decked out with artefacts and memorabilia from the great days of brewing in the 20th century and also offers a fine selection of modern cask ales.
It has just been named local Pub of the Year by CAMRA --- an award richly deserved by landlord Mark Donachy. Mark has run the pub since 1994 and pours his passion for beer and pubs into the Red Lion. He has a vast knowledge of the brewing industry as he worked for Scottish & Newcastle before moving into the pub trade: he ran S&N's London estate for several years.
The Red Lion dates from 1836. It was a private house before then and became an ale house as a result of the Beer House Act of 1830 that allowed householders to turn their dwellings into rudimentary pubs in return for paying two guineas a year for a licence.
The Red Lion has been extended considerably since then but remains homely and welcoming. One bar has TV and darts along with a large collection of beer bottles while a second bar is for cask beer lovers, with handpumps dispensing ales from Adnams, Batemans, Burton Bridge, Lacons, Milton and Son of Sid – though the range changes constantly. More than 1,200 beers have been served over a 10 year period and there's also a selection of bottled beers from Belgium and Germany. To add to the beery delights, there's a beer festival every September.
The food is of a high standard and there's first-class accommodation in cottages behind the pub. In the grounds, spot the artwork of sign writer Michael Collingwood who has added signs depicting the reborn Lacon's Brewery in Great Yarmouth. It's a timely addition as Lacon's has just won a top award for Encore in the International Beer Awards.  
*Red Lion, 27 High Street, Histon, Cambs, CB24 9JD: 01223 564437. www.theredlionhiston.co.uk.