Feature
Rates: ticking time bomb for pubs
Added: Friday, February 24th 2017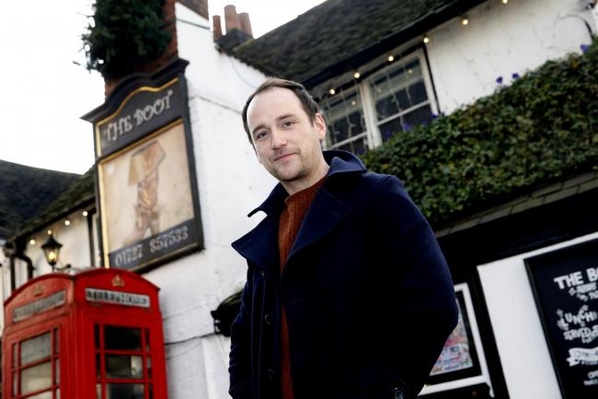 There's a ticking time bomb under thousands of British pubs. The rate of closure could accelerate dramatically as a result of the punitive increases in rates proposed by the government.
The problem can be seen in sharp focus in St Albans in Hertfordshire, where publicans think as many as 20 pubs could close, unable to make a living when their rates go up. 35 publicans attended a meeting this week, convened by Sean Hughes, who runs the 15th century Boot pub opposite the historic Clock Tower. The landlords decided to launch a petition to stop the increases, which their customers can sign online in the pubs.
The impact in St Albans will be especially badly felt as it prides itself on having more pubs – 50 – per square mile than any other town or city in the country. But Sean Hughes thinks many of them will pull down the shutters as a result of rate rises.
"It's not sustainable," Sean says. "In the Boot, I will have to sell an extra 22,000 pints a year to pay the extra rates – and that's at a time when people are drinking less beer!"
At the moment he pays £14,000 a year in rates. Under the government's scheme, that will rise to £53,000 – an increase of 280 per cent.
He says 29 of St Albans' pubs in and around the city centre will in total pay £700,000 a year more in rates. The pubs include Ye Olde Fighting Cocks, officially the oldest pub in the country with close links to St Albans Abbey.
The angry publicans point to the fact that while rates for pubs in St Albans will rise sky high, Sainsbury's giant hypermarket, on an industrial estate between the city and London Colney, will decrease by 10 per cent.
Pubs face similar problems in neighbouring Hatfield. Andy Parish runs the Eight Bells in Old Hatfield and says the increase in rates puts him "on the cliff's edge. I may have no other option than to close the doors for the last time because we wouldn't be able to afford it."
The Eight Bells, in common with many pubs in St Albans, is rich in history. It's an old coaching inn dating from 1630 and – with thick beams, standing timbers, wood and slate floors and old settles – is Grade II listed. Dick Turpin is said to have stayed there and escaped his pursuers. Charles Dickens used it as the model for the pub in Oliver Twist where Bill Sikes ended up when he fled from London after killing his lover Nancy. Now this history is in jeopardy.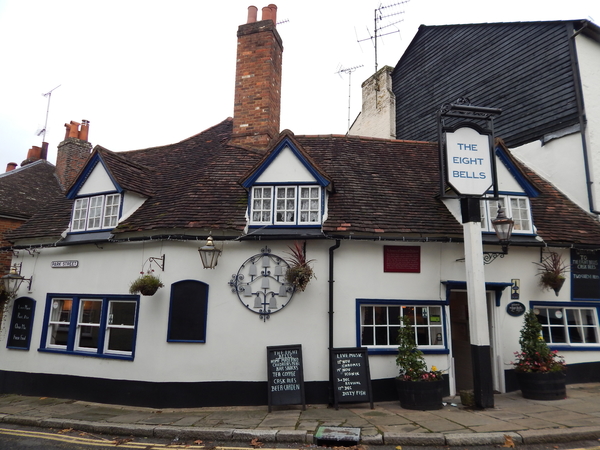 Adam Richardson, who runs the White Horse in Welwyn – another historic coaching inn -- says: "I'm fuming. We're facing a huge increase of 50 per cent. We'll have to find an extra £15,000 a year. We are definitely going to appeal but if that's not successful it could be the pub becomes unprofitable."
Peter Rawlins, leaseholder of the Candelstick in Essendon, says: "It's a ridiculous increase. The rateable value was £7,800. The Valuation Office Agency are now saying it will be £19,750. That would not be affordable and we will certainly appeal."
Writing in the Guardian on 23 February, Simon Jenkins, who lives in London, said: "My local publican, an independent, has to find another £11,000 in rates next year, in effect an £11,000 impost on his income. He might have to close, as have roughly a third of the shops in my high street in the past two years."
He attacked successive governments for domestic policies directed towards boosting London.
"What was daft was to heap the entire burden of seven years of non-revaluation on to what would inevitably be small and poor as well as big and rich shops, pubs and workplaces. In inner London, the valuation cap on H-band houses means that homeowners would pay no extra council tax, however far above £1 million their houses might rise in value. In Belgravia, a tiny flat pays the same council tax as a palatial mansion.
"Shops and pubs are therefore seeing their taxes soar, in part because neighbouring houses have been rising in value yet incurring no extra tax. It is not the rich who are paying these new business rates, it is those who service them."
In St Albans, Sean Hughes says local publicans want the government to put a cap on rate rises for pubs, as has happened in Scotland. They also want a review of the system to bring in fair and equitable levels of rates for pubs.
With Philip Hammond's budget just two weeks away, a change in policy is urgently needed before the old pub cry of "Time, gentlemen, please" becomes a self-fulfilling prophecy.
The Campaign for Real Ale (CAMRA) is calling for a reduction of up to £5,000 from pubs' business rates and an improved transitional relief model for pubs facing high increases in rates ahead of the Spring Budget next week.
CAMRA is concerned that four in 10 pubs in England will be facing an increased business rate bill this year, which could lead to pub closures, job losses and a rise in the price of a pint in pubs. The Campaign is calling for urgent action in this year's Budget to assist affected pubs, which includes a £5,000 rate relief reduction and greater funding for transitional caps to help reduce bill increases in the first year.
Beyond these immediate measures, CAMRA would also like to see a fundamental review of business rates to determine where the burden lies and ensure that successful pub landlords are not unfairly penalised for investing in their business.
Keith Bott, joint owner of Titanic Brewery, a small business that owns and operates eight pubs in Staffordshire said that the increase in rates will cost his business "tens of thousands of pounds" once a transitional rate relief period ends in five years. He says: "We've seen a 25% increase in rateable values across the board which for pubs is based on property value and turnover. The government needs to recognise and understand that in many instances this means we are taxed on success. Pubs are responsible for 0.5% of turnover of the UK economy but pay 2.8% of business rates."
CAMRA's National Chairman Colin Valentine says: "Pubs across England are continuing to struggle with high levels of taxation. Around one-third of the cost of a pint in a pub is made up of one tax or another. Many pubs are facing increases in the amount they pay in business rates and ultimately, it will be the consumers who pay the price as publicans are forced to put up prices.
"While around half of pubs will benefit from changes in business rates set to be introduced in April, others will face large increases and we must to do more to reduce the tax burden. Pubs provide a vital role in the communities they serve. Enjoying a pint in a pub has a hugely beneficial impact on a person's wellbeing - making people feel happier and better connected to their local community. We want to level the playing field for pubs in order for them to continue to service local communities."
CAMRA is also calling on the Treasury to reduce beer duty by 1p to help cap the price of beer, keeping more money in consumers' pockets and helping the pubs and brewing sector to grow. Over 4,000 members have contacted their MP to persuade them to support these measures in this year's Budget.
:
If you no longer wish to receive mail from us, you can unsubscribe
Campaign for Real Ale, 230 Hatfield Road, St Albans, Hertfordshire, AL1 4LW