Feature
Hawkshead's Brodie: bullish about cask
Added: Monday, January 30th 2017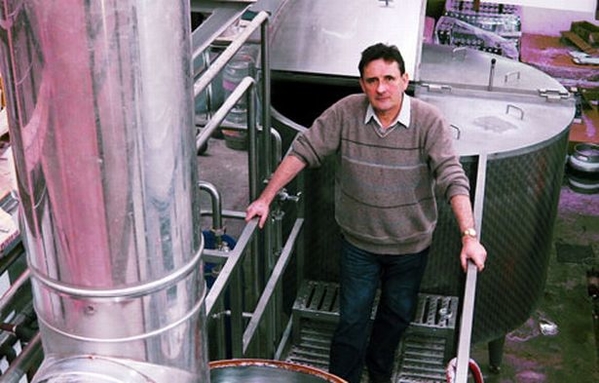 Alex Brodie describes himself as "bullish about cask beer" as he plans a rolling programme of session ales every month during 2017. The founder and owner of Hawkshead Brewery in Cumbria produced more than one million litres or 6,500 barrels of beer last year – and 65 per cent of that was in cask form.
"Cask led the British brewing revolution," he says. "It's unique to Britain – cask is this country's craft. We believe in it and we're investing in it."
Alex gave up a successful career in journalism to create Hawkshead in 2002 in old barns in the village of Hawkshead. He was the BBC's Middle East correspondent and he followed that as an anchor on the prestigious Radio 4 Today programme.
He's a rarity in the field of journalism – he has a good head for business. Hawkshead rapidly outgrew its first location and in 2006 he moved to Staveley where he installed bigger brewing kit and developed the Beer Hall. This is a showcase for brewing where visitors can watch beer being made while eating in a dining area and bar.
Brewing capacity has been increased several times following the move to Staveley. Every March and July Alex and his team stage the Northern Craft Beer Fest that celebrates craft brewing in the north of Britain. Collaboration beers with other brewers are featured at the festivals. One of them – Session IPA, 4.7 per cent – created the idea for a monthly mid to low-strength ale during 2017 and was the first beer launched in January.
"Cask ale is an integral part of the craft beer movement – however you want to describe it," Alex says. "It's not only unique to the UK but it sparked the beer revolution that has been invigorated by the American influence.
"But the original influence came from UK cask beer in the 1980s. The battle to save cask beer started in 1971 but it's not long since we could say the battle had been won. Ten years ago if I attempted to sell my beer to publicans who sold only keg, they just didn't get it."
He says the big change came early this century when cask beer broke through. "There was a perfect storm, created by people who cared about provenance and localism. On the back of that, new types of beer have developed – and there's room for them. But the critics of cask lack historical perspective."
He has no problem with non-cask beer or the young brewers making them. He describes new wave brewers as "good mates. It's bloody brilliant to see the range of beers available now.
"I can remember when you used to have to travel for miles to find a pub serving good beer. We have a lot to celebrate and beer lovers should rejoice at the choice available today."
Hawkshead has a big range of beers and while Alex is committed to cask he produces German-style weiss or wheat beer, sour beers such as Chuckleberry Sour, high gravity stouts and dark beers and some big IPAs.
But he believes there's a demand for low-gravity session cask ales in what he calls "a vibrant market with room for both speciality beers as well as traditional ales.
"People who live in towns want to enjoy two or three pints of low-gravity cask beer after work – and that sector is growing."
Alex says he hasn't got involved in the current debate about cask beer being priced too low.
"We don't compete on price and we make a decent profit," he says bluntly.
*Hawkshead Windermere Pale (3.5%) was named Champion Beer of the North West on 15 February and will now go forward to the finals of the Champion Beer of Britain competition at CAMRA's Great British Beer Festival in London in August. The award was made at CAMRA's Liverpool Beer Festival. Since it was launched in 2009, Windermere Pale has won several awards from SIBA and a Silver Medal in the International Brewing Awards.