Feature
Tottenham hails Beavertown ales
Added: Sunday, September 4th 2016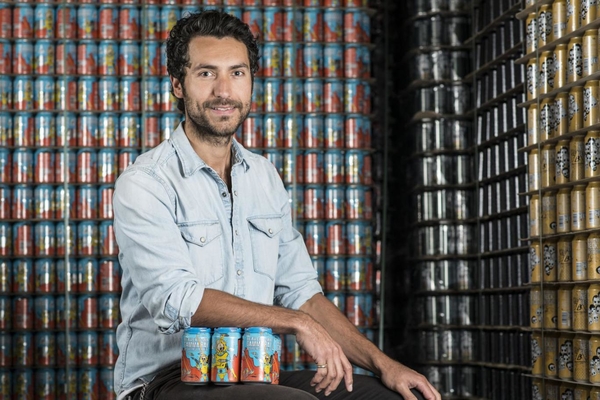 When I first went to Beavertown Brewery in April 2015 I had to skirt round wet cement that had just been laid to make room for additional fermenting vessels. Now they're firmly in place and the brewery at Tottenham Hale, North London, looks like the backdrop for a sci-fi movie, with gleaming stainless steel vessels pointing towards the heavens.
Logan Plant's rise has been equally stellar. He started brewing in his kitchen in 2011 and several moves later he's producing more than 40,000 barrels a year. Along the way, he's become a pacesetter in the craft beer movement, moving from cask and bottled beers to Key Kegs and cans.
As we pass a stack of kegs in the warehouse, he sighs with audible pleasure: "Ah, Key Kegs!" They've enabled him to sell beer to bars and restaurants that can't handle casks with the all tapping and venting required.
But he's not turning his back on tradition: to one side of the warehouse, oak casks from the wine and whisky industries hold beers for his Tempus Barrel programme that will release sour and farmhouse beers for aficionados to sample.
Logan, aged 39, grew up in the Black Country where his father, Robert Plant – who later achieved fame as the front man for Led Zeppelin – took him to the legendary pubs run by Batham's and Holden's. Beavertown's Neck Oil Session IPA takes its name from the nickname for bitter in the Black Country and you can still pick up a trace of the local accent when Logan says "Dudla" for Dudley.
There's another sigh: "Batham's Bitter in the Bull and Bladder! A bit like IPA." Was this the beer that inspired his love for India Pale Ale, with several interpretations pouring from the 11,000 square feet brewery, offices and warehouse on a sprawling industrial estate in Tottenham?
Back in 2011 he brewed on old kitchen equipment in his home and then moved to another kitchen at Duke's Brew & Que bar and restaurant in De Beauvoir Town in Hackney. To local Cockneys, who can't be bothered with fancy French names, the area is known as Beavertown, hence the name of the brewery.
When sales of his beers took off he moved to another site in Hackney but was forced to look for bigger premises and ended up in Tottenham where he already needs additional space. Along the way he has picked up a large staff, including head brewer Jane Merrick (below) who was named Brewer of the Year in 2015 by the British Guild of Beer Writers.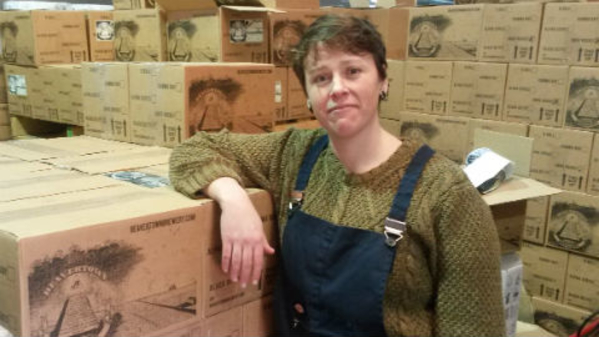 He also has the services of designer Nick Dwyer who was a waiter at Brew & Que but he has used his artistic talents to produce dramatic cans showing skull-like faces, space ships and ray guns – which helped boost interest in one of the early brews, Gamma Ray American Pale Ale.
Logan admits to a love affair with West Coast American pale ales. As well as Gamma Ray and Neckoil, he brews 8 Ball Rye IPA – which has 20% rye in the grain bill -- and Black Betty. The standout beer in the range, as far as I'm concerned, is Bloody Ell, which I first came across at Norwich City of Ale in May. A few sips produced a Londoner's eruption of surprise and joy: "Bloody 'ell!" It was simply the best beer I had sampled for some time.
The inspiration for the 7.2% beer came from a visit to the U.S. in the winter of 2013 where Logan did a collaboration brew with Dieu du Ciel brewery from Montreal and Dogfish Head from Delaware. Dogfish Head founder Sam Calagione built a reputation for way-out beers with high levels of alcohol and the use of such additions as pumpkin and maple syrup and Logan looked around for an intriguing ingredient to add to a strong IPA.
In Vermont in the snow, he came across blood oranges and thought: "Zest, juice and hops – what an infusion!"
Back home he brewed two batches of the beer and bought 18 tons of Sicilian blood oranges. He had to crush them by hand to get the juice and zest, which are added in the copper whirlpool when the "hopped wort" has been boiled with Amarillo, Citra and Simcoe hops.
"People went crazy over it," Logan recalls. "We brewed 70,000 litres this year and it's now in cans."
Could I have a sample? "No, you'll have to wait until January or February next year when we can get more fruit." I've put my name down. But I didn't leave empty-handed as Logan generously gave me a couple of cans of Bloody Notorious, a Double IPA at 9.1% that's a collaboration brew with Boneyard Beer of Bend in Oregon.
The brewery was founded in 2010 and used old kit thrown on to junk yards – hence the name Boneyard. It has grown rapidly to 15,000 barrels a year, has shiny modern vessels and produces several IPAs, including Notorious at 11.5%, with no fewer than 80 units of bitterness.
Bloody Notorious is based on the American beer with the addition of blood oranges and it will blow your socks off with its massive hit of tart orange fruit and piny, spicy and citrus fruits.
Beavertown exports to 20 countries but 90% of production is sold in London and surrounding areas and Logan wants to keep it that way. "I want my beers on every street corner," he says.
He has brewed both cask and bottle-conditioned beers in the past but production is now based on keg and can. He has no dispute with CAMRA and says he appreciates that the campaign is responsible for creating the market for craft beer.
He's intrigued by CAMRA's current Revitalisation Project, which is asking all its 180,000 members which direction to take in future and whether the campaign should embrace craft keg.
He points out that his beers are not fined, filtered or pasteurised and contain live yeast. The only difference between his beers and cask ales is that they are served by light gas pressure.
And for my money, the Beavertown beers are simply bloody marvellous.
*Beavertown Taproom is open on Saturdays from 2-8pm. Units 17 & 18, Lockwood Industrial Park, Mill Mead Road, Tottenham Hale, London  N17 9QP/ www.beavertownbrewery.co.uk
BREAKING NEWS: Beavertown launches first "straight" IPA
Monday 5 September:-Logan Plant, owner and founder of Beavertown Brewery, has today launched his first "straight" IPA, Lupuloid IPA, 6,7%. He says it has "no funny business, just malt, yeast, water and hops -- lots of hops." The beer has taken four years to develop and was the result of consulting drinkers about what type of IPA they would like the brewery to produce.