Feature
American hoppy IPAs bounce into Berlin
Added: Monday, June 27th 2016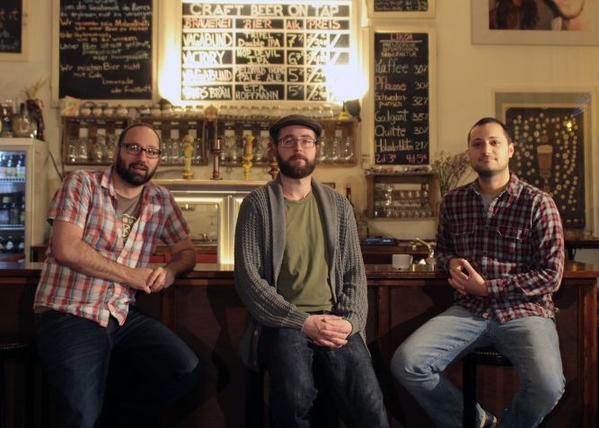 Three young Americans with a love of good beer abandoned a musical career and now brew in Berlin for a cosmopolitan audience of local people and Americans, Brits and Irish living in the city.
David Spengler, Tom Crozier and Matthew Walthall (above, left to right) came together from different routes. Spengler worked for the Peace Corps and followed a young woman he had fallen for to Berlin where she was studying. He taught English and met Walthall who was also teaching. They formed a band and hooked up with Tom Crozier when he arrived in Germany and agreed to play bass in the group.
But they missed American craft beer and started to brew in Matt Walthall's apartment. "We brewed a lot of beer and we just got better and better at it," he says.
David Spengler adds that they were spurred into moving into commercial brewing by an article in Die Welt newspaper saying craft beer would never take off in a deeply conservative beer-drinking country dedicated to lager and the Reinheitsgebot purity law. As a result, he says, "We stopped the band and decided to start brewing. Beer was a hobby but it became commercial."
In July 2013 they opened a bar, Vagabund, in the sprawling Wedding district of Berlin and added a small brewery on site one year later. The bar is small and cheery, with wooden benches and tables, and whitewashed walls decorated with quotes about beer including a mangled one from Albert Einstein: "Two things are infinite: the universe and the amount of beer in my tummy, and I'm not sure about the universe" -- he actually said human stupidity, not beer.
Chalk boards behind the counter announce the beers on tap and Vagabund's own version of the Reinheitsgebot: "Our beers are brewed from malt, hops, yeast and water and are unpasteurised, unfiltered and unhomogenised."
The brewery at the rear of the bar is tiny and can produce 200 litres or 350 pints per brew. Along with a smoked beer, the two main offerings are an IPA with the folksy name of Hey Now All-Star and a Double Imperial IPA, which flies the flag in Germany for this very American interpretation of the style.
All-Star IPA is 5.8% and is brewed with pale malt and Amarillo, Cascade, Citra and Simcoe hops. It has a hazy gold colour with toasted malt, floral and herbal hops on the aroma with a powerful note of elderflower, followed by buttery malt, spicy hops and floral notes in the mouth, and a dry finish with tart fruit, biscuit malt and spicy hops. It is wonderfully refreshing.
Double Imperial IPA weighs at 7.5%. Pale malt is joined by Cascade, Centennial and Columbus hops and the beer is dry hopped with Simcoe. It has a cloudy bronze colour with a big elderflower and cinnamon nose with biscuit malt and spicy hops. The palate is intensely dry with hints of lemon fruit, cracker-like malt and peppery hops. The finish has a challenging bitterness with powerful notes of crackers, lemon fruit, peppery hops and spices. It's quite a mouthful.
David Spengler says Vagabund is not an "ex-pat" bar but attracts many locals. They are getting a taste for beers quite distinct from the traditional Berlin ones and their liking for IPA and other American styles will help fuel the debate over the future of brewing in Germany.
*Vagabund Brauerei, Antwerpener Strasse 3, 13353 Berlin. 030.5266 7668. info@vagabundbrauerei.com. Opening hours: Mon-Fri: 5pm-???; Sat & Sun 1pm-??? "We close when we close". U-Bahn: Seestrasse, line 6.