Feature
Bruce's brewery is heading for the big time
Added: Thursday, March 31st 2016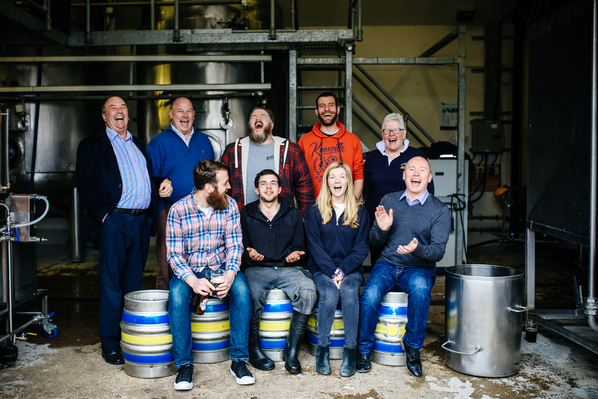 The phones were ringing off the hook at the West Berkshire Brewery as eager investors clamoured to join a crowdfunding initiative announced on 29 March. Chairman David Bruce, still best known as the man who launched the Firkin chain of brewpubs back in 1979, had wanted – with his infamous penchant for terrible puns and bad jokes – to announce crowdfunding on 1 April, All Fools' Day, but wiser counsels prevailed.
The brewery has come a long way in a short time but is now about to embark on its greatest journey. It opened at the Pot Kiln pub in Frilsham in 1995 and moved to its current site at Yattendon in 2011.  In 2013 David Bruce, who lives in the area and enjoyed the beers, took a stake in the company and worked with founders Dave and Helen Maggs until they retired.
Bruce, who has also run the Slug & Lettuce and Capital Pubs groups, used his marketing flair to rapidly expand production of a range of cask and bottled beers, with the premium bitter Good Old Boy as the flagship brew. Sales have grown by 23% a year, have already notched up a 19% boost this year and are worth £2m annually. (David Bruce is seen above standing left with his brewing and sales team and below with chief executive Simon Lewis and head brewer Will Twomey.)
Now Bruce needs a new brewery and he has found an adjoining site where he will be able to brew 10 times more beer. He is working with a new chief executive, Simon Lewis, with wide experience of the brewing industry with Charrington, Bass and Purity, and finance director Tom Lucas who has been with WBB since the Maggs were in charge.
Their target for the new brewery is £4m. They have raised £2.75m through the Enterprise Investment Scheme and are confident of reaching the target through crowdfunding, with the slogan "Beer a Part of Our Journey". The initiative will run for 60 days and shares can be bought for £3, with a minimum purchase of five shares.
The new brewery will be built on part of a two-acre farm that is part of the Yattendon Estate owned by the Iliffe family. Lord Iliffe was a newspaper baron who amassed a fortune of £200m from owning papers in the Midlands, including the Birmingham Mail.
Bruce and his team plan a brewery, pub and visitor centre in currently empty buildings. They hope to open the brewery in the autumn, with kit already ordered from an Italian manufacturer, CFT of Parma.
It will be based on the European system of mash mixer, lauter tun and copper whirlpool, enabling the brewery to produce ale, lager and wheat beer. It will have a brew length of 40 barrels and will be capable of three brews a day. A bore hole on the farm will supply pure water for brewing.
A bottling and canning line will also be installed.  The core business will remain the West Berkshire cask beers, with Good Old Boy accounting for 63% of ales – "it's a £1m brand," Simon Lewis says. But WBB recognises the changing world of beer and is meeting new demands and challenges with keg and bottled beers under the Renegade name.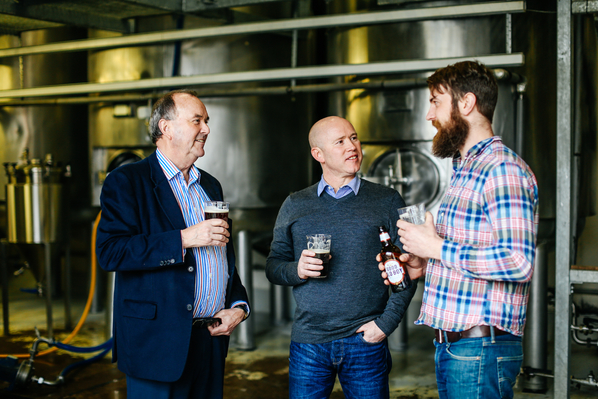 To date the beers include West Coast Pale Ale (5.1%), Craft Lager (4.5%) and India Session Ale (4.2%). West Coast is a major departure for WBB, whose cask ales are made with English hops. The American-style beer is brewed with Cascade, Chinook, Columbus and Summit varieties. The lager on the other hand is brewed with Fuggles and Progress hops and – until the new plant is operational – is made for WBB by Wadworth in Wiltshire and is aged for a respectable six weeks.
India Session Ale (4.2%) is WBB's take on a new American development – more approachable IPAs with lower rates of alcohol and hop bitterness. There is, nevertheless, a good citrus edge to the beer from Pacific Gem and Jade varieties with an English touch from Northdown.  
Simon Lewis says West Berkshire delivers to some 600 pubs a month but they are not all regular accounts. He believes the Renegade beers will help the brewery gain more consistency among its outlets.
"To achieve that we needed a distinctive new name," he adds. West Berkshire sales are no longer confined to the Thames Valley and the beers are now delivered to London, Bristol and Oxford, with further expansion planned. The Renegade beers will not detract from the key cask brands. As well as Good Old Boy, they include Mr Chubb's Lunchtime Bitter, Maggs' Magnificent Mild, Mr Swift's Pale Ale and Dr Hexter's Healer, all named after Thames Valley characters on land and canal.
When WBB moves to its new home, it will take with it a 10-litre pilot plant at the current site. This is used for trial brews and also by keen home brewers. The kit was used by two students who won a competition to make a beer for Reading Football Club: the beer is called 106 and recalls the record number of points chalked up by the club when it was promoted from the Championship to the Premier League.
And with David Bruce at the helm, West Berkshire is now heading for the premier league of the craft brewing industry.
*West Berkshire Brewery: www.wbbrew.com; 01635 202968