Feature
Drink Stewart's beer -- or make your own
Added: Monday, March 21st 2016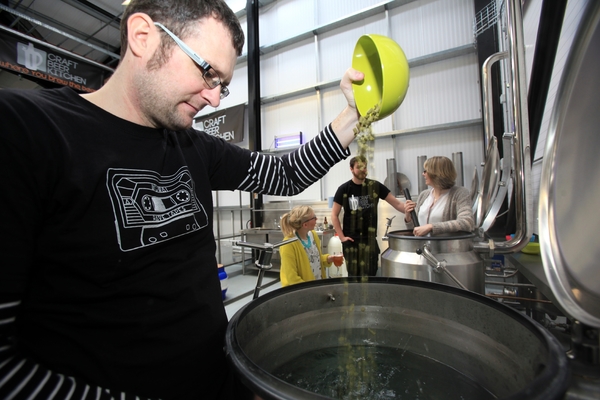 It's not a good idea to run out of beer during the Edinburgh Festival, Scotland's annual jamboree of the arts, literature and theatre. So Steve and Jo Stewart have addressed the problem by ordering additional brewing vessels for their site in Loanhead.
The location is inauspicious, but Stewart Brewing, tucked away on the far corner of an industrial estate a few miles from Edinburgh, is fast becoming a major player on the Scottish beer scene. In a country where lager has long been the biggest style of beer available, the Stewarts and their team are proving there's a growing demand for cask ale north of the border.
The substantial site has room for expansion. As well as new brewing vessels, the Stewarts plan to add a restaurant where they can match beer with food.
The company has come a long way in a short time. It was set up in 2004 by Steve the brewer (pictured below) and Jo, who looks after the sales and marketing side. In 2013 they moved to the new premises to keep up with the demand for their beers – a demand that was pinpointed when supplies ran out during the 2015 festival.
The new tanks will enable them to grow production close to 11,000 barrels a year. The Loanhead kit, built by Bavarian Brewing – a Hungarian company despite the name -- cost a cool £1 million and was part-funded by a £150,000 grant from the Scottish Government.
With sales growing by 20% a year, the new tanks may not be sufficient to satisfy their customers but the site has room for further growth. Remarkably, 65 per cent of production comes in cask-conditioned form. As a result of the baleful influence of Scottish & Newcastle and Tennents, real ale for many years had limited support in Scotland.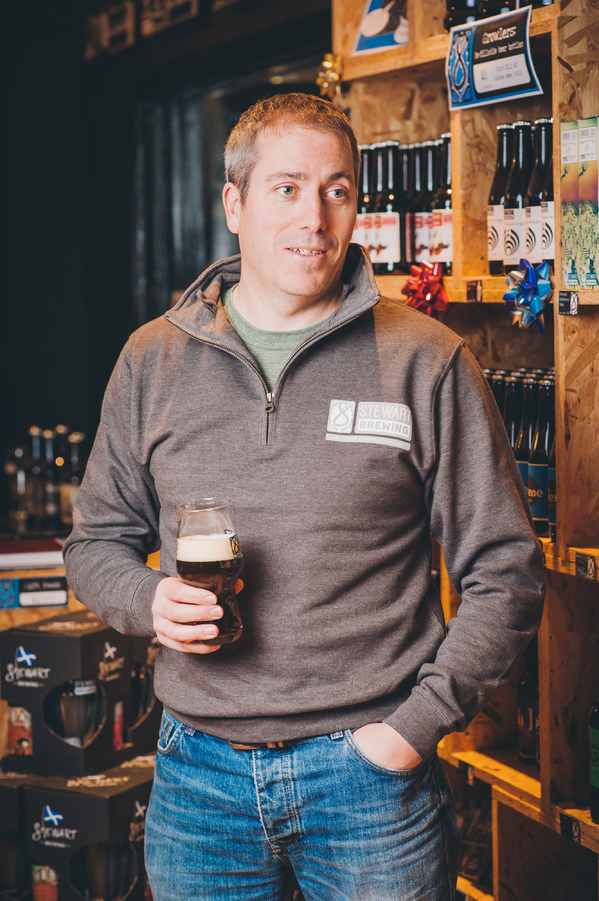 But the beer scene has changed dramatically. S&N, taken over by Heineken, no longer brews in Scotland, though the Dutch group's Edinburgh subsidiary, Caledonian, is now the biggest producer of cask beer in the country. Tennent's may account for 60% of total beer sales in Scotland but that leaves plenty of room for smaller breweries to flourish.
Steve Stewart is a brewer to his fingers tips and mashing boots. He learned not only brewing skills but also marketing expertise in a career with Bass. But it was when he brewed at Harpoon in Boston, Massachusetts, in the United States, that he was fired by the determination to start his own brewery. Today Steve and Jo have a staff of 20 – 14 on the brewing side – with a large shop and have doubled capacity at the new site.
The fast-growing range includes IPA, Edinburgh No 3 – a traditional Scottish "heavy" – Edinburgh Gold and 80 Shilling. The last is a malty brew with a name that stems from a Victorian system of invoicing for beer based on strength: there were 60 and 70 Shilling ales as well.
Recent additions include Skeleton Blues, an American-style wheat beer, Holyrood Pale Ale, a creamy Scottish stout, and two differing interpretations of IPA. Ka Pai is a "South Pacific" concept, brewed with nine Australian and New Zealand hops, while First World Problems is that rare beast, a Belgian-style version of the style.
The hops in Ka Pai, 5.2%, include Galaxy, Green Bullet, Pacific Gem, Nelson Sauvin and Waikatu. The beer has a massive "fruit bomb" aroma but is well balanced by biscuit malt. The palate is tart and fruity followed by a long dry finish with continuing bitter and fruity hops notes.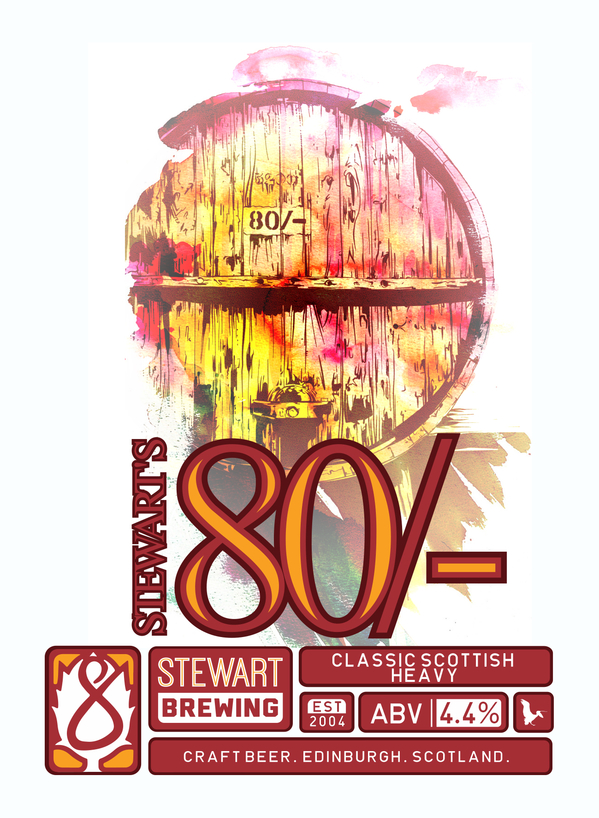 First World Problems, 6.2%, is fermented with a Belgian yeast culture, and has a powerful 80 units of bitterness delivered by Amarillo, Cascade, Citra and Pacific Gem varieties. Pale malt is blended with crystal rye and oats. The chestnut-coloured beer has a fresh bread note on the aroma with ripe orange, mango and peach fruit. The palate is dry with spicy hops, tart fruit and bready malt, followed by a dry, hoppy and bitter finish, with lingering fruit notes.
In sharp contrast, 80 Shilling has just 16-18 units of bitterness from a single hop, Challenger. The grains are pale, crystal, dark crystal and chocolate malts with roasted barley. Bitterness comes as much from the dark grains as from the hops. The nose offers burnt fruit, roasted grain and rich chocolate, with roast, dark fruits and chocolate in the mouth. The finish is dry with continuing burnt fruit, chocolate and roast.
Skeleton Blues Wheat Beer is 5% and is brewed with a 50:50 blend of Maris Otter low colour pale malt and wheat malt, with Amarillo and Simcoe hops. There's luscious, tingling lemon fruit on the aroma, with grassy and herbal hops and creamy malt. Malt, tart fruit and herbal hops build in the mouth followed by a long finish that ends dry and is dominated by rich malt and tangy fruit.
The multi-functional brewing kit, based on a mash mixer, lauter tun, kettle and whirlpool system, enables Steve and head brewer Bruce Smith to produce lager as well as ale. Franz, 4%, is unfiltered and carbonation in keg comes from fermentation, not applied gas. Czech Saaz is the main hop, with Cascade used as a dry hop. The beer has 25 bitterness units. A tiny proportion of cara malt is blended with Pils malt. The beer has a toasted grain aroma balanced by herbal and spicy hops. Lemon fruit builds in the mouth with a biscuit malt balance, followed by a bittersweet finish with juicy malt and spicy hops vying for attention.
There's a tongue-in-cheek name for Stewart's stout. Cauld Reekie recalls Edinburgh's nickname of Auld Reekie, meaning Old Smelly. Historians are divided over whether the name comes from the odours of malts and hops when there were breweries along the Royal Mile in the city centre, or from the stink created when the contents of piss pots were emptied from tenement windows on to the streets below. Or both.
The beer is 6.2% and is brewed with an amazingly complex grain bill of Maris Otter pale malt, roasted grain, crystal, dark crystal, and chocolate malts plus wheat. The hops are Challenger, Magnum and Northern Brewer. The beer is rooted in the tradition of Scottish stouts, with a creamy malt base, dark fruits and chocolate but with a solid underpinning of spicy and herbal hops.
Stout is the base for three barrel-aged beers, matured in bourbon, single malt and Speyside casks: http://protzonbeer.co.uk/beers/2016/03/elysium-speyside-malt-edition. They are superb beers, rich in malt, vanilla, oak and smoke character.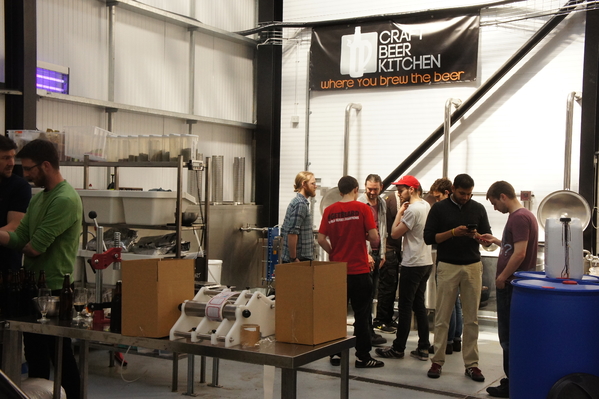 Stewart Brewing also reaches out to the community. Alongside the main brewhouse, the 80 litre Craft Beer Kitchen (top and above) enables local people to brew their own beers and have them professionally bottled and labelled. The small plant is also used by students and graduates at Heriot-Watt University's brewing school to give them hands-on experience of the brewing process. The beers students produce are called Natural Selection and, not surprisingly, include Origin, with an image of Charles Darwin on the label, along with Red Ale and even a Peanut Butter Stout. Five hundred brews to date have been made in the kitchen and amateur brewers can have their beers bottled with high-quality labels. The small plant is also used by Stewart's brewers to produce trial brews.
Stewart's beers, in cask, keg, bottle and can, are available throughout the Central Belt in Scotland and in particular in free houses in the Edinburgh area. They are taken by Punch Taverns and Wetherspoon, with packaged beer in branches of Sainsbury.
The beer scene in Scotland is changing at a fast pace – and for the better. Stewart Brewing is at the heart of the change and is offering drinkers beers made with skill and passion.