Feature
Moorhouse's in for long haul in north-west
Added: Monday, January 18th 2016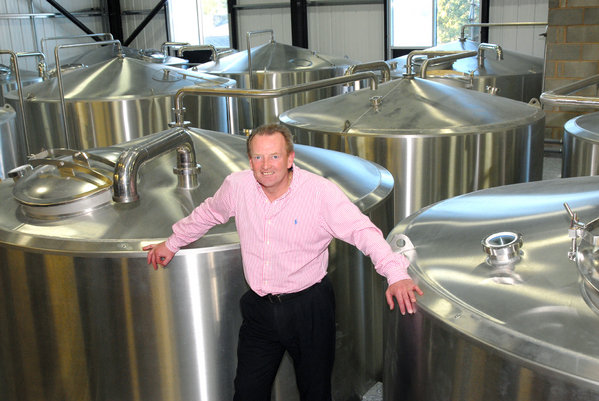 Local communities can save pubs and they can also come to the aid of breweries. Moorhouse's of Burnley is not struggling – it's producing 20,000 barrels of beer a year – but it's in an area hit hard by the loss of traditional industries where mill workers and miners had prodigious thirsts.
When David Grant joined the brewery in 2001 it was producing just 35 barrels a week. His experience as a salesman with Courage, Wilson's and Marston's has helped boost sales to 400 barrels a week. With the support of owner Bill Parkinson, he masterminded the installation of a new £4.2 million brewhouse in 2011, which indicated great belief in the future of brewing in the North-west.
It's a major brewery today, with a staff of 38 and an annual turnover of £6 million. But it's been a tough battle to build sales in a town that has had more than its fair share of problems.
"We had the riots of 2001," David says. Minor clashes between ethnic groups were used by far-right groups to stoke up tensions that led to the fire-bombing of properties, including one pub.
"That was a dark time for Burnley," David adds. "But since then a lot of money has been thrown at the town. Business people set up a bond holder scheme with the support of the council and the football club."
A strong sign of the community spirit can be seen in the co-operation between the council and the brewery. When Moorhouse's needed to expand to install its new brewhouse, the council cleared empty properties from the site.
"We all worked together for the good of Burnley and talked positively about the town. We got a big boost when the football club was promoted to the Premier League and we have a new technical college that helps create jobs in the area."
Burnley is thriving today, with key firms supplying the aerospace industry along with a number of new business parks. The town's success was marked in 2013 with an Enterprising Britain award from the government while a new, improved direct train link to Manchester will open soon and put the town more centrally on the map.
But none of this new success translates into improved sales for the brewery. Younger people in Burnley may have money in their pockets but, David Grant says, they have "a different mindset" and are not regular pub goers. The changing nature of social life means that Moorhouse's had to make the difficult decision to close three of its six pubs, including the much-loved brewery tap over the road.
"It was costing us £1,000 a week to keep it open," David says. "Wet-led pubs have had their day. People want food. We are still keen to buy pubs but they have changed out of all recognition. We may look at micro bars that are appearing on the high street – they're inexpensive to run and make a good profit."
The brewery's three remaining pubs – the Rising Sun in Blacko, Pendle Witch in Atherton and Craven Heifer in Rossendale – are in areas with a more traditional customer base. Beyond them, Moorhouse's trades with 500 regular outlets a week and 50% of the brewery's business is with Enterprise, Punch and Wetherspoon.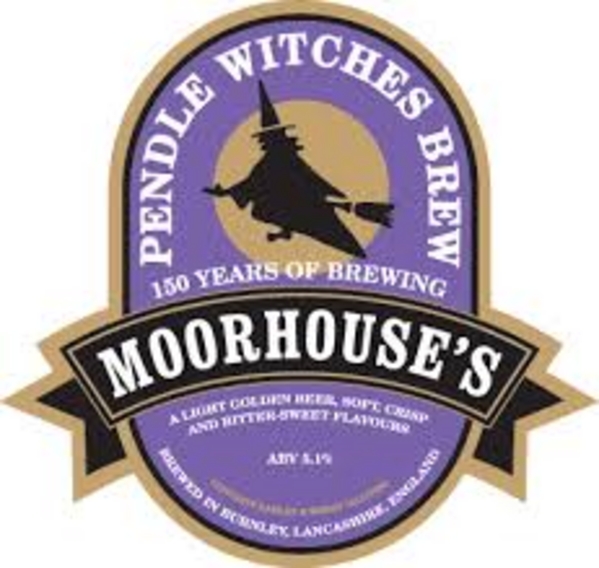 They're companies that drive a hard bargain. "The pubcos find times challenging," David says, "and they look to their suppliers to reduce their margins. The pubcos have to cover their losses but it's a model that won't last too long." He is full of praise for smaller pub companies and describes Brunning & Price, based in Chester, as "brilliant to deal with".
In spite of the new brewery and many prizes for the beers, Moorhouse's is not currently in profit. "We need to sell 700 barrels a week," David Grant says. "We're not there yet but we should hit that target this year and our shareholders are right behind us."
Moorhouse's has had a roller-coaster history. It was founded in 1865 to make mineral water and "temperance beer" – less than 2% alcohol. It was only in 1978 that it started to produce cask ale and it was on the road to success when its owner, Alan Hutchinson, launched Pendle Witches Brew in 1982.
But Hutchinson died suddenly in 1985 and the brewery seemed destined to close until Bill Parkinson arrived on the scene. He owns Lifting Gear Hire, a global company famous for rescuing the stricken Russian submarine Kursk. Parkinson is a real ale drinker who enjoys Pendle Witch. He was supping a pint one night when he heard Moorhouse's might close so – following the lead of the man who famously liked the Remington shaver – he bought the firm.
Parkinson invested £½ million in new brewing kit, a distribution depot and six pubs. He head-hunted David Grant who built sales of the beers and, with Parkinson, turned Moorhouse's into a
northern powerhouse with the new brewhouse in 2011.
David says there are two linked problems that impact on his sales and profitability. There's intense competition from the wave of new small breweries and they benefit from Progressive Beer Duty.
"I have to pay 95% of the full duty rate," he says. "I'm not against PBD but it need realignment. It's not a true sliding scale. Once you brew more than 30,000 hectos there's a big curve to climb.
"It also stops people developing their breweries as they're frightened of going over the limit. Bigger brewers get no help or assistance and can't invest. I think a number of established breweries will give up – Thwaites have gone and they won't be the last."
In spite of all the obstacles in his path, he's optimistic about the future. "Cask is still growing," he declares. "We're sticking with cask and bottled beer. I don't know what 'craft keg' is. The people who make it are getting away with high prices but it should be cheaper than cask beer – C02 is not expensive!
"There's some pretty green [immature] beer being put into kegs and gassed up. Cask is easier to drink that keg – it's not bloating."
Moorhouse's sprang to national attention in 2000 when it won CAMRA's Champion Beer of Britain award for its Black Cat dark mild. Sixteen years on, David admits the 3.4% beer is "dying a death. We did a 7% version for Booth's supermarkets and I may have to increase the strength of the draught version – but that would make it more expensive."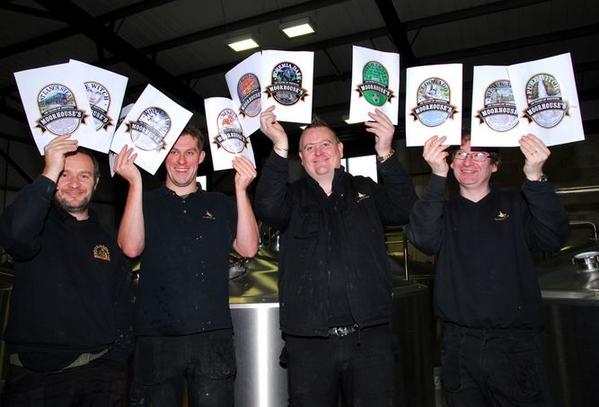 His core range is Pride of Pendle (4.1%), Blond Witch (4.5%) and Pendle Witches Brew (5.1%). The recent addition of White Witch at 3.9% has been a major success – "the right colour and ABV," David says.
He will supplement the core range with 12 seasonal ales this year, including one to mark the European football championship (Pitch Craft) and another – 90 -- to celebrate the Queen's 90th birthday. He gives his four brewers (above) the opportunity to design their own beers and some will use New World hops.
He is bullish about the future. "These are exciting times. The leisure industry will change. People will want to go out and socialise and eat – and the driver will be the pub.
"There will be fewer pubs but they will be better pubs. The service has to be great and we need to stress the importance of beer by having beer menus as well as wine menus in pubs."
The only fly in the ointment, he says, is the Chief Medical Officer's new drinking guidelines of just 14 units a week for both men and women. Manchester-born David is an affable fellow but he becomes angry when he discusses the guidelines.
"I wish do-gooders would leave us alone," he says. "They want to ruin people's lives. They're trying to kill us off. All the images on TV when the new units were announced were of cask beer being served in pubs – no sign of gin or vodka being sold cheaply in supermarkets.
"Pubs are a safe environment and beer is the least harmful form of alcohol."
Moorhouse's runs regular brewery tours where groups can view the brewing process then enjoy a few pints over a hot pie supper. The tours are in great demand but the Chief Medical Officer should be advised not to put her name on the list just now.