Feature
Teo Musso, the rebel with a cause who has changed the face of brewing in Italy
Added: Tuesday, September 24th 2013
Teo Musso is a force of nature, una persona dinamica. He is acknowledged and revered as the father of the brewing revolution that is sweeping Italy, from the far north to Naples in the south and across the wide stretch of sea to Sardinia. Today there are some 580 independent craft breweries in the country and the pacesetter without question is Teo's Baladin beer. His products, in wine-shaped bottles, are available in smart restaurants and bars, as well as in the growing number of his Baladin bistros.
The crowds said it all in Via Solferino in Milan in mid-September. Young people spilled out on to the pavement on the opening night of the latest Baladin bistro. They were clutching glasses filled with amber, gold, bronze and red drinks. Inside, more people were queuing patiently at the bar for refills.
Italy is a country famous for its wine but beer was the order of the night as the Milanese celebrated the opening of Teo's new bistro Baladin, with the maestro himself helping out behind the bar.
Before the doors opened, I was ushered into the basement of the bistro where I had lunch with Teo, aged 49. He grew up in the small town of Piozzo in Piedmont where his family were involved in wine making: this is the region that produces such classic wines as Barbaresco and Barolo.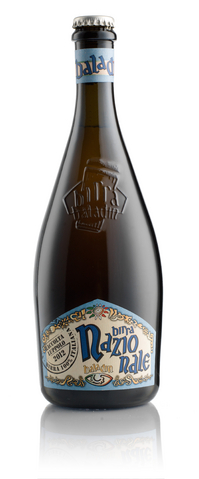 But Teo rebelled and declared he preferred beer. He worked for a while in a hotel in Monaco where he discovered the Belgian Trappist ales from Chimay. He was hooked and went on a voyage of discovery in Belgium. When he returned home he opened his first bar – in a tent – in Piozzo in 1996.
A group of travelling French minstrels named Cirque Bidon (www.cirquebidon.fr) visited the town and the owner suggested toTeo he should name his bar Le Baladin -- the storyteller -- after them.
Piozzo is remote but beer drinkers, tired of what they dismiss as "industrial beer", beat a path to the first Baladin to sample the range of American and European beers that Teo had assembled.
He was determined to do more than sell beers from abroad. He installed a small brewery and started to make his own beer. The plant doubled in size and then doubled again as it moved to a bigger site, but still in Piedmont.
To date, Teo has produced 30 different beers. The inspiration is Belgian, British and American. But as the leading Italian beer writer and campaigner Lorenzo Dabove stresses, the important thing for new Italian brewers is not to "cut and paste" but to develop their own definitive styles.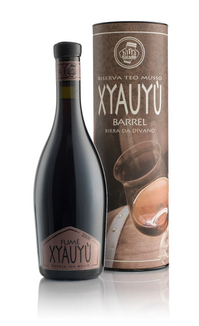 Among the Baladin range you will find Bitter with a hoppy Italian twist and Teo's interpretation of a Belgian Saison. His main beer, Super, is a rich malty/hoppy amber beer, while an intensely hoppy Open Rolling Stone might, possibly, render Mick Jagger speechless. Other beers in the range include white beers based on the Belgian wheat beer style, American IPAs and pale ales, golden ale, two versions of porter, a caramel-tasting amber, a Belgian Dubbel and a strong brown ale with yet again a bow in the direction of Belgium.
He has proudly unveiled Nazionale, the first beer to be brewed with all-Italian ingredients from barley malt and hops that Teo has grown himself in Piedmont. Italy doesn't produce barley or hops and importing the essential raw materials for brewing makes beer expensive compared to wine. But the evidence at Baladin in Milan is that people are prepared to pay the extra euro to enjoy the products.
There are Baladin bistros in Rome, Turin and now Milan where the beers are served on draught. And there are smaller bars in Piozzo, Mondovi, Cuneo and Saluzzo. 
Baladin's club-shaped
bottles have heightened 
their appeal to people 
eating in restaurants
But in Italy it's essential to enter the restaurant sector and Teo's beers are available there in elegant club-shaped bottles. With Lorenzo Dabove, he has designed a special Baladin glass to accompany his beers. The glass, not dissimilar to Fuller's special tumbler for ESB, is of critical importance in a country where la bella figura – style – dominates all walks of life, from fashion to food and drink.
My lunch and discussion with Teo ended with a sampling of some quite amazing beers. His Xyauyú range includes beers aged in rum and Scotch whisky casks. The whisky casks come from Speyside and Islay, and this Scozzese beer is oaky, smoky, creamy, and spicy... and memorable.
Teo is also brewing a collaborative beer with Sam Calagione of Dog Fish Head brewery in the U.S. As the whirlwind that is Teo Musso gathers pace, there may well be a Baladin near you in the not too distant future.
*www.birrabaladin.it.  For up-to-date information about Italian craft beer visit www.microbirrifici.org.