Feature
Time to take the Grand Tour of Italy as craft beer booms from Como to Naples
Added: Thursday, August 22nd 2013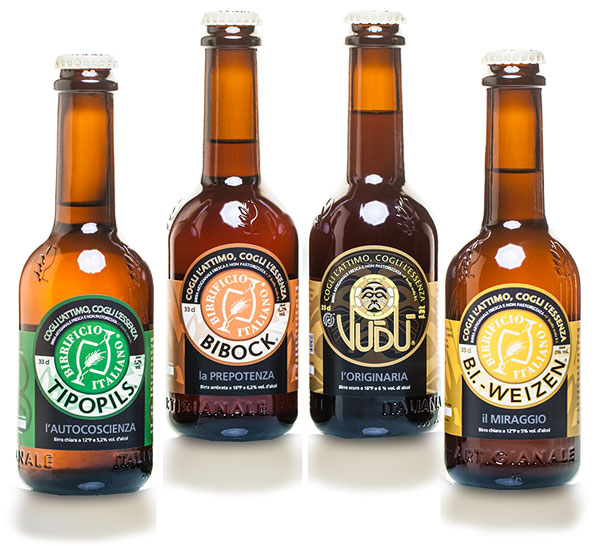 Italy is enjoying a new Risorgimento – of beer. A country held in the grip of wine and mass produced thin lagers for generations is enjoying a mighty upsurge in beer drinking. More than a dozen new craft Italian beers were available at the Great British Beer Festival in London, supported by a nine-strong team of beer writers and enthusiasts.
The team was led by Italy's best-known exponent of craft beer, Lorenzo Dabove, and he was accompanied by Luca Giaccone, who he describes as his "heir". They contribute to a website www.microbirrifici.org that covers all known Italian craft breweries.
Lorenzo, best known under his pen name of Kuaska, said that in 1977, when he helped Michael Jackson write the Italian section of the World Guide to Beer, there were just four brands – and they were all what Lorenzo dubs "industrial beers," such as Moretti and Peroni. In fact, the guide didn't even list Italy as a separate country but placed it in a section called "the Mediterranean".
"Thirty years later, when the book was revised, Italy had six pages," Lorenzo says. "Today Italy has 577 micro breweries, more than Austria, France and the Netherlands. Every day, a new one opens."
"There are 50 beer shops in Rome," Luca adds. "There are new consumers looking for craft beer, not industrial beers."
"Industrial beers are tasteless," Lorenzo says bluntly. "Now many restaurants have beer lists as well as wine lists. Beer and food matching has become very important and chefs realise that wine has restrictions while all courses can be covered by beer."
Lorenzo and Luca pointed to the problems facing small brewers in Italy. There are only a handful of maltings, where grain is turned into malt, and no hops are grown in the country and have to be imported. The result is that beer is expensive – but new consumers are prepared to pay the price.
"I tell breweries not to cut and paste other styles, like American beers," Lorenzo says. "Invent your own styles." Nevertheless, as he admits, many brewers are inspired by what he calls the "classic tradition" and produce ales and lagers in the manner of IPA and Belgian beer – but with an Italian twist.
The duo presented seven beers as examples of the variety and quality now available in their country. Via Emilia is a 5% Pilsner-style lager brewed by Birrificio del Ducato in the Parma region. It's based in the small town of Roncole Verdi, named in honour of the composer Verdi, who was born there. Ducato was launched in 2007 by brewmaster Giovanni Campari and entrepreneur Manuel Piccoli and they have won many international awards for their beers.
Via Emilia, named after the Roman road that linked Rimini with the Po Valley, is aged in the brewery's cellars for six weeks and, unusually for the style, additional hops are added during the lagering period: Giovanni calls it a "dry hopped Pilsner". It's brewed with pale malt and Tettnanger hops: every autumn Giovanni and Manuel visit the Tettnang region of Bavaria to pick the best hops from the September harvest.
The pale gold beer has honey malt and a floral and resinous hop aroma, with bitter hops building in the mouth to balance the juicy malt. The long finish has increasingly bitter hops notes underscoring the rich toasted malt. It's an impressive beer, with an uncompromising hop character that makes it stand out from the Pilsner crowd.
Continuing the Bavarian connection, Birrificio Italiano, a small brewery with a restaurant and bar attached in the Lake Como region, produces an astonishingly complex dunkel weisse or dark wheat beer called Vúdú (6%). It's bottled conditioned, has a hazy amber/brown colour and a rich aroma of ripe bananas, cloves, plums and nuts, with a fruity and slightly acidic palate and a long finish with light hop notes, ripe fruit and cloves and a hint of cocoa from the dark malt.
A brewery called Barley does exactly what it says on the tin – or the label, to be more precise. It's based in Cagliari on the island of Sardinia, described by Lorenzo as a major beer-drinking region. The brewery was launched in 2006 by Nicola Perra and Isidoro Mascia, who are passionate beer lovers keen to brew "artisan beers". Their 6.5% Sella del Diavolo means the Devil's Saddle. The name comes from an ancient legend involving a battle between God and the Devil for control of the Bay of Cagliari. During the fight in the skies, the Devil was thrown from his horse and fell into the sea, where his body was petrified and formed a promontory called the Devil's Saddle.
The inspiration at the brewery is Gallic. Barley produces a bière blanche wheat beer while Sella del Diavolo presented at GBBF is based on the northern French bière de garde style. Roasted malts are used in the amber beer, which has a good balance of malt and spicy hops on nose and palate with strong hints of caramel and cherries. The caramel note builds in the finish, balancing toasted and roasted grain and spicy and resinous hops.
*ReAle is Leonardo di Vincenzo's homage to British cask-conditioned ale. A tour of Britain inspired him to brew warm-fermented beer. ReAle is an India Pale Ale with a modern American pale ale twist -- it's heavily hopped with American Cascade hops.
Leonardo di Vincenzo was a keen home brewer who started to make beer on a commercial basis in 1999. He toured Belgium, Britain and Germany to study classic beer styles and was deeply impressed with English cask ales, which he found were fruity, hoppy and low in carbonation. His Birra del Borgo brewery is 60 miles to the north-east of Rome in Borgorese in the Rieti province.
ReAle, 6.4%, is Leonardo's homage to British cask beer, though stylistically it's a cross between English IPA and American pale ale. Lorenzo Dabove says the big blast of Cascade hops with their citrus fruit notes is a big shock to Italian beer drinkers. Leonardo uses a proportion of wheat in the beer and adds a large amount of hops late in the copper boil. The amber-coloured beer has a big fruity/citrus nose with toasted malt and a creamy note from the wheat. Mandarin fruit and pine needles dominate the palate, with continuing contributions from toasted malt and wheat. The long finish is complex, bittersweet to start but ending dry and bitter, balancing tart fruit and toasted malt.
Extraomnes is a brewery based in the Lombardy region and its Quadrupel (9.3%) means we are firmly back in Belgian beer territory. The dark beer is similar in style and palate to Rochefort Trappist beers and is brewed with pale malt and dark candy sugar. It has a deep ruby red colour with rich chocolate notes on the nose, with roasted grain and caramel. Rich malt, chocolate and caramel build in the mouth with a good contribution from spicy hops. The finish is long and bittersweet, spicy hops cutting the toasted malt, chocolate and caramel.
You know what you're getting with Loverbeer, based in Turin. Founder Valter Loverier was a home brewer who turned his passion into commercial success and uses his name as a pun for the project. All his beers are aged in wood, and as well as malts and hops he adds grapes, including the classic Barbera variety, along with plums and herbs. Marchè'l Re (8.3%) is labelled an "Imperial Coffee Spiced Stout". It's aged in wood for year months and undergoes a lactic fermentation. Coffee and spices are added during the brewing process. The beer that emerges from this long ageing period has a powerful kick of espresso coffee on the nose with tart acidic notes similar to Balsamic vinegar. There are woody and smoky notes in the mouth, with rich dark malt and bitter hops. The finish is deep, bitter, tar and acidic, with oak and light hop notes.
We remain in wood-aged territory with Xyauyù Barrel (14%) from Italy's best known and leading craft brewer, Baladin. It was founded in 1996 by Teo Musso in Piozzo, his home town in Piedmont, following a long tour of Belgium, where he fell in love with the local beer culture. Today he is feted as the father of Italian craft brewing. He exports widely and has specialist bars, brewpubs and restaurants in Rome, Milan and other Italian cities. His brewing team have made 30 different beers, including bottle-conditioned versions. Xyauyù is part of a specialist range of beers aged in oak barrels, in this case rum casks. Teo calls it a barley wine, an English rather than a Belgian style. Going against the grain – if you'll pardon the pun – the beer is fermented with a yeast culture from the whisky industry. The beer has some lactic character but is dominated by rich vinous fruit, whisky and oak notes. The strength gives it a warming kick of alcohol in the mouth and finish with continuing notes of oak, sour fruit and a rich rum/sultana character that develops late.
Lorenzo Dabove says the Italian beer renaissance started in the north of the country but has now spread to the south, as far as Naples. The beers that he and Luca presented at the Great British festival offer just a glimpse of the storehouse of pleasure back in their country. It's time to bring back the Grand Tour.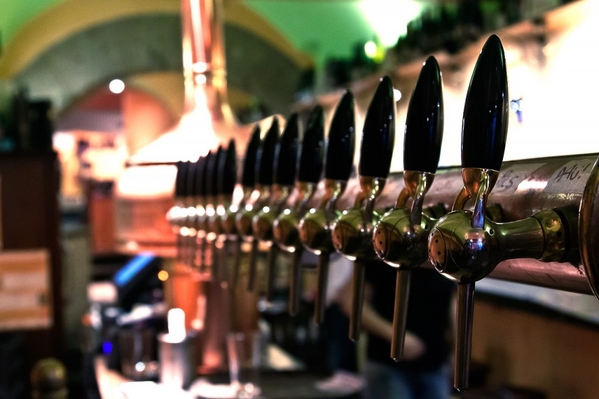 Bir e Fud is a specialist bar and restaurant in the Travestre suburb of Rome that specialises in matching beer and food and cooking with beer. It has a large range of Italian craft beers on draught. 23 via Benedetta. www.birandfud.it.