Feature
Up hill, down dale: 20 years of Black Sheep's remarkable brewing success
Added: Monday, November 12th 2012
It's 1992. The economy is in a mess, interest rates are at a staggering 15% and nobody is investing in manufacturing. A young brewer goes to see his bank manager with the following proposal: he wants to open a new brewery in the Yorkshire Dales town of Masham. But there's already a brewery in the town called Theakston's. And, by the way, his name is also Theakston.
Most bank managers would have shown him the door. But Paul Theakston got the investment he needed and in October 2012 he celebrated 20 years of brewing at Black Sheep with his wife Sue and their sons Rob and Jo. They're all involved in running a truly family business that, despite the doubters 20 years ago, is now one of the most successful independent breweries in Britain.
The original Theakston's brewery was founded in 1872. Paul joined the company in 1964 and he became managing director in 1969, aged just 23. But he left in 1988 when the brewery was taken over by Scottish & Newcastle, angered by the loss of family control.
He spent four years nurturing his plans. They involved converting the closed Wellgarth maltings in Masham (black and white image shows Paul outside the malting in 1992) into a brewery, with a visitor centre, bar and bistro. The site came with bore holes that supplied Dales water ideal for brewing. He was determined to stamp the word Yorkshire on the new enterprise by using traditional Yorkshire Square fermenting vessels, along with the finest Maris Otter malting barley and whole flower English hops. He wanted his beers to have the true Yorkshire character of rich, creamy malt underscored by profound hop bitterness.
And the venture – remarkably – was based on supplying only the free trade. He didn't want to own or run a single pub. Many eyebrows were raised. Surely, people said, you can't run a successful brewing operation without owning pubs.
His immediate problem was finding a name for the new brewery. The maltings had been part of Lightfoot's brewery that Theakston's had bought in 1919 and S&N wanted to register the name as part of their ownership of Theakston's. And, of course, Paul couldn't use his family name for the new company. When Sue Theakston suggested he would become the black sheep of the family by opening a rival brewery, he accepted the suggestion with alacrity. Sheep farming is the backbone of the Dales economy and Paul, thanks to Sue's quip, had a name and an image that would put him firmly on the map and help deepen the Yorkshire image he craved.
He had a stroke of luck. He couldn't afford to have new Yorkshire Squares built but he was able to source vessels from Hardys & Hansons' brewery in Nottingham and Darley's of Thorne near Doncaster. He was in business.
And now, 20 years on, Black Sheep produces 70,000 barrels a year: that equates to 20 million pints. Three-quarters of production is cask beer but the bottled share is growing, with beers available in most national outlets. Cask beer is sold throughout the country to 1,000 regular accounts, including outlets run by national pub companies. Paul Theakston's inaugural beer, Black Sheep Bitter (3.8%), is one of the Top 10 premium ales in Britain while Black Sheep Ale (4.4%) is in another Top 10 league – for bottled beers. The other regular beers are Golden Sheep (3.9%) and the "super premium" Riggwelter (5.9%). The name comes from a dialect word in the Dales for a sheep that's fallen on its back and has trouble getting upright again. The analogy doesn't need explanation.
Yorkshire Square Ale (5%), bottle only, celebrates the brewery's use of the iconic fermentation system.
After 20 years at the helm, Paul has stood down from day-to-day running of the brewery and is now chairman. In that role, he keeps a close eye on exports. Rob Theakston is managing director with brother Jo as director of sales and marketing. They are the sixth generation of the Theakston family to brew in Masham. (Their relatives bought back the Theakston Brewery from S&N in 2003 and it's once again fully independent, run by three Theakston brothers.)
At Black Sheep, Paul, Rob and Jo plan to expand the brewery on adjacent land. They need to install additional brewing equipment to keep pace with the seemingly inexhaustible demand for their beers. In October they launched a limited edition 10% beer called Progress to mark the company's 20th anniversary. With head brewer Alan Dunn, the Theakstons designed a beer made with just Maris Otter pale malt and Progress hops – one of the new "hedgerow" hops that grow to half the height of conventional varieties and are less prone to attack by pests and disease.
Rob Theakston said: "Progress in the ultimate expression of our Yorkshire Square fermentation system. It's a dry and bitter beer and distinctively in the Black Sheep fold."
It's a beer to sip, savour and toast Black Sheep's remarkable success. Paul Theakston raised a glass of Progress and said: "The 20th anniversary is a great opportunity to thank all those who shared my faith in the idea at the beginning and who trusted me to turn the idea into reality."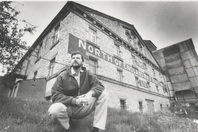 Yorkshire Square: the magic and the mystery
A Yorkshire Square is a two-storey vessel with a closed chamber and an open top deck. The top deck has a raised surround. Fermenting beer rises from the bottom chamber through a central manhole into the top deck. The yeast is trapped but the beer runs back to the bottom chamber down an "organ pipe".
To encourage active fermentation, some of the yeast has to be washed back down. Every six hours, a pump draws beer from the lower chamber and sprays it over the top deck, washing yeast down the organ pipe. This is known as "rousing" and it aerates the fermenting beer. It's rare for oxygen to be introduced into the fermentation process and rousing alters the metabolism of yeast, creating a fruity and vinous note. Beers created by the system also have a characteristic "yeast bite".
It's thought that the Yorkshire system was the result of a paper by the Yorkshire-born chemist Joseph Priestley on the absorption of gases in liquids written in 1772 for the Royal Society, which promotes scientific research. Priestley's work on oxygen and other gases led to the development of soda water and other carbonated drinks.
The first brewery to use the Yorkshire Square system is believed to have been Bentley & Shaw, later Hammond's. Sandstone quarried in Yorkshire was used to make the vessels for a number of breweries. Tetley's in Leeds, now closed, used squares but they were converted to stainless steel. John Smith's in Tadcaster once used stainless steel squares but they were replaced by conical vessels. Samuel Smith, also in Tadcaster, still uses Yorkshire Squares made of Welsh slate: the brewers feel that the interaction between the beer and the slate helps create the lively foam associated with beers from the region.
Black Sheep beers
Black Sheep Best Bitter (3.8%)
Maris Otter pale malt and wheat. Challenger, Fuggles and Progress hops. Bronze coloured beer with a big spicy Fuggles aroma with rich, creamy malt and vinous fruit notes. Bitter hops and creamy malt combine in the mouth with a solid underpinning of tart fruit. The finish is long, dry and bitter but balanced by biscuit malt and tangy fruit.
Black Sheep Ale (4.4%)
Maris Otter pale malt and crystal malt. Challenger, Goldings and Progress hops. Pale bronze beer with a spicy and grassy hop aroma balanced by fresh "crisp bread" malt and bitter orange fruit. Intensely bitter hops build in the mouth but they are balanced by creamy malt and tart fruit. The finish is bitter with spicy hop notes, along with juicy malt and orange fruit.
Black Sheep Golden Sheep (4.7%)
Maris Otter pale malt and wheat. Challenger and First Gold hops.  Pale bronze beer with pine needle hop resins on the aroma, sherbet lemon fruit and rich toasted, smoky malt. Pungent bitter hops kick dominate the palate with tart lemon fruit and biscuit malt. Creamy malt, sharp citrus fruit and piny hops combine in the quenching finish.
Black Sheep Yorkshire Square Ale (5%)
Maris Otter pale malt, wheat and Demerara sugar. Goldings hops. In the 19th century, when sugar plantations in the Caribbean were owned by British planters, Demerara sugar was widely used by Yorkshire brewers. The use of sugar recalls that period and also celebrates the aromas and flavours created by Yorkshire Squares. The beer has a pale copper colour, with piny hop resins, tart gooseberry fruit and cracker-like malt on the nose. Bitter, tangy hops, continuing gooseberry fruit and juicy malt fill the mouth. The luscious finish has rich sappy malt, piny hops and bittersweet fruit.
Black Sheep Riggwelter (5.7%)
Maris Otter pale malt, crystal malt and pale chocolate malt. Challenger, Fuggles and Progress hops, with Goldings added to the hop back: 38 units of bitterness. It's a dark, copper-coloured beer with a pronounced roasted coffee bean, burnt fruit and spicy hops aroma. Bitter and peppery hops burst through in the mouth with rich coffee, vinous fruit, roasted grain and caramel notes. The finish is bittersweet, with a continuing coffee beans note, creamy malt, vinous fruit, bitter hops and caramel.
To Russia with bibulous love
In 2011, Black Sheep took part in the Great Baltic Adventure that recreated the voyages undertaken to Russia by strong English porters in the 18th century. The porters were exceptionally high in both alcohol and hops to stop them freezing or suffering from infections during the trips. The beers were popular at the court of Catherine the Great: they were given a royal warrant that enabled them to be known as Imperial Russian Stout.
The Great Baltic Adventure entailed a clipper ship leaving Greenwich in London in May, 2011, that sailed to St Petersburg via Denmark, Sweden and Finland, arriving in Russia in June. Black Sheep's beer was brewed once for sale in Britain but it created such interest that it has been brewed again. It's available in bottle and can be ordered online from
www.blacksheepbrewery.com/shop/
The beer is 8.5% and is jet black with a ruby edge. It throws a dense collar of barley white foam and has a massive hit of creamy latte coffee on the nose, with liquorice, roasted grain, crème caramel and spicy hops. Coffee and liquorice dominate the palate but peppery hops build and there are balancing notes of roasted grain and liquorice. The finish is long and complex, with burnt fruit, creamy malt and coffee, liquorice and peppery hops.