Katie Wiles
A feast of good beer at Olympia fest
Added: Thursday, July 12th 2018
By Katie Wiles, www.wilesaboutbeer.com
The Great British Beer Festival is returning to Olympia London from 7-11 August with plenty of new beers to sample -- along with a great entertainment line-up and fantastic street food.
This summer's festival is the only place where you can visit 30 different bars serving nearly a thousand different beers, ciders, perries, wines and gins under one roof. Keep reading to find out what to expect from your visit next month.
More beer than ever before
The Great British Beer Festival will boast its biggest ever beer range with nearly a dozen new brewery bars and additional rotating hand pumps throughout the festival to give visitors even more choice.
Joining favourites such as Fuller's, St. Austell, XT, Harvey's, Titanic and headline sponsors Greene King, there will be some new faces on the brewery bars including Beer Monkey, Bedlam Brewery, Hook Norton Brewery, Budvar, Arkell's, Brew York, Brewery of Angels & Demons, Greyhound Brewery, Ballard's Brewery, Thornbridge Brewery and Five Points. The 15 British brewery bars will be serving their classics, as well as some exciting new collaborations and festival first brews.
On top of the impressive brewery bar line up, there will be an additional 140 rotating beers across the 350 CAMRA bars this year. Many of these will be limited in quantity to expand the range available from breweries. Beers from over 400 breweries will be available from the CAMRA bars, covering 63 different counties across the British Isles and four international bars boasting over 140 breweries from the US and central Europe, including a canned beer range on the American bar for the very first time.
The Champion Beer of Britain award will also return to the festival as an exclusive highlight of the trade session, and attendees will be the first to sample the winning brew and finalists.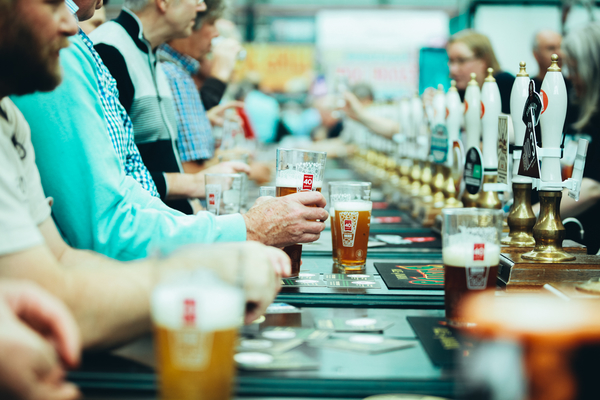 Something for everyone
If that wasn't enough, this year the festival will boast its largest-ever offering of gluten-free and vegan beers. There will be 43 vegan beers from 27 different breweries, including Weird Beard, Clouded Minds, and Brew York, who are debuting their upcoming beer collaboration with Abbeydale (a white grape, peach and vanilla IPA) at the festival.
There will also be 15 gluten-free beers from nine breweries including Nene Valley, Brightside, and Cheddar Ales, who are bringing along their multi-gold award-winning dark porter. A great range of gluten-free and vegan food will be on offer to accompany the beers. 
For the first time in the festival's 41 year history, there will also be a non-alcoholic beer range including an IPA, Amber and Porter - all provided by Dutch Braxzz Brewery.
If you're looking for a break from beer, there will be two cider and perry bars along with an incredible range of craft wines and thirst-quenching gin and tonics.
Tutored Tastings
Tasting sessions are a great way to get a little extra from the Great British Beer Festival. Each session is designed to give a new perspective on real ales, ciders and perries and how you enjoy them and include everything from an introduction to beer to a beer and cheese pairing. Due to popular demand, there will be an extra session of the "Champion Beer of Britain" tasting with Roger Protz.
Planet Rock debut
On Thursday 9 August, Planet Rock, the largest rock radio station in the UK, is bringing a whole day of unforgettable entertainment to the festival. Six bands will entertain festival-goers as they enjoy a selection of the hundreds of beers available: Broken Witt Rebels, Danny Bryant, The Dust Coda, Bad Touch, Mollie Marriott and Fireroad. 
Can't make Thursday? There is a full musical entertainment line-up on all days of the festival, featuring Chaminade, Wille and the Bandits, The Gary Fletcher Band, The Mods & Rockers Show and The Chiltern Hills Brass Band.
Street food
London's finest street food vendors join us this year to make the Great British Beer Festival even better. The food offering is all about choice: from the new and exotic, such as Mr. Porky, Monster's Pie and Mash and So Good Dumplings, to long-standing favourites, like Oddfellows Chocolate, Pipers Crisps and Seafood. Each stall will be sure to tantalise your taste buds.
Meet the authors
Stop by the CAMRA shop to buy a wide range of books on beer and pubs at special festival prices. There will also be opportunities to meet CAMRA authors who will be happy to sign your books, such as Andy Parker, Jeff Evans, Des de Moor, Geoff Brandwood, Adrian Tierney-Jones, Joe Stange & Tim Webb, and Roger Protz. There will also be talks on subjects like home brewing and the resurgence of brewing in London, given by our expert authors.
Charity
The Royal British Legion is the festival's chosen charity partner this year to raise awareness of the Thank You campaign and much-needed funding for military personnel and veterans. Festival-goers will be urged to raise a collective glass to say Thank You to the First World War generation who served, sacrificed and changed our world on Wednesday 8 August – exactly 100 days until Remembrance Sunday.
In addition, Royal British Legion members can enjoy discounted entry to the festival throughout the week. Surplus beer tokens will be donated to the charity's causes, and collection tins will be present across the festival's bars.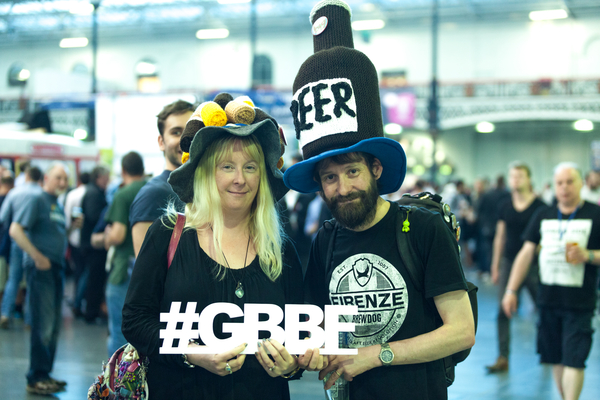 Hat day
If you're at the festival on Thursday make sure to don suitable headgear for hat day! Just bring yourself and something topical, silly or fabulous on your head.
Staying safe
New to this year, the Great British Beer Festival will introduce the Ask Angela campaign to help ensure the safety and comfort of visitors. The campaign aims to assist festival-goers with escaping unsafe or uncomfortable situations by using a code to alert security and staff that some kind of assistance is needed. Visitors to the festival simply need to "ask for Angela" at any of the onsite bars or festival stewards, who can then help that person in a discreet manner.
Tickets to this year's festival are now on sale at a discounted advanced price and can be purchased at https://www.gbbf.org.uk/ The website also has full details of opening hours and timings for talks and book signings.
 If you enjoyed reading this article, please consider subscribing to my blog www.wilesaboutbeer.com. You can also follow me on Instagram and Twitter on @wilesaboutbeer