Katie Wiles
Brewsters get beer festival boost
Added: Wednesday, May 9th 2018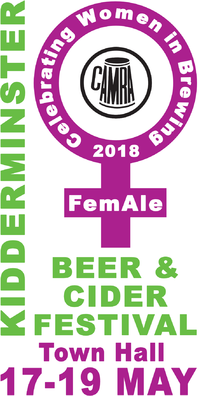 By Katie Wiles, www.wilesaboutbeer.com 
Local CAMRA members have decided to do things a little differently this year by celebrating women in brewing at the Kidderminster Beer & Cider Festival.
The festival, taking place from 17-19 May, is sourcing half its beers from breweries that employ female brewers (brewsters), mostly in lead roles such as head brewer. These include Brewsters Brewery, Brown Cow, Dancing Duck, Loch Lomond, Mallinsons, Neptune, Oldershaw, Prospect, Charnwood, Corinium, Fullers, Wild Beer, and two local breweries, the Hop Shed (formerly known as Unity) and Pershore. All the beers made by women will be marked in the guide for easy reference, and brewsters have been invited to bring informational material to the event.
Festival Organiser Nick Yarwood says "we have seen a huge resurgence of female brewers at both large and small breweries in recent decades. Women were the primary brewers for thousands of years, and female brewsters have pioneered some really innovative and exciting ways of making beer more recently. Their contribution to the industry should be celebrated and promoted, and what better time to do so than in the centenary year of Women's Suffrage?"
In addition, two of the local breweries managed by brewsters, Hop Shed and Pershore, will be staffing special displays during the festival to educate visitors about the brewing process with sample ingredients, pictures and talks. They will be selling take-out packs and hope to bring the story of their breweries to life at the festival.
Elizabeth Barnett, Brewster at Pershore Brewery explains that educating beer drinkers about microbrewing is incredibly important to her. "Nothing is automated at our brewery -- everything is done by a traditional, manual process and I'm involved in every step along the way.
"You can usually find me emptying out the mash tun, and most people are frankly astonished to see me getting stuck in. We need to do more to show people that women are very capable of making beer and can produce some really exciting ones - pushing boundaries and adding new ingredients."
Elizabeth has recently started her own line of beers including Oh Betty and Elder May, and is working on a mango ale which she hopes to introduce over the coming months. She welcomes the collaborative atmosphere across the industry, which she says has been incredibly helpful as a microbrewer who has learnt on the job without formal training.
Sarah Saleh, Brewer and Co-Founder of the Hop Shed, will also be speaking to attendees at this year's festival. Sarah began brewing in a garage at home and quickly got the bug for it, before taking part in some formal training at Brewlab in Sunderland.
Sarah says "being based on a hop farm I only use British hops in the beers I brew. I enjoy developing recipes for new varieties of hops and showing you don't need American hops to produce really flavoursome beers! 
"I currently run the brewing operations single handed, but look forward to reaching the stage where we can employ a brewery assistant, hopefully later this year."
Alongside promoting brewsters near and far, the Kidderminster Beer & Cider Festival is also partnering with West Mercia Women's Aid to raise much-needed funds for women and children affected by domestic abuse. Visitors can take part by donating unused beer tokens to the charity or visiting their stall where charity staff will be on hand to talk about the important work they do. 
Nick Yarwood explains that they "wanted to choose a charity that would specifically support women. West Mercia Women's Aid is local to us and does fantastic work in the community, so we're hoping to raise awareness and much-needed funds."
Tickets to the Kidderminster Beer & Cider Festival are now on sale at EventBrite here and can be bought on the door. Kidderminster Beer Festival, Town Hall. www.wyreforest.camra.org.uk
 If you enjoyed reading this article, please consider subscribing to my blog www.wilesaboutbeer.com. You can also follow me on Instagram and Twitter on @wilesaboutbeer