Katie Wiles
Where next for trail-blazing brewster?
Added: Tuesday, February 27th 2018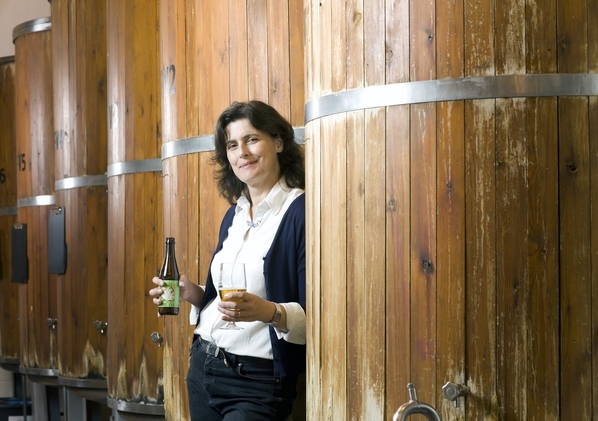 By Katie Wiles of wilesaboutbeer.com 
Sara Barton is a self-described Brewster – an old English term to describe a female brewer. Fittingly, she runs Brewster's Brewery in Grantham, which she founded with her husband Sean McArdle in 1998. As her brewery grows from strength to strength, Sara took on running a nearby pub in 2007 and set up the collaborative female brewing initiative called Project Venus in 2011. In 2012 she was named the first female Brewer of the Year and shows no signs of slowing down. So what's next for Britain's trail-blazing brewster? Katie Wiles reports.
Sara Barton has been in the beer scene longer than most. After studying brewing at Heriot Watt in Edinburgh, she began her career at the Courage "fizz factory" in Reading in 1987 before completing an MBA and starting her own business in 1997. As a result, she's able to reflect on the huge changes to the industry over the past few decades.
"When Brewsters first started, there were just around 300 brewers across the UK. You knew pretty much everyone in the trade and saw the same beer styles made across all of them – first it was brown beer, then gold came into fashion," she says.
The beer scene has evolved massively since those days – new brewers are popping up every other day and the current range of beer styles include just about everything under the sun. While choice has never been better for beer drinkers, many established brewers are finding the market a bit more of a challenge than before.  
"The number of new entrants into the beer market is overwhelming!" Sara explains. "It makes everything more difficult in terms of competitiveness and I worry about over-crowding. It's becoming harder to contact pubs each week about beer orders – many are simply confused about all the choices out there and struggle to decide what to stock."
Not that there are any concerns about Brewster's Brewery. After moving from its first site in rural Leicestershire in 2006 they are now producing 40-60 barrels a week in Grantham. Three of their four regular beers have been finalists in CAMRA's Champion Beer of Britain competition including Brewster's Marquis, Hophead and Hop-a-doodle-doo. Hophead has gone on to win gold at the prestigious International Brewing Awards. Sara is continuing to work on a number of seasonal and collaborative brews with big plans to expand Brewster's bottle and can range, as well as key keg.
So what's the next big beer style to watch out for? According to Sara, the hazier and more natural-looking the beer, the better!
"It used to be that a clear beer was the sign of quality, but that simply isn't the case any more," she says. "There is a huge trend towards more 'natural beer' -- anything that is hazy, filtered un-fined or vegan is very popular among young drinkers, while your traditional real ale is thought to be a product for an older generation."
Sara also points towards the popularity of cans over bottles, which are recyclable and not as easy to smash. I ask whether we will see a whole new range of hazy canned beers emerging from Brewsters, but Sara assures me that cask will always reign supreme at her brewery.
"We will be celebrating our 20th anniversary and have taken on a young brewster named Alice Batham who will be helping us produce some new beers. We've just made a red ale called See Red which is part of our 4 per cent WhimsicAle range with rye and crystal malts and beet root. We will of course continue on with craft keg and try to move into cans – but ultimately we are a cask brewery and would never ditch cask completely."
On top of brewing, Sara also runs the Marquis of Granby pub in Granby near Bingham, Notts, which gives her a unique perspective on both the brewing and pub trade – and the conflicts between the two.
As brewers compete to get their beers into pubs, Sara worries that pub companies are squeezing out publicans and pub-goers. "We find that most of the large pub companies will drive the price of the beer right down, and then go ahead and charge the publican a lot more for it. They may buy a barrel from us for £50-£60 and then charge well over £100 for it to the publican," she explains.
This is harmful not only to the breweries, but to the pub trade which continues to struggle to retain customers.
"My biggest worry is that people are not going out to the pub any more. Older people will go out, but everyone else is staying home," Sara says. And she's quite right -- if pub-going remains an unaffordable activity for most people it is highly likely that we will continue to see pubs closing down, and with them we will lose the many benefits of social drinking.
Yet all is not doom and gloom for the industry. Sara says that one of the most exciting initiatives these days is the huge amount of collaboration going on and the number of women brewers in the industry.
"Brewing was traditionally a woman's role," she explains."Going back to medieval times; bread making and brewing were done by women. It wasn't until the industrial revolution that the large breweries took over."
Yet these days the brewsters are back, and more and more women are taking to mashing and fermenting. "It's inspiring to see and very different to when I first started. Anything we can do to support each other in this market will go a long way," Sara adds.
Blazing the trail is Project Venus, which Sara set up in 2011 to encourage collaborative brewing with other women in the industry. The project has resulted in brewsters pooling their knowledge to produce beers, host open brewery days, share knowledge and network. Sara now hopes to move Project Venus on with "the next generation" by working with Alice Batham to encourage younger brewsters and students to get involved in collaborative brews.
Through this, Brewster's has created a "Women of Wonder" beer range which aims to celebrate positive and sometimes quirky achievements throughout the ages. Brews have ranged from Pankhurst and Amy Johnson to Lady Jane Grey  and Annie E Taylor - a 4.8 per cent brew that recognises Annie's endeavour over the Cascade of the Niagra falls by using that hop variety and adding in Simcoe to enhance the zesty fruit notes.
From pub-going to hazy beers and collaborative brews, it looks like exciting times are ahead for the British beer scene. And despite producing a number of award winning beers to date, Sara Barton shows no signs of slowing down. I for one look forward to seeing what's next for Britain's pioneer brewer – and what the next 20 years of Brewster Brewery have in store.
If you enjoyed reading this article, please consider subscribing to my blog www.wilesaboutbeer.com. You can also follow me on Instagram and Twitter on @wilesaboutbeer