Katie Wiles
Sexism is bad for business - what are we going to do about it?
Added: Monday, February 5th 2018
I was a member of a panel that discused discrimination in the brewing industry at Manchester Beer Festival. Beer trainer Christine Cryne led the debate with the following panellists:
Everyone agreed that sexism continues to be an issue in the beer world and every single panellist had their own experience of encountering sexist behaviour.
We focused on why sexism is still occurring, the barriers to improvement and what can be done about it.
Why is sexism still occurring?
Sexism still occurs because there are not as many women drinking beer as men, which inevitably leads to under-representation across the industry. According to Dea Latis, only 13 per cent of women in the UK drink beer, compared to a 20 per cent average across the rest of the world. The reasons for this are varied, but can certainly be attributed to a legacy of sexist advertising that continues in the form of an unconscious bias today. The belief that beer is somehow a "male" drink turns many women away from choosing a "blokey" pint, opting instead for a more "feminine" glass of wine. In addition, the press and advertising industries regularly enforce this image with scaremongering articles on "what men really think of women who drink beer" and offers for wine as the "perfect girl's night out".
Comfortable in the male-dominated space, there remains a contingent of "old school" male drinkers who are not willing to make way for women in the beer world. Until we see more women drinking, brewing or working in the beer industry we will continue to struggle with changing the beer culture.
Has sexism improved in recent years?
On the whole, the majority of the audience agreed that sexist attitudes in the beer industry have reduced over the past 10 years. After all, it wasn't all that long ago that you would see scantily-clad busty women on the pages of a magazine to advertise a particular brew. Yet despite these changes, some women felt that the issue has actually been made worse in recent years precisely because sexism is more subtle and less "in your face"-- making it harder to call out others without risking the "PC culture gone mad" rebuff.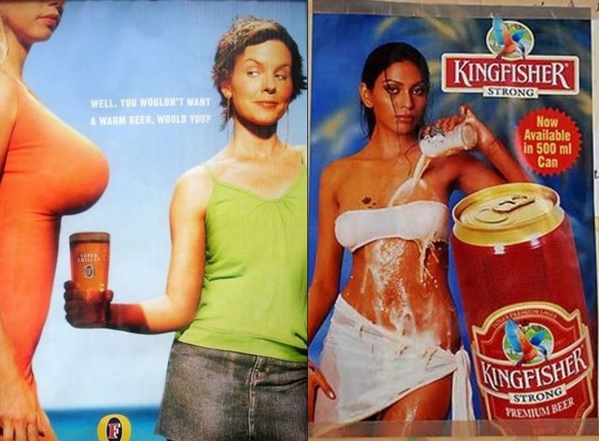 What are the barriers to improvement?
The primary barrier to improvement is the lack of prominence that this issue receives in the industry. While sexism in the beer world is certainly a hot topic at the moment, sustained and concerted effort must be made to ensure that it doesn't just become the flavour of the week.  The panel highlighted the role that industry bodies, such as CAMRA, BBPA and SIBA have in leading by example to the rest of the industry.
Yet it isn't all down to those big names. Through the debate it emerged that there is a huge role that publicans and brewers can play in training and educating their staff on recognising and avoiding sexist behaviour -- as well as putting an end to blatantly sexist branding and images.
What can be done about it?
Simply put, we need to see a wholehearted cultural shift across the beer industry from everyone involved. Brewers must no longer objectify women in their slogans and beer labels. Publicans must encourage women to try different types of beer – rather than making presumptions at the bar. Other beer drinkers should ask their friends to get involved in a beer round and the media must put an end to its scare-mongering stories about the downfall of women who "try to drink like men".
A few specific ideas on how to support women across the beer sector emerged through the discussion, which included:
Better training and education for staff at pubs, beer festivals and events
For pubs to be welcoming to all, perhaps encouraged through an accreditation process
More boards implementing equal opportunity policies
Greater emphasis on encouraging young women to seek careers in the beer industry
Empower individuals to call out friends when they see something sexist  
More support from organisations such as CAMRA, SIBA and BBPA, particularly with regards to judging and supporting beers or brewers, encouraging more females to take on roles in the organisation and ensuring that equal opportunity policies are clearly promoted and taken seriously.
So how do we keep building momentum?
We all have a role to play in building momentum, from organisations such as CAMRA down to individual beer drinkers. Cultural change requires action from across all levels of the industry and while we still have a long way to go, I'm particularly heartened by two examples I came across last week.
Firstly, I have to take my hat off to the organisers of the Manchester Beer & Cider Festival, who have set an incredibly high standard for beer festivals across the country. Not only did they publicly refuse to stock any beers that they deemed to be sexist or discriminatory, but signage was dotted around the halls encouraging anyone who felt uncomfortable by the behaviour of others to speak to a steward.
They gave time to this important issue by hosting the debate and then tried to get the message back into the hall. They did this by handing out tongue-in-cheek stickers to remind others that beer is not just a man's drink with slogans like "yes I do drink pints" and "I drink good beer not just fruity beer".
I also had the pleasure of meeting Julie O'Grady, the founder of Ladies that Beer in Liverpool. She told me how this group of beer-loving women get together every few weeks to socialise and support local pubs and breweries. They run a number of educational events, such as beer and food pairings and tasting nights. There is no judgement or rules on what people can drink -- just good beer.
Julie O'Grady tells me her aim is to "empower women to learn about beer so that they don't feel intimidated from ordering at the bar and can find one that they love". 
She adds that if they see a beer with a sexist label or pump clip on a social evening out that they challenge it there and then, doing what they can to change hearts and mind and empowering women at the same time.
What's great is that Ladies that Beer and Manchester Beer Festival aren't alone. The beer world is changing rapidly, and things are slowly improving for women. The most important thing now is to keep raising the issue -- over and over again -- until we finally see a cultural shift.